Duluthian launches #MNSolidarity Facebook page
Those who are appreciative of the stay-at-home order are the "silent majority," DyAnna Grondahl said.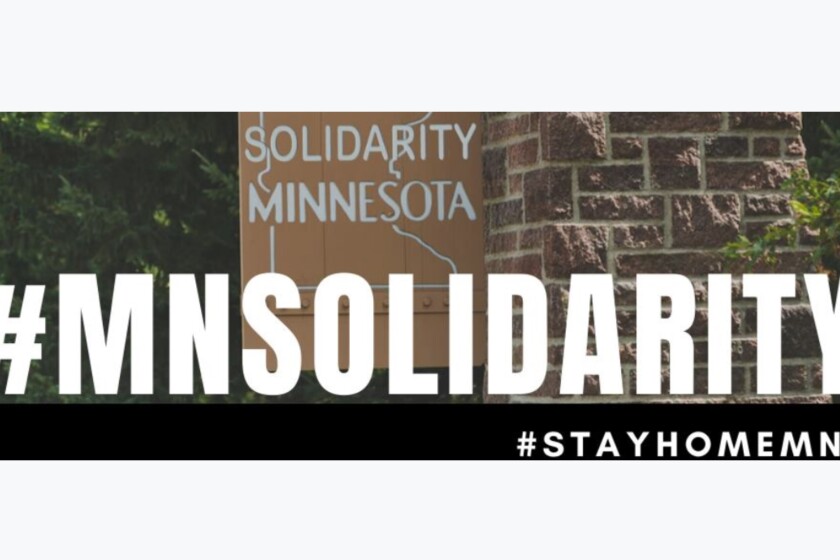 DyAnna Grondahl of Duluth saw a Reopen Minnesota Facebook page had more than 23,000 members after hundreds protested at Gov. Tim Walz's residence , demanding to end the stay-at-home order intended to reduce the spread of coronavirus.
"That's organizing that's happening in real time, and they're doing a really good job of making their voices heard," she said.
Those who are appreciative of the stay-at-home order are the "silent majority," she added. So, Grondahl created the #MNSolidarity Facebook page to give folks a space to come together for community and support among shared values and safety.
From noon to 4 p.m. Saturday, #MNSolidarity is hosting a virtual rally and requesting people take and post a photo of themselves wearing a mask with the hashtags #IStayHome, #MNSolidarity, #StayHomeMN. Also share who you're staying home for.
For those who can't stay home, Grondahl is asking they post a photo with a sign: "I stay here for you; you stay home for us."
"We empathize with the pain of those who want life to get back to normal, but know that our sacrifices are protecting our fellow Minnesotans," the page states.
The group was created April 24 and had more than 830 members Friday morning. Members posted news articles, photos of their children wearing masks and notes of gratitude for community.
Grondahl said there's empathy and care for the changes taking place, but she it's for the overall safety of everyone — and it's personal.
In Roseau, Minnesota, her mother is a certified nursing assistant in an elder care unit and her sister provides child care for hospital workers. Her father runs a grocery store.
"I care deeply for front-line workers, for people who are under so much pressure to bear the virus and do a lot of work to combat the spread," she said.
This week, #MNSolidarity launched #ThankYouThursday thread intended to extend gratitude for the extension of the stay-at-home order to May 4.
"The vast majority of news was people were upset about it. We need to be thankful for it because it's in our public health's interest," Grondahl said.
"We're really in this together as Minnesotans, and we're caring deeply for each other by doing this."
What: #StayHomeMN virtual rally
Post a picture wearing your face mask with a sign #IStayHome. Say who you're staying home for with hashtags #MNSolidarity and #StayHomeMN.
When: Noon-4 p.m. Saturday
Where: Safely at home or wherever you're practicing physical distancing.
More info: https://bit.ly/3aWA7cM