Duluth racked up extra overtime during police violence demonstrations in midst of pandemic
A schedule designed to reduce the risk of COVID-19 spreading through police ranks resulted in greater overtime costs.
It should come as little surprise that the Duluth Police Department incurred some serious overtime costs in the wake of George Floyd's death at the hands of Minneapolis police officers, an event that sparked mass demonstrations across the state and nation.
But the costs were exacerbated by the fact that the ensuing civil unrest broke out smack dab in the middle of a pandemic.
The News Tribune requested Duluth police payroll data for the three-week pay period that included Memorial Day — the date of Floyd's death — and the two weeks that followed, as well as records of police overtime data for the corresponding three-week pay period last year.
That data request revealed that from May 24 to June 13, the Duluth Police Department racked up about $244,090 in overtime costs — more than three times the overtime the force incurred during the corresponding pay period in 2019.
Duluth Police Chief Mike Tusken said overtime shifts would have been required to deal with the demonstrations in the best of times but those costs were magnified by the COVID-19 pandemic. He explained that Duluth had adopted a schedule designed to minimize the risk of the coronavirus spreading through the police department's ranks.
That schedule called for officers to work five days straight and then spend 15 days at home in quarantine before returning to work, so long as they remained symptom-free. The regimen was put in place to avoid the types of debilitating problems police experienced in other COVID-19 hotspots, such as New York City.
Officers who were called out of scheduled quarantine in Duluth, were paid overtime for every hour of service they logged.
While the costs of going to a five days-on, 15 days-off schedule are covered under the Coronavirus Aid, Relief, and Economic Security Act, Tusken said the extra overtime expenses related to responding to the protests likely won't be.
Tusken said his officers had demonstrated great discipline in following the schedule and the department's social distancing protocol leading up to Memorial Day, but he noted the demands of the moment following Floyd's tragic death required officers to break from that model. He said the all-hands-on-deck police response to the protests resulted in certain days when all but about half a dozen sworn officers were simultaneously on duty.
"We had to really pivot and then focus our attention and energy on keeping the community safe. That required we kind of undid a lot of the things we had been doing for the past few months, in as much as we had near-max staffing a couple days, and it required more people working and more people working with partners in cars, where we had been working alone for the most part," Tusken said.
For a couple of weeks after the protests, Tusken watched nervously to see if any evidence of illness would surface in the force.
"There were many of us here who were holding our collective breath through that 14-day incubation period, where if you were perhaps exposed to the virus you would likely show signs," he said.
Tusken reported that fortunately, no one on the force has yet tested positive for the virus, adding: "Knock on wood."
Duluth City Council President Gary Anderson said the police department's overtime expenses related to the protests were to be expected and he commended officers for giving demonstrators the space they needed to express themselves.
"I was out on the streets at least a couple of times during those weeks, once at one of the major peaceful protests, and there was a strong and thoughtful police presence around the community," he said.
Tusken said he understands the anger and frustration people are voicing.
"Most of our police officers — and there are 900,000 cops in America — aren't using excessive force, are doing the right things for the right reasons, are building relationships and taking care and having concern for the communities they police with. But at the same time when we see that there are police officers who are certainly using excessive force or are engaged in misconduct, it does tarnish the badge that all of us wear," he said.
Tusken said the growth of social media has led to incidents in one jurisdiction greatly affecting the public's view of law enforcement in general.
"Yes, I'd like to see us have more outrage about the individual officer behavior than outrage and vitriol directed toward the entire profession, because I do see tremendous acts of kindness and compassion. Every day, our officers are helping people with a hand up," he said.
Yet, Tusken said recent events that suggest racial biases in law enforcement are particularly troubling.
"I understand the outrage. I understand the frustration. Law enforcement has had a part in historical trauma toward people of color since its inception," he said, noting that an individual may have experienced racially motivated mistreatment first-hand or through the shared accounts of close friends and relatives.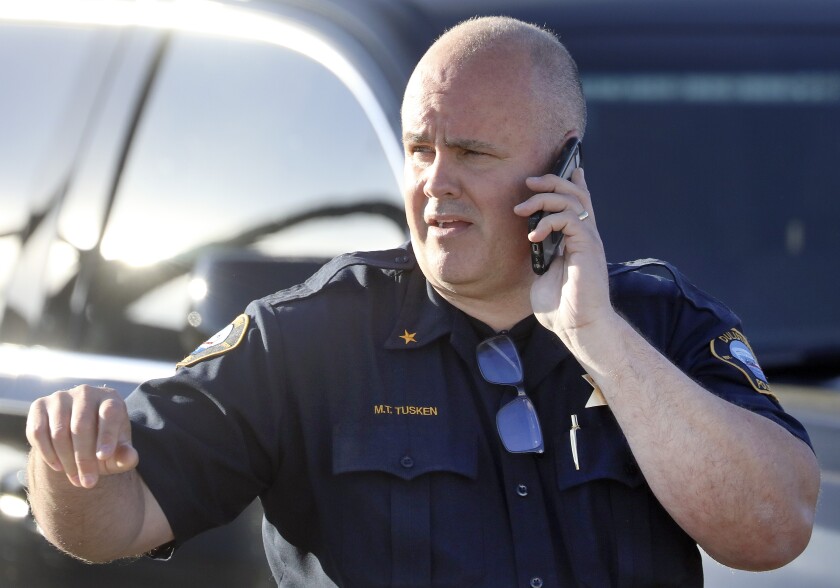 "Those stories live on, and that distrust is hard to alleviate. It's hard to repair when it is maybe deep-seated into a family. So I don't want to negate that that's a real thing — that there are people who have had poor experiences with law enforcement or who do have a distrust of law enforcement," Tusken said.
However, Tusken said his officers are committed to doing better. He cited department training on how to recognize implicit bias and how to de-escalate situations as a couple of examples. Tusken also pointed to the department's decision to partner with social workers to assist people with mental health issues or problems with addiction.
"We're trying to show up differently and give people who are in crisis more support than ever," he said.
Public Safety Chair and 4th District Duluth City Councilor Renee Van Nett said: "I work with a lot of people on the force, and they're feeling the tension. They're very careful about things that they do, even more so now. "
"I feel like the police people feel the stress," she said. "They understand why people are feeling like that. But it's just hard on them, and it's hard on our community. With all the scrutiny, it's hard to be a cop right now. I get that."
But Van Nett said the city ignores criticism of the police department and calls for change at its own peril.
"We can always improve," she said. "My core belief is in citywide community policing. But it takes money to do that," she said. "People like it when cops get out of the cars and talk to them and build relationships and draw the community together by talking to their neighbors. People appreciate that."
1
/
4:
Duluth police officers and protesters face off on the Fifth Avenue West overpass May 30, five days after George Floyd died in Minneapolis. (2020 file / News Tribune)
2
/
4:
Duluth police officers and St. Louis County sheriff's deputies are silhouetted as they stand in front of Kwik Trip on Superior Street and 28th Avenue West before deploying tear gas to disperse protesters May 30. (2020 file / News Tribune)
3
/
4:
A line of Duluth police officers face protesters on an exit ramp from Interstate 35 to Fifth Avenue West on May 30. (2020 file / News Tribune)
4
/
4:
Duluth Chief of Police Mike Tuskan talks on his phone on the Fifth Avenue West overpass while protesters block it to traffic May 30.(2020 file / News Tribune)