Duluth mayor pitches plan to spend $58.1 million in pandemic relief funds
The plan will now go to the City Council for consideration.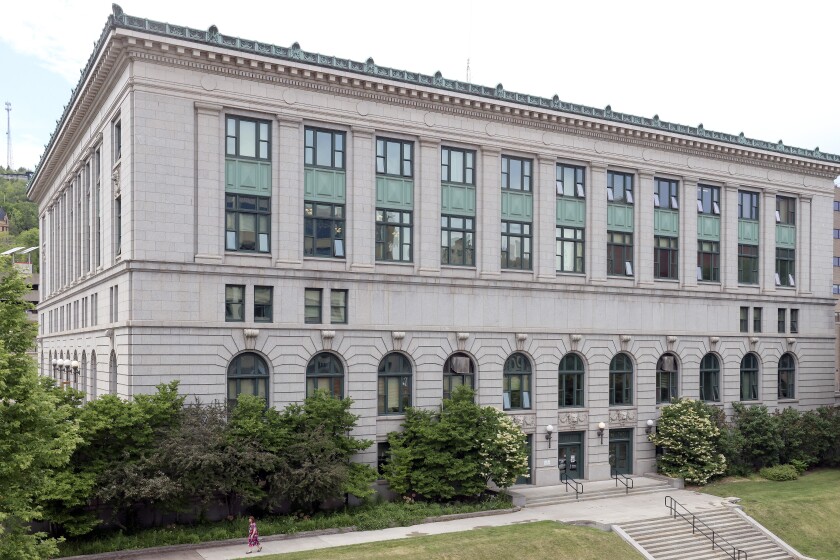 We are part of The Trust Project.
Duluth Mayor Emily Larson has unveiled her recommendations as to how Duluth should use more than $58.1 million in federal aid the city will receive through the American Rescue Plan.
As she prepared to present the extensive details of her proposal at a Tuesday afternoon news conference, Larson said it was designed to "ensure that the city of Duluth moves forward in its recovery from COVID-19 in a way that is inclusive and resilient and equitable."
She said the plan was put together with input from the Duluth City Council, staff and community members. The council ultimately holds the power to approve, reject or amend the plan.
But Larson expressed confidence the plan she presented to the public Tuesday is well-crafted and will remain essentially intact.
"I don't anticipate a ton of variation from these values and from these projects. It could be that that dollar amount moves around a little bit, based on whatever happens between now and then. But I would be really surprised if we were far off base," she said. "I feel like we put the work in, and now it's time to kind of ensure that that's the case."
Larson's proposal includes the following:
$20.68 million for affordable housing and emergency shelter services.
$550,000 for job training and workforce services.
$13.85 million for infrastructure improvements.
$12 million to improve air-handling systems and install air conditioning at City Hall.
$1.8 million for public safety crisis intervention and anti-violence programs.
$2 million to improve outdoor recreation spaces in disadvantaged neighborhoods identified as Qualified Census Tracts.
$2.2 million in assistance to small businesses and industries impacted by COVID-19.
One of the single biggest-ticket projects on Larson's to-do list is updating heating, ventilating, and air conditioning systems at City Hall, a building that currently lacks cooling. As proposed, the work would consume just over 20% of all the federal assistance the city is to receive through the American Rescue Plan.
Larson described City Hall's current air-handling systems as outdated and inadequate.
"We want to protect the health of our public and of the workers in this building," she said.
Other public infrastructure improvements proposed by Larson include replacing all the city's water meters, at a cost of $6.5 million. If not for the availability of federal funding to cover that expense, it would have been passed along to customers in the form of higher utility rates, Larson explained.
Another $3.6 million of infrastructure spending would be dedicated to removing lead pipes from the water system. Larson acknowledged that's not nearly enough to rid the city of lead water lines, but it's a start. The total estimated cost to replace lead pipes in the city is expected to total about $40 million.
As part of the proposed infrastructure improvements, the plan also would spend $1.4 million to replace the Hidden Valley water main, which Larson described as "the leakiest water line we have in our community" and a waste of water and energy.
Larson included $1.3 million in her plan to replace street sweepers as well.
She proposes the city invest $1 million to improve broadband internet service, as announced in the mayor's state of the city address in April.
"Literally the day after that speech, we were contacted by broadband providers. So, we are really excited about the conversations that are happening. But we can't be very public about it," Larson said, advising that she aims to share more as soon as possible.
Under the mayor's proposal, the city also would use $4.2 million of the relief funds to recover tax revenues lost as a result of the pandemic.
Another $500,000 would go to provide assistance to the Spirit Mountain Recreation Area and the Duluth Entertainment Convention Center, as both saw greatly diminished revenues due to the pandemic.
The mayor also recommends the city set aside $200,000 of support to assist entities that were to have received tourism tax proceeds prior to the COVID-19 outbreak.
Larson stressed the importance of properly administrating and documenting the use of the federal relief funding. She warned that any improper use of the funds could result in the forfeiture of those dollars. To help oversee the work, Larson proposes to use $60,000 in funding to hire additional staff on a temporary basis.
The city received half the promised relief funds in May and expects to collect the reminder in May 2022, said Jennifer Carlson, Duluth's finance director.
Under the mayor's proposal the federal relief funds will lighten the burden on local taxpayers, according to Noah Schuchman, chief administrative officer for the city. "Of that money, about $31 million of it is money that if we were to spend it in a normal year, it would be either on the backs of the property taxes or rate payers," he said.
Larson acknowledged the path to recovery from the pandemic will likely be long and difficult.
"The city is here to partner with you," she said. "We care deeply about your health, about your well-being, about ensuring this community is a place where you feel seen and heard and supported,"
Larson said she called Tuesday's news conference for a reason.
"We are bringing this forward publicly now because we really want to hear from the City Council. Are we on the right track? Because every single one of these things I just spelled out is going to take a lot of work, a lot of staff time and public approval. It will all go through the City Council process," she said.