Duluth legislators tackle big topics during town hall meeting
Sen. Jen McEwen, Rep. Jen Schultz and Rep. Liz Olson discussed solutions to various issues brought up by the community like Line 3, child care and affordable housing.
We are part of The Trust Project.
Duluth legislators Sen. Jen McEwen, Rep. Jen Schultz and Rep. Liz Olson, all of the DFL, held a virtual town hall meeting Saturday, Sept. 11, 2021 to answer questions from the community, discuss their goals and recap the 2021 legislative session.
For a little over an hour, the three legislators fielded constituents' questions on a range of topics, including three big ones: child care access and affordability issues and affordable housing, as well as Line 3 and the climate crisis.
Cindy Rugeley, an associate professor of political science at the University of Minnesota Duluth, moderated the event and posed questions constituents submitted to the legislators ahead of time or asked live.
Line 3 and the climate crisis
Constituents asked a spectrum of questions about Enbridge's Line 3 project to replace 340 miles of pipeline across northern Minnesota, including what legislators can do to stop it and why they would oppose a project to replace a 60-year-old line.
McEwen, who is strongly opposed to Line 3, first and foremost because she believes it threatens treaty rights, said the country needs to begin a rapid transition to clean energy now and investing in a pipeline replacement points the country in the wrong direction.
"We do have the technology to begin a rapid transition to a clean energy economy now," McEwen said. "And what this is going to require of us as a society is large scale investments, a large scale push and it will be unprecedented."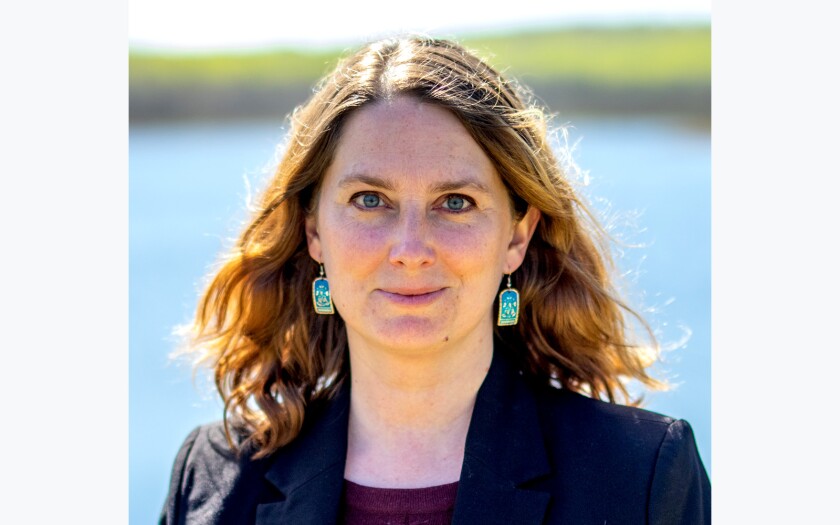 "What Line 3 represents is the building of new fossil fuel infrastructure. It will carry more than two times the amount of dirty tar sands oil that is currently being carried," McEwen continued. "W e need to be keeping all of the fossil fuels in the ground. This is not a radical idea. What is radical is to have that dirty tar sands oil run through the pipeline, go out to market and be burnt."
Schultz, who's on the Great Lakes Commission that consists of representatives from eight states, and advocates for removing old lines, referenced old pipelines leaking in the Gulf of Mexico and "no one taking ownership over the cleanup."
"Ultimately, we have to eliminate the market for fossil fuels, meaning the demand for fossil fuels. As an economist, I know we're going to get there. It's not going to be too far into the future," Schultz said. "Now that those prices are coming down, we will reduce our dependence on fossil fuels."
Schultz said the Minnesota House of Representatives progressive delegation will continue to work on addressing the climate crisis and equitably reducing the state's reliance on fossil fuels.
Olson, who serves on the Minnesota House of Representatives' workforce and business development finance and policy committee, said child care is one of the state's biggest workforce issues and that an early childhood committee works on the issues "nonstop."
There are two prongs to the issue, access and affordability, Olson said.
"We need to make sure that child care is affordable, but yet we're paying living wages to those providing the care as well," Olson said. "It's a complex issue. One that takes serious investment and will take more than just one-time CARES Act funding or ARP (American Rescue Plan) funding to solve."
The early childhood committee received more than $500 million, Schultz said, in ARP Act funding and about half of that money will be used on stabilization grants meant for child care providers suffering from high costs.
"Making sure we have affordable childcare for our low-income families is a priority and we're going to continue to invest because we know how important it is to have affordable childcare," Schultz said. "I have full faith and confidence in (early childhood committee chair) Representative (Dave) Pinto to continue doing the great work he's already done."
McEwen urged the community to "think big" about expansive issues like child care and remember that in many of the United States' peer nations, child care is guaranteed at little to no cost.
"We're the wealthiest country to ever exist on the planet," McEwen said. "Why don't we have child care provided so we can have greater gender equality, so people can work and move about in our society and we can have quality care for our kids, and the people working those jobs are paid living, thriving wages and respected as professionals?"
"(W)e are acting as if we're living in an austerity mindset, an environment of scarcity where we're always having to scramble to figure out just the basics," McEwen said. "These types of things should be a right and we should be demanding that from our elected officials, at the federal level and from us at the state level."
McEwen expressed that same philosophy when talking about how to increase affordable housing options, which she said will require the community to think outside the box, especially since there are always going to be people who cannot work for whatever reason, but still need to be housed.
"Market-driven housing has limitations because we're always trying to service people who are looking to make a profit on housing," McEwen said. " At the end of the day we need to make sure everyone is housed. Housing is a right and we should approach it as a right. That means we need a variety of solutions and we should keep all options on the table."
Olson, who served on the housing committee this year, said addressing the affordable housing crisis requires all levels of government working together. She said she's excited to see the city of Duluth utilizing a large chunk of its federal COVID-19 relief money to address housing issues.
"At the state level we continue to try to make the pie bigger and what we can invest around housing infrastructure bonds and other investments we can do as well as one-time funding," Olson said.
One of the ways the state invests in housing is through the capital infrastructure bills. Olson said the House is pushing for a substantial investment in housing in the state's next bonding bill.
"I'm optimistic and hopeful that we're in a good place to really make a dent in the future," Olson said.
Schultz added that a piece in the housing crisis puzzle is the cost of property.
"One of the big expense items is the cost of the property to build affordable homes, so anything we can do at the state or local level to do that, we need to work on that," she said.
A top priority of the health and human services committee Schultz serves on was preventing homelessness and invested nearly $65 million to help those experiencing homelessness. About a third of that money was set aside for counties to use on emergency shelters and non-emergency services, Schultz said.
"We barely scratched the surface," McEwen said at the end of the meeting. "There's so many important issues we didn't have time to touch on ... Reach out if you feel like you're not in discussion on important issues that are really dear to you because we can connect you both to our office to be in dialogue with us and also with resources in our community."