As city of Duluth, nonprofit test more drinking water for lead, government still tries to fund lead line replacement
State Sen. Jen McEwen introduced a bill to fund the replacement of lead water-service lines in Minnseota. President Joe Biden's infrastructure plan proposes doing the same nationwide.
We are part of The Trust Project.
About 5,000 lead water-service lines still run through Duluth, which is why the Minnesota Environmental Partnership is testing for the presence of lead in drinking water, in addition to the city of Duluth's efforts.
Helen Davis, an outreach liaison specialist at Family Freedom Center, has partnered with Minnesota Environmental Partnership to involve young people in collecting drinking water samples.
"I had a kid who had lead (exposure). So I'm very concerned about all the children in the community," Davis said. "We just want to get the job done so people can be healthy and safe with this water."
When Davis's son was 2 years old, he spent a month in the hospital receiving treatment for high lead levels. It was 1986 and he had been exposed to lead paint in their Chicago home.
Twenty-five years later, Davis lives in Duluth and has recruited four Denfeld High School students, including a granddaughter and two nieces, to collect 20 water samples from families in the Hillside neighborhood. Davis dropped them off Thursday at Pace Analytical Services for testing.
The Minnesota Department of Health released an updated map in 2020 that highlights neighborhoods in the state where children are at greater risk for lead exposure. Children in parts of Duluth's Canal Park, Chester Park, Congdon, Hillside and Lincoln Park neighborhoods had elevated lead levels when compared to the rest of the state, according to 2015-19 data.
Stephan Witherspoon, who's wrapping up his two years with the Minnesota Environmental Partnership to run his new restaurant full-time, worries about the toll lead exposure continues to have on the cognitive development of young people.
"We want our kids and we want our youth to get involved with this, to care about these issues," Witherspoon said. "These are environmental issues that folks should care about. I want people of color, especially our youth, to care about these issues because it affects them the most."
Witherspoon estimates they have tested upward of 30 water samples from homes in Duluth since last year — and they're not done yet. Through his outreach with community leaders and elders, Duluth's African Heritage community has come up with three demands for the city to set a clear path moving forward.
Andrew Slade, also with the nonprofit, presented those demands to the Duluth Public Utilities Commission earlier this year.
The demands include making lead testing free and readily available to any Duluth resident who requests it, making an accessible inventory of all the lead service lines in the city and committing to replacing all lead service lines in 10 years.
Of the first demand, Slade said: "The intent is that if you have, in the slightest, concern as a resident that you have lead in your drinking water, money shouldn't be an obstacle to that. Right now, as an individual citizen, if you wanted to get a test, you'd have to know that Pace Analytical in West Duluth does that. You'd have to know to call them to collect the bottle, you'd have to have $50 or $60 to pay cash up-front."
The city of Duluth is offering free water tests to 100 homeowners and renters living in homes built before 1930 in its latest water testing campaign.
"We were excited with the amount of interest that this garnered and we have received more requests than we have tests for," said the city's public information officer, Kate Van Daele.
Testing has started and Van Daele said the city expects to share results in early June.
The city's preparing for the new federal Lead and Copper Rule that will take effect in March 2024, Duluth's chief engineer, Eric Shaffer, said. While current regulations require that lead levels in water stay under 15 micrograms of lead per liter, the new regulations will drop that number down to 10 micrograms per liter. However, there is no safe level of lead exposure in children, according to the U.S. Centers for Disease Control and Prevention.
Any test results higher than the federally set threshold require city action.
"So the city is going out now to find out if that's going to be an issue," Shaffer said. "We also want to test throughout the system to see if there's a trend, to see if lead levels are higher in one part of town than a different part of town. Then we can come up with a treatment scenario."
The city is only offering the free tests to people whose homes are older than 1930 and who have a lead water-service line, most of which were installed before 1929.
Homeowners and the city each own a separate portion of the water service line. The city owns the section that stretches to the property and the homeowner owns the rest of the line, making it their responsibility.
If someone lives in an older home and wants to know if it uses a lead service line, Shaffer said they can call the city's engineering office at 218-730-5200. He said the city is working to update its database to more easily tell people about their service line.
Homes that are farther away from the water plant are also at greater risk of high lead levels. That's because the pH level in the water decreases the longer the water stays in the system. The city's water plant is located outside the east end of Duluth on Lake Superior.
"Homes farther away could have a lower pH, which means the water could be a little more corrosive and take a little more lead off (the lead service line)," Shaffer said.
In the Minnesota Legislature's latest attempt to fund the replacement of lead service lines, state Sen. Jen McEwen, DFL-Duluth, introduced a bill in the Minnesota Senate on Friday that, if it became law, would provide funding for homeowners and municipalities to replace lead water-service lines by 2032. McEwen said recent testing out of Duluth sparked legislators to write the bill.
"It really is past time that we get this done," McEwen said in a statement to the News Tribune. "(T)his is also about environmental justice. We know that the children of those with lower incomes, including disproportionate numbers of children of color, have higher levels of lead in their water and homes than those with higher incomes, who can afford to rent or purchase newer homes and/or replace lead lines themselves. This is exactly the type of issue where we, through our government, must step up to do what's right for one another in the community."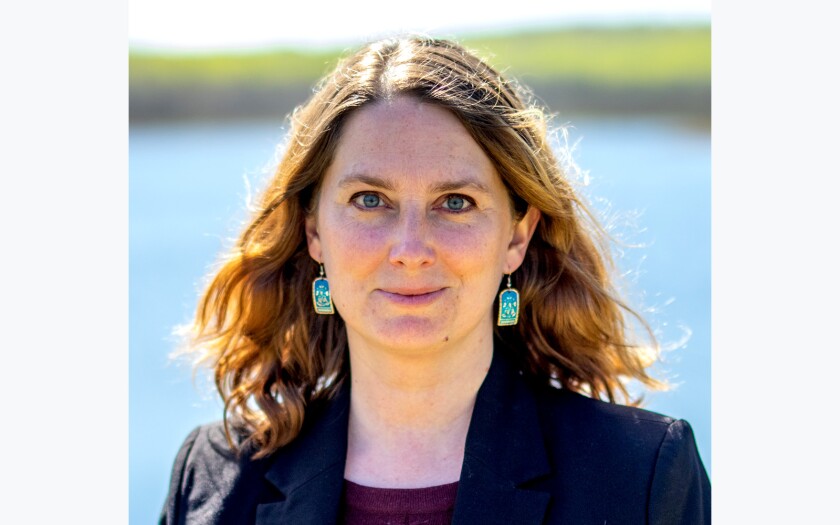 Rep. Sydney Jordan, DFL-St. Paul, will be the lead author of the same bill in the Minnesota House of Representatives.
President Joe Biden's infrastructure plan, which still has to make its way through Congress, also outlines a path forward for replacing all lead pipes and service lines. His plan calls on legislators to invest $45 billion to support the undertaking across the country.
Jodi Slick, the founder and CEO of Ecolibrium3 in Lincoln Park, views replacing all the lead service lines in Duluth as a chance to create new economic opportunities in the community. One way to do that is through job training programs.
"When you create training programs in different fields one of the challenges that you can have is whether or not there's going to actually be enough work for trained individuals when they get done with the training," Slick said. "But when you have this kind of project pipeline that's going to exist for decades, it's a really good opportunity ... These are the same types of skills that are needed to do other construction projects."
Pediatricians screen all their child patients for the presence of lead around age 1 or 2.
Dr. Jonathan KenKnight, a pediatrician at Essentia Health in Duluth, estimates that roughly 10 of his patients' tests reveal the presence of lead in their blood each year.
"Most kids if they have a lower lead level they might not act any differently at the time, but long-term studies have shown that at any lead level there are associations with lower IQs and other cognitive and behavioral problems, especially when the exposure happens at a young age," KenKnight said.
Hospitalizations from lead exposure used to be more common, KenKnight said, in part because the blood lead level threshold for intervening used to be higher. Treatments for children that have already been exposed depend on the child's level of exposure. Children who don't have enough calcium in their diet or are iron-deficient are more likely to absorb the lead in their gut.
Because kids under age three have not yet developed a blood-brain barrier, which prevents toxins from getting into the brain, it's much more likely for lead exposure to affect their brain development.
"Their brains are much more susceptible to absorbing lead in those areas, and lead can interfere with brain development and how your nerves communicate. So that's partly why we think that it causes all these learning problems," KenKnight said.
When a health care provider learns of a lead exposure, the state health department and appropriate county public health department are notified to contact the family to determine the source of exposure and provide recommendations.
The most common and high-concentration source of lead exposure is not through lead service lines, but dust in homes built before 1978 before the federal government banned the sale of lead-based paint, said Susan Van Norman, a public health nurse with St. Louis County.
"We always talk about water, but a lot of times we find out the sources are really not enough water, it may be windows painted with lead paint on the inside," Van Norman said. "Generally what we see is toddlers either playing along there, putting their fingers in their mouth or kids dropping their pacifiers into lead dust and then putting it back in their mouth."
Families who are concerned about paint in their homes can pick up lead-test kits at the hardware store, KenKnight said. If they find the presence of lead, they should contact the professionals to conduct lead abatement.
Former Duluth and Wichita police chief Gordon Ramsay is asking that Wichita change its policy to make citizen complaints against city employees public, as well as the findings of related investigations and any discipline handed down.
The Fargo-based company will make its first expansion into the Sioux Falls television market, which covers roughly half of South Dakota and parts of Minnesota, Iowa and Nebraska.
In a Thursday statement, Ticketmaster said that while it had anticipated a strong demand for the tour, the site logged nearly 3.5 billion system requests — more than four times the site's previous peak.