2019 20 Under 40: Moira Villiard
I'm a bit of a sponge/filter when it comes to people; I'm constantly absorbing and shifting.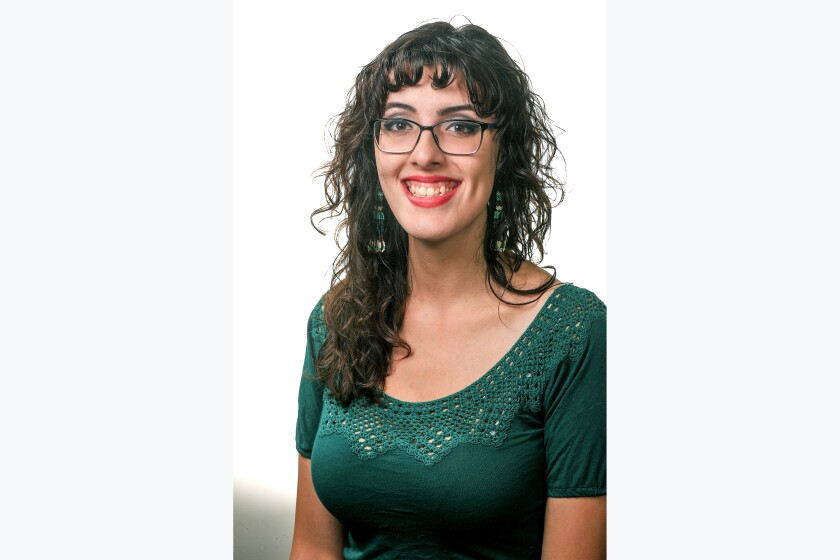 We are part of The Trust Project.
Moira Villiard, 24 (25 this month), Duluth
What do you do? (job, community involvement)
I work full time as the arts and cultural program coordinator at the American Indian Community Housing Organization (AICHO), unofficially as the in-house graphic designer/marketing and web manager, but more officially as part of a team of folks who coordinate events and establish programming for the community.
Outside of my day job, I'm a working visual artist (specifically a painter, though I dabble in everything). Due to some physical issues that I'm still navigating today, I actually lost the use of my arm for a few years, but as a result I got into arts organizing and event curation. I help coordinate community events like the show Goody Night and find myself teaching in a lot of classrooms for folks of all ages.
Most recently, I fell into the realm of public art, and it's truly been surreal, from coordinating the Chief Buffalo mural project at the Lakewalk with the Indigenous Commission to collaborating with Zeitgeist to create street murals all through Central Hillside. Painting on my own can sometimes be very painful for my body; however, with my process of creating public art, I often invite volunteers to help install my designs, so work gets done faster and folks sort of become my living paint brushes. The feeling of letting go and seeing the end result come to life is pretty wild.
How do you spend your free time?
I have a very public private life. I'm surrounded by people 90 percent of the time, which I don't mind so much. For various reasons I grew up quite isolated besides going to school, so I feel at this point I'm making up for all that time. Art used to be my free-time activity, but I hesitate to call it that now.
I am learning to find and appreciate a lot more leisurely activities these days, though. I love going out dancing and I love taking mini-vacations to the Twin Cities (which is funny because, growing up in Cloquet, Duluth used to be the "big city" my family took trips to). Going for walks with my "walking buddy"-turned-boyfriend is one of my favorite pastimes. On the few occasions where I'm not driving myself places, I enjoy reading books while somebody else does the driving. I'm a big fan of economics textbooks (for fun, yes) and reading in general when I get the time.
Tell us about an influential person in your life.
There's a quote that says we're the average of the five closest people in our lives. Throughout my adult life, those five people have changed a lot for me, which I don't see as a bad thing, it just makes it hard to pinpoint my main influences. One of those close people (who remains today) once compared me to the Pokemon "Ditto," in that I kind of take the appearances of whoever I'm spending time with. I'm a bit of a sponge/filter when it comes to people; I'm constantly absorbing and shifting.
My chosen family is my greatest influence, though, all my friends who've stayed connected over time and distance. My Goody Night family taught me to use my voice. One group I'm part of, affectionately called soup fam, in turn taught me about how to think more before I speak, and also to leave toxic spaces. AICHO artists taught me to embrace my identity. My influences are groups.
What keeps you in the Twin Ports?
Our region can function as a nice incubator space for arts and innovation. There's a lot of room to experiment with your creativity and due to our small size, this place presents a lot of opportunities to really consult community members and work with people to make art happen. I'd also say that the Twin Ports has its strong subcultures, but among those, there's not necessarily a set-in-stone, "established" artist community. You won't find an artist "elite" like in larger cities, but the quality still exists … so I've thoroughly enjoyed building up my career alongside artists both young and old, emerging and established.
While I wouldn't say it's super easy to break out as a visual artist here, if you're willing to push your limits and take down barriers for yourself and others along the way, you'll find that the arts scene here is really in its infancy and that even at an individual level, you can help it grow. There's so much that hasn't been done that should be and I've carved out a philosophy in my artistry and organizing that looks at "What hasn't been done yet?" and "What is missing?"
What words of wisdom do you live by?
There's quite a few great things I've heard in my life. I've learned a lot from books. "The Prophet" by Khalil Gibran is one of my first favorite books. From the Minnesota book "We Know How This Ends: Living While Dying," I found the quote "Legacy is an act of ego, teaching is an act of faith," among other words of wisdom.
From a cultural standpoint, I've learned a lot in ceremonies and from elders about our resources and the way we appear in the world. The water we drink today, through many processes, is the exact same water our grandchildren will taste, what we use today is what our descendants will also have to use. With that in mind, the philosophy is this: Always leave things better than you found them.
That leads me to the old circus adage that seems to permeate our lives, "the show must go on."