148th commander reflects on a demanding 2018
In the year since Col. Chris Blomquist took over as wing commander of the 148th Fighter Wing of the Minnesota National Guard, there hasn't been much time for rest.
We are part of The Trust Project.
In the year since Col. Chris Blomquist took over as wing commander of the 148th Fighter Wing of the Minnesota National Guard, there hasn't been much time for rest.
In 2018, more than half of the 148th's 1000 mission-qualified members were deployed across the world and United States for up to 90 to 180 days at a time. On top of that, the Duluth base hosted President Donald Trump and Vice President Mike Pence on their two separate trips.
"This has been the most taxing year in the history of the 148th," Blomquist told the crowd gathered inside the Duluth Entertainment Convention Center's Symphony Hall on Sunday afternoon for the 148th's annual retirement and awards ceremony.
"I see a lot of burnt-out folks in the crowd," Blomquist said from the same stage where he assumed wing commandership of the 148th almost a year ago to the day. "I see that day to day and I know that affects your families, your civilian employers, your children, your parents - all your loved ones."
Brig. Gen. Sandra Best, Chief of Staff of the Minnesota Air National Guard and the event's keynote speaker, said "2018 will go down as one of your busiest and most demanding to date" and urged members to care of themselves and each other, especially during the holidays.
"Reach out to any of our airmen that may be struggling," Best said. "And if you are that airman, please, please, please reach out for help. We have so many resources available to help our military members and their families."
Master Sgt. Megan Shaner, a religious affairs superintendent, was deployed to Washington D.C. where she helped oversee the relief efforts for hurricanes Maria, Harvey and Irma. In her role, she coordinated National Guard chaplains and chaplain assistants who join troops deployed in Puerto Rico.
Since returning to Duluth, Shaner has been busy helping other 148th members and their families readjust after deployment.
"Not only was I gone for six months, but then I came home and I've been on temporary full-time orders since then," Shaner said. "My door has been constantly open and people are coming in and just talking through what life was like and what that deployment process was like for them," Shaner said.
For her efforts, Shaner was awarded the Senior Non Commissioned Officer of the Year award Sunday.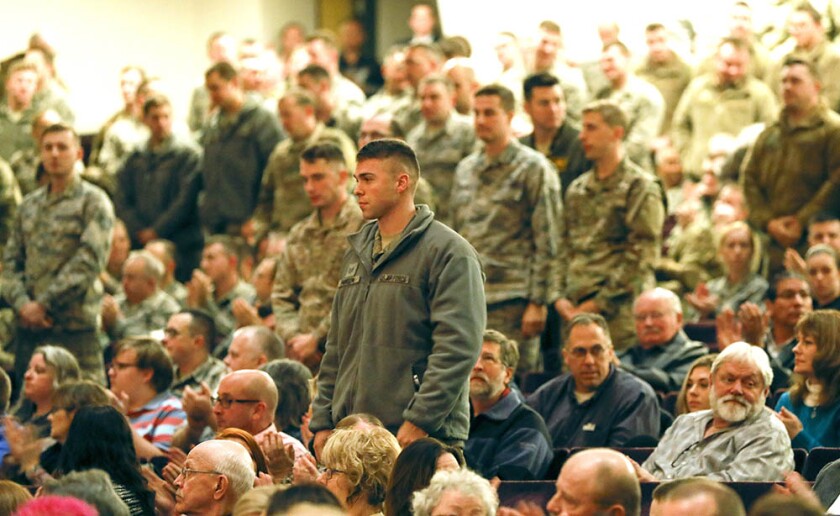 In his speech, Blomquist promised to lessen the burden on 148th members by improving communication, expanding services like the Yellow Ribbon Program for members, improving work environments, advocating for additional positions at the base to lessen the workload and continuing to hold people accountable for their actions.
Blomquist said 52 full-time positions were already added to the base in 2018, mostly in aircraft maintenance, and that the 148th, which currently flies F-16s, will again lobby for new F-35 fighters.
For years, the 148th has tried to upgrade to the F-35 in an effort to ensure the base stays in Duluth.
"We are now going to advocate for next-generation aircraft so that the 148th Fighter Wing may continue to serve this country and the thousand-plus airmen in job security here in Duluth," Blomquist said. "As the Air Force makes its case for ' The Air Force We Need ,' we will grow from 312 operational squadrons to 386 operational squadrons. So now is the time to pursue F-35 Joint Strike Fighter or a newer manned-fighter aircraft in Duluth at the 148th Fighter Wing."
The 148th was most recently denied the F-35 in 2016.
After Sunday's ceremony, Blomquist told the News Tribune that the 148th backed off on its F-35 requests the last few years. Blomquist said it wasn't a good time to ask since the 148th's current F-16s are from 2010, making them the some of newest in the Air Force and Air National Guard inventories, and that if the 148th received new F-35s, its F-16s would be passed on to another squadron.
The changes in inventories would result in a "double conversion," something the Air Force had been opposed to until recently, according to Blomquist.
But given the Air Force's recent push for more than 70 additional operation squadrons, Blomquist said the 148th is ready to start asking for F-35s again.
"There is not an issue for the double conversion anymore," Blomquist said.
1
/
2:
A smiling Senior Airman Ashley Lewis salutes 148th Fighter Wing Commander Col. Chris Blomquist after accepting the Top Group Fitness Winner award for the operations group during the wing's awards and retirement ceremony Sunday at the DECC. Steve Kuchera / skuchera@duluthnews.com
2
/
2:
Members of the 148th Fighter Wing were deployed this year stand to be recognized during Sunday's awards and retirement ceremony at the DECC. Steve Kuchera / skuchera@duluthnews.com
The system crashed earlier this month, grounding flights across the U.S.