World travelers plant Grand Marais roots, launch off-the-grid Airbnb
"The only water that we have comes from the rain, which has been so tricky because of the drought," said Stevie Plummer, adding "We survived."
We are part of The Trust Project.
Stevie Plummer lit a gas lamp. A lasso from a South American ranch adorned a wall, and nearby hung a charango (a small guitar) made from an armadillo shell.
In Argentina, they cook armadillo whole, steaming the meat from the inside, said Juani Carregal.
Asked how it tastes, Plummer turned to Carregal: "How'd you describe it?"
Plummer and Carregal are behind Patagonia Cabins, a Grand Marais-based off-the-grid lodging experience in tribute to their South American place of respite.
The couple moved from Argentina to Grand Marais in October, and with help from local polar explorer Lonnie Dupre , they built the 300-square-foot, one-room cabin in six weeks — complete with an A-framed outhouse and outdoor bucket shower.
"The culture and the slow living and the simplicity of life down there, we really tried to have this place embody that because we tend to, especially in a seasonal town, get so wound up in work and the everyday hustle that you forget — until you have that time to disconnect — how important that is," said Plummer.
After living in the cabin themselves, Plummer and Carregal listed it on Airbnb in April, and it's been a busy debut season. July was booked solid, and the couple had to block out a day in August for a News Tribune visit.
At $189 a night, a handful of September days remained.
Most of their visitors are from Minnesota or Canada, but they've hosted folks from Europe, Brazil and Argentina. Guests flock to their Grand Marais location to hike, canoe or honeymoon, and others simply desire some solitude.
Part of being off-the-grid is seeing how simply you can live, Plummer said.
Patagonia Cabin touts a propane fireplace and stove, a lofted bed fit for two, a solar panel and a gas fireplace. "The only water that we have comes from the rain, which has been so tricky because of the drought," said Plummer, adding "We survived."
During winter, they ask guests to melt snow.
The shower space looks spa-like: The open wall faces the woods and white rocks are spread around concrete steps resting near a potted cane plant.
It's perfect for a three- or four-minute shower, and it saves on water, Carregal said.
A byproduct of going off the grid is awareness and appreciation for the little things, and along with function, each piece in the cabin is intended to share their story.
Plummer flipped through a book featuring her photographs of gauchos, the cowboys of Argentina. They live off the land, the rivers and the lakes.
She recalled listening to the radio daily with gaucho friends, awaiting family updates.
It's the real deal there, and they're so humble about it, said Plummer.
"It's so normal," added Carregal.
Plummer's time spent with the gauchos helped inform the idea for the off-the-grid cabin.
"We try to make it a cultural experience, but through our stories and through our experiences. So much of our life is here in Grand Marais, but also in Patagonia," continued Plummer.
"It's a town of 1,300, but you feel part of something bigger."
Carregal came from Buenos Aires, Argentina, population 17 million people, and he was taken aback with the Grand Marais community. "People don't live to work," he said.
RELATED:
If you hear "Patagonia" in the Northland, you may think of the clothing brand, Plummer said, but for her and Carregal, the southern end of South America is so much more.
"You know when you cannot believe that something can be that pretty," recalled Carregal. "Everything is super clean, super clear."
"You literally drink out of any river," said Plummer. "I never used a water filter there."
It doesn't get as cold as it does in Minnesota, but Patagonia also has four seasons and a range of terrain.
"On one side, you get this lush, tropical green, more like the Pacific Northwest," said Plummer. "On the other side, where I lived, it's a lot drier, like Bend, Oregon, what you'd imagine an Australian outback would look like.
"Then, it drops into the east … flat, super high winds all the time. Then it goes on into the ocean, and you've got penguins and whales. It's another world," she continued.
Plummer guided 10-day horse-pack trips into the Patagonian mountains, and she traveled solo across 2,000 kilometers with a dog and two horses. It took three months, she said, opening the page with a photo of her at the end of her journey, sitting tall on her horse, Patagonian mountains behind her.
When Plummer was living off the grid in Patagonia, she met Carregal who was running restaurants in Buenos Aires. After some time dating long-distance, they found the perfect apartment to share in the city that had enough nearby nature for Plummer.
They figured out how to accommodate Plummer's dog and two horses, and Plummer helped Carregal with his businesses.
Being with Plummer made Carregal want to slow down from his nonstop schedule. "I never lived with someone, and I knew if I were to live with someone, it's going to be my wife," he added.
Plummer had lived in Grand Marais off and on for 10 years.
"This community's always been a part of me, and I've always said if I had to live in the states, I would live in Grand Marais," she said.
They came to the U.S. initially to visit family, and traveled to Miami, Oregon and Minnesota.
"The economy kind of exploded. We had sold the restaurants and never saw a penny from the people we sold it to. We literally had $1,400 to our name," Plummer said.
Then, there was COVID-19, her husband's walk through the residency process during the pandemic and inability to work as a result.
They were offered a parcel of land and help to build the cabin, and by extension, their lives in Grand Marais, Plummer said.
"COVID was a great way to reinvent ourselves. For a lot of people, it was that push to try something new, to get out of your comfort zone," she said.
Constructing the cabin brought its own type of adventure — building in Carregal's second language and construction in itself was new for them.
"It's challenging, but fun-challenging, and once you realize if you do spend time together on something, then you really can do a lot more than we give ourselves credit for," Carregal said.
Working together, Plummer and Carregal know each other's strengths and limitations. They know to take the lead on different tasks. They don't take things personally when the other is stressed, and they dedicate time to the relationship — weekly date nights where work talk is off-limits.
"Always put your relationship first," Plummer said.
"And talk about everything," added Carregal.
In the early morning hours before the News Tribune's visit, the couple started building a fence to separate what will become Patagonia Cabin No. 2, the Gaucho cabin.
Sitting on their patio facing Lake Superior, Plummer reflected on the miles they've traveled and the milestones behind and ahead.
"Two years ago, we started at nothing. A year and half ago, we were at nothing, and then a year ago, we were at nothing. To see how life, if you really open yourself up to help and to good people, what the possibilities are," she said.
For more information, go to patagoniacabins.com
1
/
4:
A welcome packet waits for the next guests of the Patagonia Cabin just northeast of Grand Marais on Wednesday afternoon, Aug. 4, 2021. Jed Carlson / Superior Telegram free
2
/
4:
Stevie Plummer, left, Juani Carregal along with their dog Darcie stand outside of their Patagonia Cabin, a 300-square-foot, off the grid cabin, just northeast of Grand Marais on Wednesday afternoon, Aug. 4, 2021. Jed Carlson / Superior Telegram free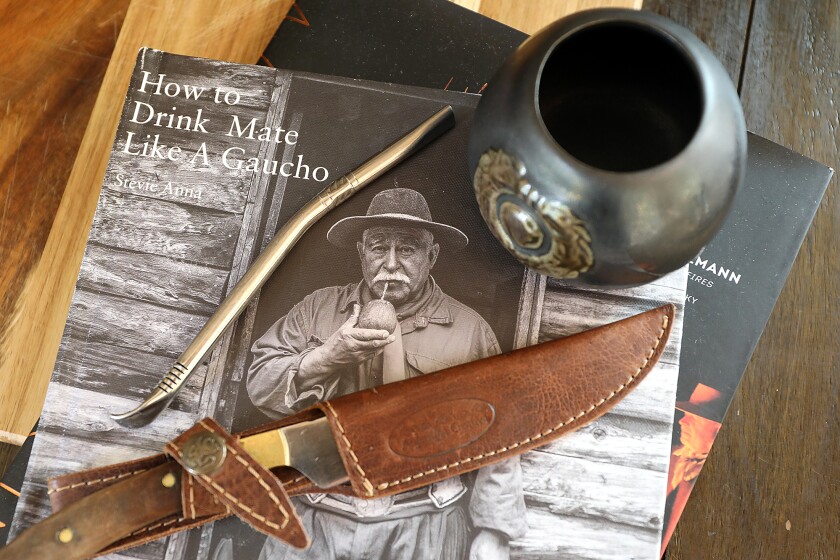 3
/
4:
A book of photographs by Stevie Plummer about the Argentinian drink mate greets guests at the Patagonia Cabin just northeast of Grand Marais on Wednesday afternoon, Aug. 4, 2021. Jed Carlson / Superior Telegram free
4
/
4:
An outdoor shower awaits the next guests of the Patagonia Cabin just northeast of Grand Marais on Wednesday afternoon, Aug. 4, 2021. Jed Carlson / Superior Telegram free