Vegan cooking: Salads that will get you out of a rut
Duluth News Tribune food columnist Susan Alexander shares some fresh takes on fresh summer salads.
Do you make the same salads over and over? Here are ideas to increase your salad repertoire.
Pistachio-Spinach Salad with Strawberry Balsamic Dressing
This recipe is adapted from the How Not to Die Cookbook by Michael Greger, M.D., with Gene Stone and Robin Robertson. If you're trying to reduce or eliminate oil from your diet, this is a recipe for you!
The dressing tastes like a very fancy-schmancy restaurant dressing full of complex flavors. I like to use the dressing as a dip for raw veggies.
Dressing:
1 cup strawberries, washed, hulled and quartered
½ teaspoon onion powder
¼ teaspoon garlic powder
¼ cup balsamic vinegar
1 tablespoon agave syrup
½ teaspoon mustard
1 teaspoon dried thyme
½ teaspoon poppy seeds
¼ teaspoon ground black pepper
Salad:
8 cups baby spinach
½ cucumber, halved and thinly sliced
¼ cup pistachios
In a blender, combine first seven ingredients. Blend until smooth. Stir in poppy seeds and black pepper. Plate the salad ingredients and stir in dressing or serve the dressing on the side.
Mary's Mandarin Almond Salad
My favorite green to use in this salad is sweet butterhead lettuce. I reduced the amount of sugar from the original recipe and still found the salad delicious.
Dressing:
½ t salt
dash pepper
2 tablespoons sugar
2 tablespoons vinegar
¼ cup canola oil
1 teaspoon dried parsley
1 cup almonds
¼ cup sugar
4 cups lettuce, torn into bite-sized pieces
1 11-oz can mandarin oranges
Place first six ingredients in a jar with a lid and shake to combine. Sauté almonds and sugar in a skillet over low heat until sugar melts and coats the almonds. Cool and break apart. Store the almonds at room temperature. Place lettuce in a bowl. Toss with dressing and top with mandarin oranges and almonds. Serve immediately.
Denise Dexter's Very Green Salad
Denise brought this tasty salad to a potluck, and I think of her whenever I make it. The world is a better place because Denise was in it.
2 cans cut green beans, drained
1 small can of peas, drained
1 medium cucumber, scored and thinly sliced
1 medium onion, diced small
1 medium green pepper, diced
3 to 5 stalks of celery, thinly sliced
In a separate bowl mix together:
2/3 cup sugar
1 cup oil
1 cup cider vinegar
Add the vegetables to the oil and vinegar mix. Refrigerate several hours or overnight.
For many years, I shared an office with a fabulous cook. Barb would recline in her chair and rattle off the ingredients of the dishes she created over the weekend. I would scribble furiously as she recollected her most recent culinary masterpiece. I've made Barb's pear salad many times. It's easy and delicious! This recipe serves four people.
2 tablespoons vegan margarine
1 cup walnut pieces
2 tablespoons brown sugar
2 ripe Bartlett pears, seeded and sliced into fourths
4 cups fresh spinach, washed and torn
dressing:
¼ cup canola oil
¼ cup vinegar
¼ cup orange juice
2 teaspoons garlic salt
Melt vegan margarine in skillet. Add walnuts and brown sugar and sauté until walnuts are lightly browned and coated with brown sugar. Set aside.
Mix dressing with spinach in a large bowl. Top with pears, then walnuts. (I prefer to divide the spinach into separate serving bowls, top with the pears and walnuts, then spoon the dressing over each portion.)
This salad is adapted from a recipe from acouplecooks.com.
5 ounces (8 cups) baby arugula
1 can beets, cut into bite-sized pieces
1 sweet onion, chopped
1/4 cup walnuts, toasted and roughly chopped
Vinaigrette:
2 tablespoons orange juice, plus zest of 1/2 orange
1 tablespoon lemon juice
1/2 tablespoon mustard
1/2 teaspoon maple syrup
1/4 teaspoon
black pepper to taste
1/2 cup canola oil
orange zest, to garnish
Place the greens on a plate. Top with the beets, onions and walnuts. In a medium bowl, whisk the vinaigrette ingredients together. Drizzle with dressing, garnish with orange zest and serve.
As zucchini season starts, here is something fun and delicious to do with those prolific fruits. This is a good recipe for potlucks because you can increase the quantity of ingredients to serve a large number of people. The recipe below serves about four. I usually make one giant salad on a big platter, but when I'm feeding just my husband and myself, I make two smaller salads and adjust the quantity of ingredients.
2 cups shredded zucchini
3 cups (more or less) spinach leaves
½ cup vegan pesto
½ cup shredded vegan parmesan
¼ cup sliced Kalamata olives
¼ cup sliced cherry tomatoes or chopped tomatoes
1/8 cup pine nuts, toasted
Place shredded zucchini in a colander in the refrigerator overnight with a plate or bowl underneath to catch the drippings. (Or place the shredded zucchini on a paper towel and squeeze out the moisture.) The next day, layer the salad in concentric circles so that every layer can be seen. Start with the spinach leaves on the bottom, then zucchini, pesto, vegan parmesan, Kalamata olives, tomatoes and lastly, the pine nuts.
If desired, drizzle a stream of vinaigrette or olive oil around the salad edge.
I watched a video of Molly Yeh on Food Network making a popcorn salad. I love popcorn and I couldn't resist giving this a try. My salad follows Yeh's recipe closely, but I swapped out the animal-based products for vegan ones.
½ cup vegan mayonnaise
¼ cup vegan sour cream
2 tablespoons cider vinegar
1 tablespoon sugar
2 teaspoons mustard
¼ cup nutritional yeast
¼ cup sweet onion (a Vidalia is very good) chopped
2 cups sugar snap peas, strings removed, cut crosswise into thirds
1 cup shredded carrots
1 cup chopped celery
10 cups popcorn
salt and pepper to taste
celery leaves for garnish
Whisk the vegan mayonnaise, sour cream, cider vinegar, sugar, mustard and nutritional yeast together in a large serving bowl. Stir in the onion, peas, carrot and celery. Season with salt and pepper. Add the popcorn and stir. Garnish with the celery leaves; serve immediately.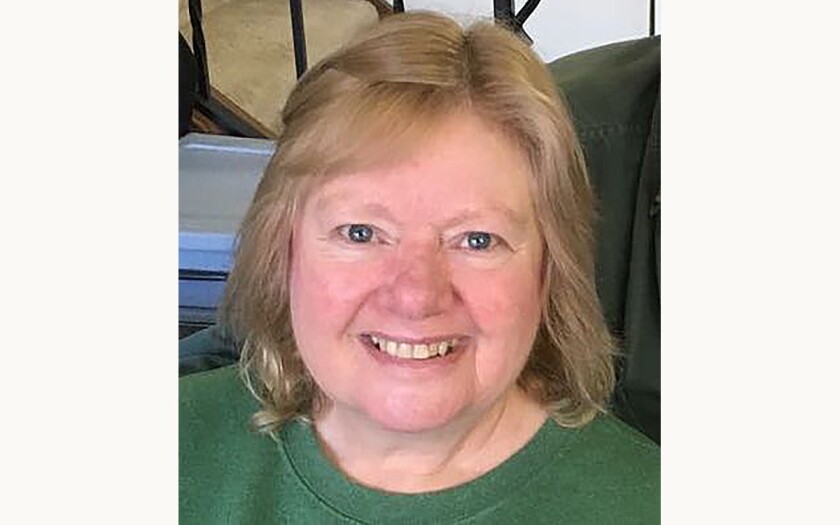 Susan Alexander is an avid cyclist. She loves gardening, farmers' markets and creating delicious meals consisting of whole grains, fresh vegetables and fruits.