Vegan cooking: More favorite dishes when my husband cooks
Reducing sugar, varying ingredients and making hearty meals are all part of my husband's meat- and dairy-free meals.
In last month's column, I shared some dishes prepared by my husband during his month of cooking. Here are some dishes that rounded out my husband's vegan culinary creations.
Tofu, Potato, and Cauliflower Piccata Bowl
This recipe is adapted from One-Dish Vegan by Robin Robertson.
2 small Yukon gold potatoes, peeled and cut into ½-inch dice
1 head cauliflower, cored and cut into 1-inch pieces
olive oil
salt and black pepper
12 ounces extra-firm tofu, drained and cut into ½-inch pieces
1 cup grape tomatoes, halved
1 onion, chopped into ½-inch pieces
Sauce:
3 cups white beans
¼ cup white wine
¼ cup vegetable broth
1 tablespoon freshly squeezed lemon juice
3 tablespoons nutritional yeast
¼ teaspoon garlic powder
1/8 teaspoon cayenne pepper
1 tablespoon vegan basil pesto
parsley, if desired, for garnish
Preheat oven to 425 degrees. Cover a baking sheet with parchment paper. Arrange the potatoes and cauliflower on the baking sheet. Use two baking pans if you can't fit everything on one. Drizzle or spray the vegetables with olive oil. Season with salt and pepper. Roast for 15 minutes then turn the vegetables with a large metal spatula. Add the tofu, tomatoes and onion to baking sheet. Continue roasting until the potatoes and cauliflower are tender and nicely browned, about 15 minutes longer.
In a high speed blender, combine sauce ingredients. Heat the sauce gently in the microwave.
Divide the vegetable mixture into bowls. Top with the sauce.
Vince served this dish on a bed of lettuce. (We love our leafy greens!) Garnish with parsley, if desired.
This recipe will feed four people, one big tortilla each.
2 bell peppers, any color, or a mix of colors, sliced
1 yellow onion, sliced
2 tablespoons of canola oil, divided
Four 10-inch flour tortillas
1 link of vegan chorizo
1 can black beans
shredded vegan cheese, to taste
lettuce
vegan sour cream
guacamole or cubed avocado
In a medium skillet, sauté bell pepper and onion in one tablespoon of canola oil until softened. Place the sautéed onion and bell pepper in a bowl. In the same skillet, sauté vegan chorizo and black beans until hot. Set aside.
Heat flour tortillas in microwave 30 seconds to soften. Top each tortilla with a fourth of the black bean mixture and vegan cheese. Tuck the sides in, and roll up each tortilla. Place the tortillas, seam side down, in a large skillet heated with remaining tablespoon of canola oil. Brown the tortilla on each side.
Serve each tortilla on a bed of lettuce and top with sautéed peppers and onions, vegan sour cream, guacamole or avocado, and a sprinkle of shredded vegan cheese, if desired.
Vince adapted this recipe from One-Dish Vegan by Robin Robertson. This is a delectable combination of ingredients, but you should vary the toppings to suit your tastes.
2 large vegan naan breads
4 ounces white mushrooms, sliced
3 tablespoons fresh basil or pesto
1 cup hummus
One 8-ounce jar marinated artichoke hearts, drained and quartered
½ cup pitted Kalamata olives, halved
½ cup sliced pimento-stuffed green olives
¼ cup sun-dried tomatoes, chopped
1 tomato, chopped
½ teaspoon dried oregano
Preheat oven to 350 degrees. Bake naan breads on one side for 5 to 10 minutes. Put mushrooms in a microwave-safe bowl with one tablespoon of water, cover, then heat for one minute to soften. Mix basil or pesto with hummus. Remove naan from oven and flip over so the browned side is up. Divide hummus mixture between both naan breads, spreading evenly. Top with mushrooms, artichoke hearts, Kalamata olives, sun-dried tomatoes, tomato and oregano. Bake for 10 minutes or until piping hot.
Two naan breads make eight slices of pizza.
Mashed Potatoes and Sauerkraut
While on a bicycling trip from Duluth to Appleton, Vince and his cycling companions stopped at a little café for dinner. Vince ordered side dishes to create a hearty vegan dish to fill him up for the next 100 miles of the journey. The waitress looked at Vince quizzically, but he assured her and his cycling companions that the entrée was delicious. Mashed potatoes and sauerkraut is now a family comfort food favorite.
2 cups Idaho potatoes cooked until soft then mashed with vegan margarine, soy creamer, salt, pepper and garlic powder
2 cups non-beef gravy
sautéed mushroom slices and onions, if desired
1 can sauerkraut, drained and heated
vegan beer bratwurst, browned in a skillet
Place a cup of hot mashed potatoes on each plate and make a huge well in the center of the potatoes. Fill the well with gravy, mushrooms and onions. Top each mashed potato pile with sauerkraut. Serve sautéed kielbasa or bratwurst on the side. We like Tofurkey beer brats and the Tofurkey kielbasa. Be careful when sautéing the vegan sausages; they burn easily. Serves two.
Although I love canned baked beans, the amount of sugar per serving makes my pancreas beg for mercy. Vince's homemade baked beans are delicious, simple to assemble, and are lower in sugar than canned products. The sugar content of premade barbecue sauce varies greatly; there are some delicious barbecue sauces that have less than 10 grams of sugar per serving. This recipe serves four.
Two 14-oz. cans of white beans
2 tablespoons prepared barbecue sauce
One 8-oz. can tomato sauce
¼ teaspoon salt (or to taste)
Mix all ingredients together. Heat.
2 large sweet potatoes
2 tablespoons of canola oil
1 teaspoon seasoned salt
Preheat oven to 425 degrees. Slice the sweet potatoes into strips. Coat the strips with canola oil and sprinkle with seasoned salt. Place on a large baking sheet and bake for 30 to 45 minutes, until the sweet potatoes are cooked and browned.
Tart Lime-Banana Frozen Dessert
1 lime
6 bananas, peel removed and frozen solid
12 graham crackers, crushed
Optional: Truvia or other sweetener
Zest the lime then chop the lime coarsely. Place the chopped lime and the bananas in a high-speed blender. Blend until smooth. Place half of the crushed graham crackers into the bottom of four dessert dishes. Top with an inch of frozen lime-banana mixture. Top with remaining crushed graham crackers and the zest from the lime. Freeze. Serve slightly thawed.
Any extra lime-banana mixture can be frozen and served with graham crackers.
For a sweeter dessert, use crushed Golden Oreo cookies instead of graham crackers. To make the lime filling less tart, I recommend adding a teaspoon of Truvia or other sweetener.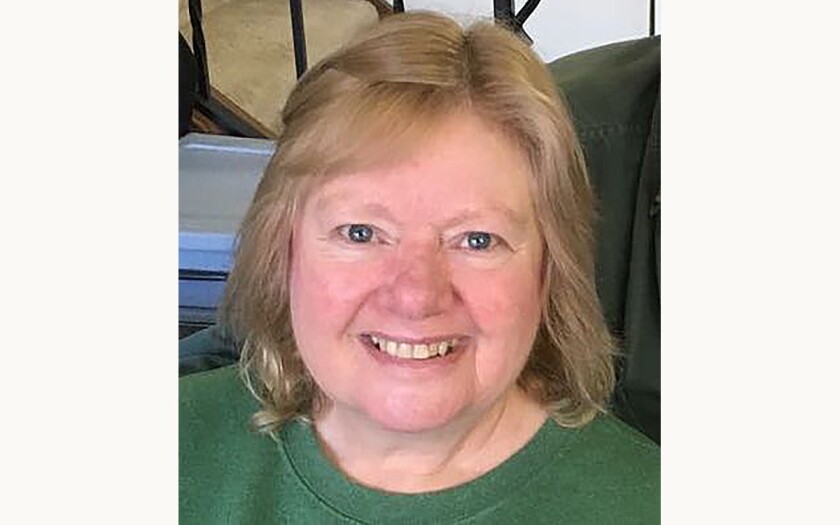 Susan Alexander is an avid cyclist. She loves gardening, farmers' markets and creating delicious meals consisting of whole grains, fresh vegetables and fruits.