Vegan cooking: Let's go on a taco adventure
We are part of The Trust Project.
Why eat the same ol' tacos when there are so many ways to enjoy them?
Prepared corn taco shells are easy and delicious, but you can also use a soft corn tortilla, a whole-wheat shell or if you're really feeling virtuous, put your taco ingredients inside a purple cabbage leaf.
To separate each leaf from a cabbage head, it helps to soak the cabbage head in boiling water for about a minute. First, core the cabbage, put it in a large bowl, add boiling water, let it sit for a minute, then drain off the water and run the head under cold water before sticking your fingers into the cabbage. I found it easiest to liberate each leaf from the head starting at the thick core and working outward.
If you're feeling adventurous, give some of these recipes a go. There's really no end to what you can do to a taco.
1 tablespoon canola oil
8 ounces mushrooms, chopped
1 teaspoon garlic powder
1 teaspoon onion powder
1/2 teaspoon black pepper (or to taste)
1/4 teaspoon salt
1 1/2 cups kale, chopped
1 14-ounce can pureed pumpkin, warmed
1 avocado (sliced)
1/2 cup vegan mayonnaise
1/4 cup hot sauce
1 teaspoon lime juice
8 soft corn tortillas
Grape tomatoes (optional)
Purple cabbage (optional)
Heat oil in a large nonstick skillet. Add chopped mushrooms and cook for five minutes. Add garlic powder, onion powder and black pepper and stir for 30 seconds more. Add salt and set aside.
Place kale in a heat-proof bowl. Cover with boiling water, let it sit for two minutes to soften. Drain the kale. Run cold water over the kale to stop the cooking. Add kale to the mushrooms.
Combine vegan mayonnaise, hot sauce and lime juice in small bowl and mix well.
Heat tortillas. Spread pumpkin puree on each tortilla. Add mushroom mix, top with avocado slices, garnish with tomatoes and cabbage and drizzle mayonnaise sauce on top.
Chorizo is a type of sausage that originated in the Iberian Peninsula. The vegan versions of chorizo tastes a lot better than the animal flesh-based versions.

1 tablespoon canola oil
1 package soy chorizo
4 taco shells
Lettuce, onions, tomatoes, vegan sour cream, and/or sliced avocado
Heat canola oil in large skillet. Remove soy chorizo from casing and squeeze chorizo into heated skillet. Sauté for two to three minutes until hot. Heat taco shells according to package directions.
Divide chorizo between taco shells. Top with lettuce, onions, tomatoes, vegan sour cream, avocado, or anything else that floats your boat.
This makes four decadent tacos.

4 soft corn tortillas
1 cup leftover mashed potatoes, warmed up in the microwave
About ½ cup of vegan cheddar cheese, shredded
About ⅓ cup chopped green onions
Hot sauce or salsa of choice
Warm the tortillas in a skillet warmed to medium-high heat. Remove the tortillas from the skillet. Spread about a quarter-cup of potatoes on each tortilla.
Sprinkle each tortilla with a little cheese, green onions and hot sauce. Fold in half and serve immediately.
Sorghum is an underappreciated grain. Sorghum needs to boil for about an hour, so you might want to make the sorghum the morning or day before assembling this dish.
I used Gardein frozen Chick'n Strips nuked in the microwave before adding them to the sorghum mix.
If you want a little more heat, choose a jalapeno pepper instead of a poblano.

1 tablespoon canola oil
1 diced onion, (about 1 cup)
2 cloves garlic, minced
1 poblano pepper, minced
2 teaspoons Frank's RedHot sauce or ketchup
1 teaspoon oregano
1 tomato, cored and diced
1 tablespoon apple cider vinegar
2 cups cooked sorghum
1 package Gardein Chick'n Strips (optional)
8 tortillas, taco shells or purple cabbage leaves
1 avocado, cubed (optional)
In a large skillet, heat the canola oil over medium-high heat. Add the onion, garlic and poblano pepper and saute for two to three minutes, until softened. Add the Frank's RedHot or ketchup, oregano, tomato and vinegar. Add the sorghum and Gardein Chick'n Strips, if using, and stir to combine. Cook until heated through.
Serve in tortillas, taco shells or cabbage leaves. Garnish with avocado if desired.
Plantains look like big bananas, but they're starchy and must be cooked before eaten. I find plantains at the desired ripeness when they're mostly black on the outside. I slice them in half, remove the peel, then steam them for 15 minutes until they're plump and bright yellow. If you don't have a steamer, gently simmer the peeled plantains in a little water for 15 minutes.
Makes 4 servings.

2 plantains, peeled and steamed for 15 minutes
1 tablespoon lime juice
1 teaspoon ground ancho chile powder or chili powder
1/2 teaspoon salt, or more to taste
(8) 6-inch corn tortillas
2 cups shredded red cabbage
1 cup salsa verde
3/4 cup toasted pepitas (hulled pumpkin seeds)
After cooking the plantains, cut them into bite-sized pieces. Mix them with lime juice, chili powder and salt.
Warm the tortillas. Fill each tortilla with a quarter-cup cabbage, a few pieces of plantain and a few tablespoons of salsa. Top with pepitas. Serve warm.
I served these tacos when friends stopped over for lunch. These tacos were a big hit.

8-ounce package tempeh
1 small can pineapple tidbits, packed in pineapple juice
1 small onion, diced
1 tablespoon oil
2 tablespoons chopped cilantro
2½ teaspoons curry powder
1½ teaspoons grated fresh ginger
Salt and pepper to taste
1 tablespoons lime juice
1 teaspoon grated lime zest
(4) 6-inch corn or flour tortillas, warmed
¼ cup red bell pepper, chopped
½ cup curly mustard greens, finely chopped
2 tablespoons peanuts, chopped
Prepare tempeh by boiling or steaming the tempeh for 15 minutes. Dice the tempeh when done steaming. Drain pineapples, reserving juice.
In a large skillet, saute onion in oil until softened. Stir in tempeh, reserved pineapple juice, cilantro, curry powder and ginger. Season with salt and pepper to taste. Cook five minutes or until pineapple juice evaporates. Remove from heat, stir in lime juice and zest.
Fill tortillas with tempeh mixture and top with red bell pepper and mustard greens. Top with peanuts and serve.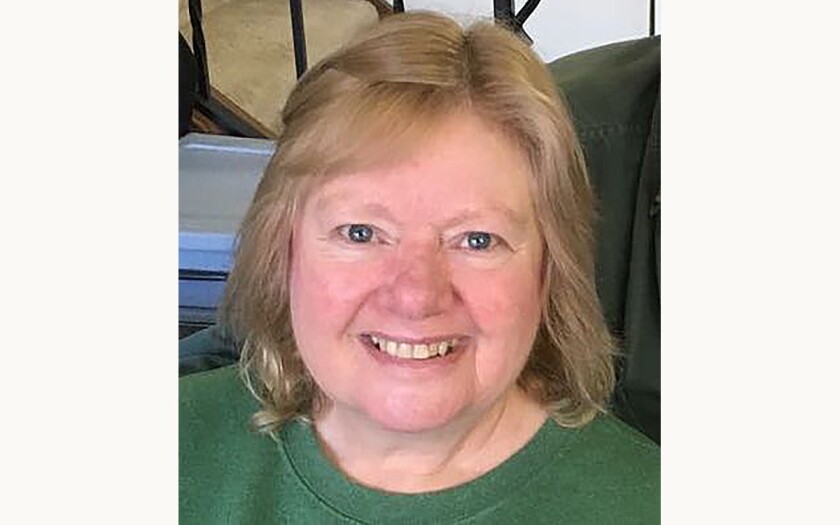 Susan Alexander is food columnist for the Duluth News Tribune. She loves gardening, farmers markets and creating delicious meals consisting of whole grains, fresh vegetables and fruits.
Add greens to soup, scrambles, salads and pasta.