The Old Fashioned: The Tally Ho (and Hayward) hits all the right notes
From pickled turkey gizzards and creative taxidermy to a delicious potato soup, sports reporter Jamey Malcomb thinks there's something for everyone in Hayward.
We are part of The Trust Project.
HAYWARD — I've lived here 10 years, and I've never been to Hayward.
There's no real reason I haven't been to Hayward. It's just a little too out of the way for us to randomly stumble on and I haven't had a reason to visit — until now.
After completing the "Superior 3" supper clubs last time at Eddie's, we had to look a little further afield.
Katie Ahlberg, mother of Telegram All-Area Baseball Player of the Year Abe Ahlberg , recommended the Tally Ho Supper Club in Hayward after the Green Eagles' sectional championship game in Shell Lake.
Fair enough, but if Lisa and I are going to drive an hour and a half to get there, we're going to try to make an afternoon of it.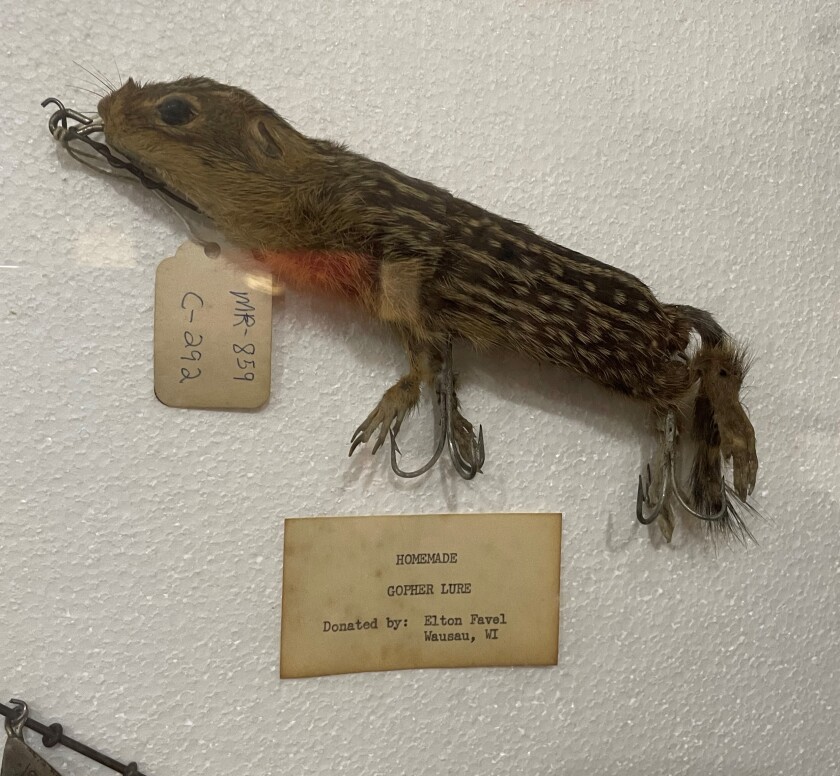 And, boy, did we make an afternoon of it.
Lisa and I — along with a couple of friends — packed up the car and headed toward Sawyer County.
Did you know Hayward is the home of the Freshwater Fishing Hall of Fame? IT IS!
This is an odd, but fun little museum. Highlights for me included the taxidermy gopher that's used as a fishing lure and the outboard motor "graveyard."
I have a lot of questions about the gopher. I'm no fisherman, but what sort of fish are you looking to catch with a gopher lure?
After the museum we made our way to the Moccasin Bar. I haven't been in a place like the Moccasin Bar in a long time. Check that, I've never been in a place like the Moccasin.
There are plenty of mounted fish on the wall, but I had a lot of questions about the diorama of stuffed gophers in a cute alpine setting, complete with hats, instruments and beers. Are preserved gophers a Hayward thing? Why is there an alpine theme? Are those actually gophers? Or are they chipmunks?
Before I could even contemplate an interview, I noticed two jars of pickled turkey gizzards sitting on the bar. Typically, I'll eat just about anything at least once, but I saw some folks near us eating one and y'all, it turned my stomach. Like, I had to step outside the bar for a second.
The Superior supper club wasn't exactly what sports reporter Jamey Malcomb expected, but it left him with questions and plans for a return.
It gets worse.
When I got back inside, our friendly neighbors had ordered us a turkey gizzard to share. I wanted to try it, I really did, but I couldn't.
Mama grew up on a farm and on Sundays my grandmother would slaughter a chicken. Sometimes in Mama's family of nine, her piece of chicken would be the gizzard — so she claims. She hates the things. To this day she won't eat any organ meat.
Lisa tried it and one of our friends tried it, but not me.
The closest thing I got to a review was later, when Lisa took a sip of her Old Fashioned at the Tally Ho. "That's definitely not the worst thing I've put in my mouth today," Lisa said.
I stand by my decision.
Speaking of the Tally Ho, whee-eww-wee, it was tasty.
First, I think only one of the four of us got a salad, but there were no croutons, so more evidence for Lisa's theory about croutons and proximity to the Blatnik Bridge.
Our entrees were all tasty — I had the seafood and Lisa had prime rib — but the star for us was the cheddar potato soup.
If you're in "America's Dairyland" and you see cheesy potato soup, you order it — full stop. How do we know it was good? I'm glad you asked.
Lisa has a problem with soup. No matter how good a soup is, typically she leaves about a quarter of it in the bowl. This time, however, she was scraping the bottom of the bowl.
"It makes me want to make potato soup in June," she said.
We also, for the first time in the history of the Old Fashioned, ordered dessert. We shared the Key lime pie and our friends got the lemon mascarpone cake.
Both were very good and with the candied lemon and lime rinds, which Lisa said made our desserts "practically a vegetable," we had a little bit of all four food groups.
The Tally Ho hit all the supper club notes we love. Fake flowers? Check. Lumberjack-inspired plaid carpeting? Check. Relish tray and tasty food? Check and check.
The Tally Ho was fine dining with the service you would expect at such a restaurant, right down to the charming man — his name is Tom, and tell him I sent you — checking in and chatting us up.
One note about the Tally Ho, however. As with fine dining, this supper club was more expensive than the others we've visited. I noted the Hammond felt relatively inexpensive and if readers do check out the Tally Ho, I don't want them ending up with a case of sticker shock.
All that said, the fun afternoon driving to Hayward and discovering not just a new restaurant, but a new town, was everything I was looking for.
During his European vacation, sports reporter Jamey Malcomb needed a bib and a mallet for a meal in Lisbon, but he came away thinking about things uniquely Wisconsin — and the steak sandwich he had for dessert.