The Old Fashioned: Eddie's completes the 'Superior 3'
The Superior supper club wasn't exactly what sports reporter Jamey Malcomb expected, but it left him with questions and plans for a return.
We are part of The Trust Project.
SUPERIOR — When I learned about Eddie's in Superior, I heard the words "World Famous Ribs" and for some reason I thought of a bar instead of a supper club.
There's nothing about those three words that indicate "bar" more than "supper club," but when I heard it I thought about bar food: fried cheese curds, wings and burgers.
Eddie's certainly has a bar — and boy, did that bar evoke some memories for me — but my preconceived notions were way, way off.
From the one-page menu offering ribs, steaks and chops, to a wife-approved "appropriately-croutoned" salad to the variety of potato experiences available — Eddie's is all supper club.
We've had a few weeks off at the Old Fashioned because of state tournaments and marathon weekend, but with Eddie's we completed what my wife and I have termed the "Superior 3" of supper clubs.
I had intended to go with the ribs and chicken combo meal with an order of the "retreads" appetizer. Unfortunately, they were out of retreads and it left us with a lot of questions.
"What in the heck are retreads and why can't I have them?" my wife asked.
Clearly, we forgot to ask the waitress, but a quick google of "retreads'' leads me down a rabbithole of tire shops and stairway treads.
No food-related results, so consider us curious.
Since our retread appetizer was out, we had a rib appetizer — when they say "world famous" you have to try them, right? — my wife had the prime rib and I had the ribeye.
The prime rib was excellent, but I found the steak a little underwhelming, mostly because I wanted more ribs. That sweet and spicy sauce for the ribs might be a little too racy for some supper club fans, but my wife and I were pleasantly surprised with some Asian flavors. There is also a barbecue sauce available if sweet and spicy is too edgy.
The meat from the ribs was fall-off-the-bone good and the sweet and spicy sauce really tipped it over the edge for us. What's more, prime rib au jus was the perfect amount of salty for my wife and I — I ended up dipping a couple bites of my steak in it.
Eddie's also hit some of the high notes of the other supper clubs we've tried over the past two months. The Hammond, Dreamland and Eddie's all have fake plants. But where the Hammond and Dreamland stopped with fake ivy, Eddie's said "Hold my old fashioned."
The plastic pink geraniums next to the old gas pump outside made Lisa — my wife — and I smile as we walked in the front door.
Eddie's website says it has a "Route 66" theme, but I would have thought with all the gas cans and racing paraphernalia on the walls that the owners used to race at Gondik Law Speedway in Superior.
Anyway, the salad at Eddie's led Lisa to develop a theory that the closer you get to the Blatnik Bridge, the more croutons you get on your salad. I'm not sure how much more evidence backs that up, but my salad at the Hammond had the most croutons and Dreamland the least.
My wife was also pleased she could get breakfast-style hash browns with her entree and since we had the rib appetizer, we ended up boxing up most of our steak and taking it home — which led to a lovely lunch of steak sandwiches Sunday.
I also found the close quarters to be charming and cozy, peppered with conversations between families and old friends gathering for a great meal, something that's seemed common to all our experiences so far.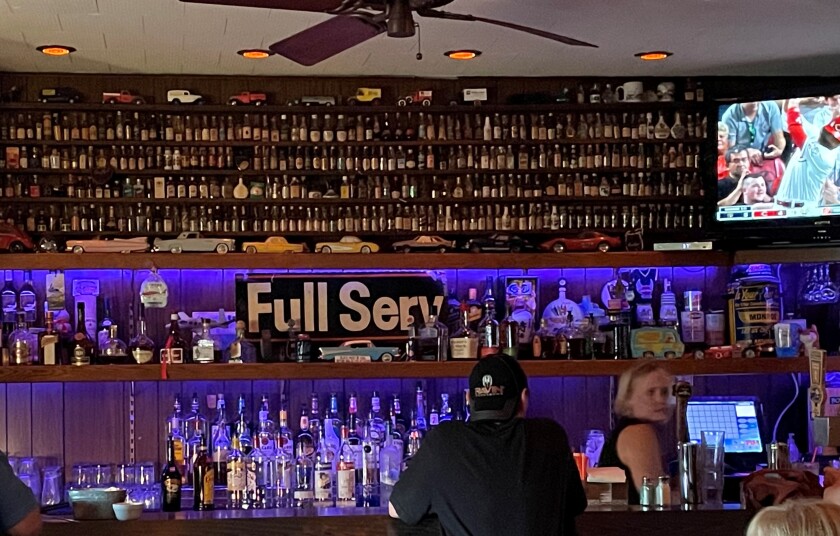 Above Eddie's bar is a wall with hundreds of airplane bottles and it honestly reminded me of walking into a bar in South Carolina when I was in my 20s. The Palmetto State had a "common-container" law that prevented bartenders from pouring an individual's drink from a larger bottle of liquor.
The law was changed in 2005, but walking into Eddie's — like all supper clubs so far — felt like a blast from the past.
We'll definitely head back to Eddie's pretty soon, if for no other reason than to find out what a retread is.
Sports reporter Jamey Malcomb and his wife answer an unexpected question at the Dreamland Supper Club in South Range.