'The backbone': Duluth women share gifts, growth of motherhood
"As mothers, we get this message, or maybe we tell ourselves this, that we always have to be giving and giving and giving and putting other people before us. I have more to give when I'm giving to myself."
The News Tribune spoke with area mothers to garner their stories of hope and experience in and outside of a pandemic. Here's what they had to say.
****
Instead of perfection, Michelle Defoe strives for balance.
"Kind and loving, as well as being strong and structured — because children need that for safety," said the Duluth mother of three.
And each of her kids has a different personality and needs.
Shannon O'Nedigon, 14, is artistic, generous, a little mischievous. Kyla Sutherland, 8, likes science experiments and is very social and empathetic. Nova Sutherland, 6, is sweet and playful. "I call her my wild child because she is always spinning and dancing," O'Nedigon said.
Defoe sees herself in how her children speak. Looking at her middle child can feel "weird and eerie" because they look so much alike.
"It makes me love that little kid version of myself," she said.
And self-love and self-care are some of motherhood's gifts for Defoe.
When she was a new mom, she realized what you put in your body affects your baby, and that extends to the energy you bring home. So, Defoe aims to take care, and that starts with eating healthy food, going to bed at a decent hour, beadwork, painting, meditation, running.
There are times when she has mastered this, and "breaking points" when her parenting "fizzled out" because she wasn't taking care.
"As mothers, we get this message, or maybe we tell ourselves this, that we always have to be giving and giving and giving and putting other people before us," she said. "I have more to give when I'm giving to myself."
The pandemic has tested her ability to practice self-care with the children home 24/7. There are many nights where she has felt like it's a lot to handle and she can't do it.
Then, she wakes up, tries something different, and all is well.
That growth and adaptation is another side effect of parenthood, said Defoe, who feels like she grew up with her children. You can't always analyze yourself, but your kids will reflect traits that you'd like to change.
"A couple of times, my kids would be really helpless. 'I can't do that.' I could see myself in that, and like, 'I need to work on my helplessness,'" she said.
That's one of the ways being a mom pushes her to be a better person, and it continually happens in the hardest moments — sleep deprivation and learning how to overcome internal roadblocks so you can be stronger for them.
"I struggle with 'Am I giving enough to my children?' It's a thought that comes into my mind constantly," she said.
She has worked through that by taking parenting classes, checking in with her children and focusing on her relationships with them vs. the do's and don'ts.
Defoe said her biggest hope for them is that they grow up strong and independent, that they love themselves deeply and help their communities.
Mother's Day is for slowing down and enjoying as a family, so today, they're planning to cook nice meals and spend time outdoors.
Asked to describe motherhood in one word, Defoe shared: "Because we're Ojibwe Anishinaabe, we believe mothers are the backbone of our families, our communities, so, when I think of mother, I think of the backbone."
****
"At first, it was super fun staying home," said Allie Frank of Cloquet. "At week three, we all hit a bump in the road."
With Addison, 4; Lillian, 2; and Harper, 1: "Our house is never boring and never quiet," she said.
Reflecting on being a first-time mom, Frank said it brought together a community of people she wouldn't normally connect with, and it was sorely needed.
"At first, I didn't want to have any babysitters. I wanted to change all the diapers and do all the things. Now, I'm like, 'Whoever wants to do anything, you can take it.'"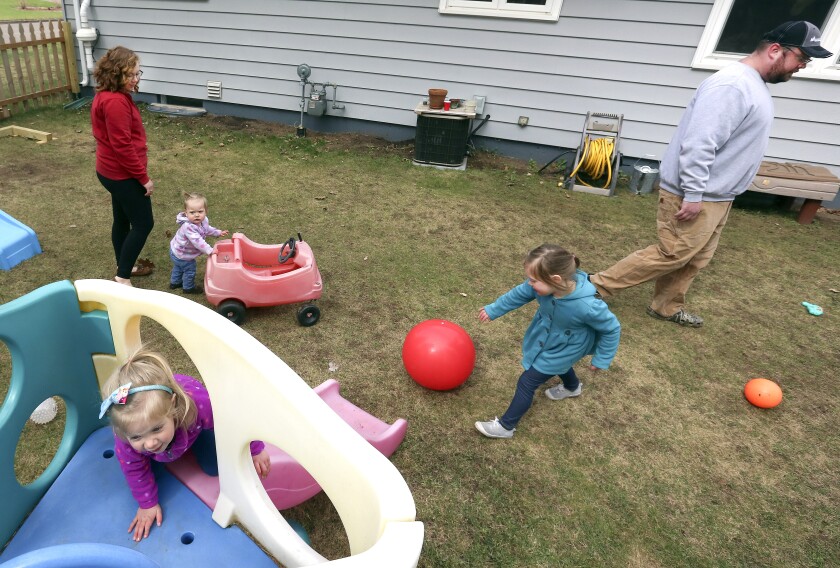 She was 20 and her husband, T.J., was 22 when they had Addison. She was one of the first of her friends to have a child, and many didn't know what to do when she had a breastfeeding question, Frank recalled.
Today, she's part of a Facebook group, Cloquet Life with Littles , where there are listings for meal ideas, rummage sales and local events. Moms ask for advice and experience. Group members used to meet in person, but it worked better to shift to an online format where women could post at 3 a.m. if they had that question about nursing, Frank said.
Frank didn't expect the passion that goes into being a mom. Children find your flaws, help you learn what you can do better, and they become your priority.
Harper, 1, goes with the flow. She'll eat whatever is put in front of her. At 15 months, she's starting to come into her own personality.
Lillian, 2, is soft-spoken. She knows how to get her way, but goes about it differently. "When they're older, Addison is going out the front door, Lillian is sneaking out the window," Frank said.
Addison is super smart and strong-willed. She loves to sing and dance and doesn't care if it's in the middle of a store, Frank said. Addison also has special social and emotional needs. During the quarantine, special education teachers and maintaining a routine have been a big help.
Frank didn't expect their oldest would be on a learning curve. "She teaches us so much patience and kindness, and she's so resilient," she said. "I would not change a thing about her."
Sheltering-in-place feels like maternity leave, and Frank and her husband try to rotate parent duty, so each has some time to themselves, she said. Her self-care is taking the dog for a walk or to Jay Cooke, and stealing moments to herself when the girls are sleeping. As for parenting, Frank said, as long as you're seeking, don't worry if you feel like you're not doing it right. Go with the flow. Don't stress yourself too much. "Don't be afraid to ask questions, even if it's your third baby."
Being a mom is a lot of work, and Mother's Day is the time to reflect.
"Give yourself grace," she said. "Every day is different; make sure you're giving yourself time. Find your village of moms. You're going to need your people."
Editor's note: News Tribune multimedia producer Samantha Erkkila is an administrator for the Facebook group Cloquet Life with Littles.
Duluth moms from near and far share
Q: Tell us about your family, your children, names and ages.
A: My name is Christine Colbenson. I am originally from Uganda, East Africa. I came to the U.S. in 2000. I have been married to my husband, Dean Colbenson, for 10 years. Dean is an engineer with CN railroad, and I am a social worker with St. Louis County. We have Audrey Colbenson, 7, and Laura, 16.
Q: Describe the moment you saw your children for the first time.
A: The first time I saw my children was different for each. When I had Laura, I had just finished high school and started college. I was worried how I would raise her as a single parent. I worked long shifts to save money to welcome Laura when she was born, but once she was brought to me, I was filled with joy. I was very determined to do my best. In 2008, I met Dean, we got married in 2010.
In 2012, Audrey was born. I was more comfortable because I had the support from Dean. He was by my side, and he worked hard to provide for the family. I still worked, but not long shifts. When I see my children for the first time, there is a relief and joy once you hear the first cry and they lay the child on your chest.
Q: What do you wish you had known when your children were babies?
A: Enjoy every moment with them because every stage of development comes with its own skills. Be you and don't be afraid to ask for help from your family. For example, I would let my mom help to give baths to my children when they were babies, and she helped with feeding and preparing them for sleep.
Q: Aspects of parenthood that you didn't expect?
A: Being a parent needs sacrifice. Being a parent, you are responsible for decisions that may affect your children in a bad way or good way as they grow up looking up to you.
Q: Describe one moment of doubt as a parent and how you worked through it.
A: Will I be a parent that my children can share with me their feelings, and they can reach out to me when they need me? We have fun days together, dance, play games with time and this has helped to be open to me and share with anything.
Q: In what ways do you see yourself in your children? How do you see your partner in your children?
A: I see myself in my children because they both care about others, they respect others and they are both hardworking. I see my partner in my children because they like to try new things, for example both girls started canoeing when they were young, and are very creative. Dean is always fixing things in the house or outside.
Q: How have you changed as a parent?
I have learned to be a good listener.
Q: What's the most memorable gift you received from Rose?
My mom gave me a gift of persistence, and to be caring and prayerful. I know my mom went through life challenges; she survived civil wars while raising us, but never stopped working hard. She always cared for others, she never left us or gave up on us. At 78, she is still hard-working, and she always gives me hope when I watch her help around the house.
She jumps rope when it warms outside, and she walks to church when we are at work.
****
Christine Colbenson's mother, Rose Etima, shared some experience with us.
Q: Tell me about Ugandan customs around parenting.
A: I personally don't think parenting differs a lot in different places, but childbirth has developed. Women used to give birth at home, helped by traditional midwives. But later babies are born in hospitals. Doctors and midwives are there to help. A mother brings the child home. The father and the mom work together to raise the child.
After six to seven years, the child joins school. Most schools in Uganda are Christian. I got my Catholic faith in school. The same with all my children. Though my parents were Catholics, they had not much time and knowledge to help me in faith formation. Then came a lot of changes after Uganda's civil war in 1979 to 1985.
That extended to guerrilla war. Hospitals, offices, shops, schools, etc., were destroyed. Unfortunately, that was the time when I raised my last two children, Grace Etima and Christine Etima. It was through hardship. Everything was scarce. We survived through thick and thin. That also strengthened my faith and trust in God's loving care.
Q: Name a hard-fought lesson you learned from parenting.
A: I have five children. Of them all, I experienced different kinds of sickness. I became restless whenever any of my children were sick. I could hardly eat or sleep. I took them to be treated as soon as possible.
The hard-fought lesson I learned from parenting was sickness. Two of my kids suffered from yellow fever and mental illness. That was after the war when it was hard to get things. Those were hard times for me.
Q: Compare parenting to grandparenting in one word.
A: The same.
Q: What's the most memorable gift received from your daughter, Christine?
A: Her kids. They are amazing. I take them all, and Christine, as gifts from God.
Q: How is Mother's Day celebrated in Uganda?
A: In Uganda, we had no specific Mother's Day. A child gives to mother whenever she or he has something. Every time they come together, they celebrate with nice cooking and have nice drinks prepared. Things have changed over the years how Mother's Day is celebrated in Uganda. I have seen people in Uganda celebrating with giving gifts to their mothers, taking them for dinner, spas many more.
Q: How will you be spending it this year?
A: We hope to have time to prepare food and do some activities with the kids, though in the absence of some family friends and relatives. Take a walk or drive to some places, just to get out of the house.
****
Duluth mom JoEllyn Steele shared her experience with her son, Caleb Steele, 9.
Q: When did you know you were ready to be a mom?
A: I have always been someone who loves being around kids. It's so fun to see the world through their eyes. I don't know that there was ever a serious thought or question that I would not be a mom.
Q: Is there anything your parents did when you were a kid that you swore you'd never do yourself?
A: There really isn't anything that stands out. I was privileged to have a good childhood. I grew up on a hobby farm, and my grandpa raised beef cattle. Every year, we would pasture some of them and get beef from them. My parents used to sneak and save all the best steaks for themselves. I would come down late at night to go to the bathroom, and they would be cooking the porterhouse steaks for themselves. I pick on them about it all the time, so that would probably be the one thing I could say I wouldn't do.
Q: Has that held up?
A: Yep!
Q: Describe a fear you have as a parent and how you work through it.
A: I think I have all the regular fears a parent has. I am a licensed marriage and family therapist, so I take his mental health very seriously. It really is my first priority when it comes to all of my parenting. With that being said, I think my worry as a parent is that my son will not have the confidence he needs to be his best self as he grows up.
Q: What are aspects of parenthood that you didn't expect?
A: I did not expect competitive sports to start at such a young age. I have some strong opinions about too much, too soon, and it is interesting to see how much some kids are involved in from a very young age.
Q: Name two parenting tips that are most valuable at your son's age.
A: Revel in the silly. There is nothing better than getting into a laughing fit with my son over something he or I did. We are really good at laughing at ourselves and enjoying each other's company.
Listen. When you listen to all the mundane details of their Minecraft world, or whatever else they are interested in, you are setting precedent for listening to all the details when they are older. By doing this, you create a relationship in which they are comfortable reaching out to you about everything going on in their world, big and small.
Q: What do you want or wish most for your son?
A: I want him to enjoy life and be kind.
Q: Describe motherhood in one word.
A: In the words of Glennon Doyle, it is both brutal and beautiful, so it is "brutiful."
Q: Name a memorable Mother's Day gift, tangible or intangible.
A: One year when Caleb was very young, he and my dad made me an oriole feeder. I loved it because it was something they created together, and I was truly surprised by it.