Sweeten things up with simple, healthy and delicious sweet potato wedges
Sarah Nasello's recipe for this easy vegetable side dish includes Parmesan and rosemary.
Sweet potatoes, often labeled as yams in our local markets, are a staple vegetable in our home, and we enjoy them in myriad ways throughout the fall and winter. This week's recipe for Rosemary Parmesan Sweet Potato Wedges features a humble side dish that delivers big flavor with minimal effort.
Rich in vitamins and minerals, sweet potatoes are considered to be a superfood vegetable. This colorful root vegetable boasts a bounty of vitamins, including A, B, and C, and is an excellent source of calcium, fiber, iron, zinc and antioxidants.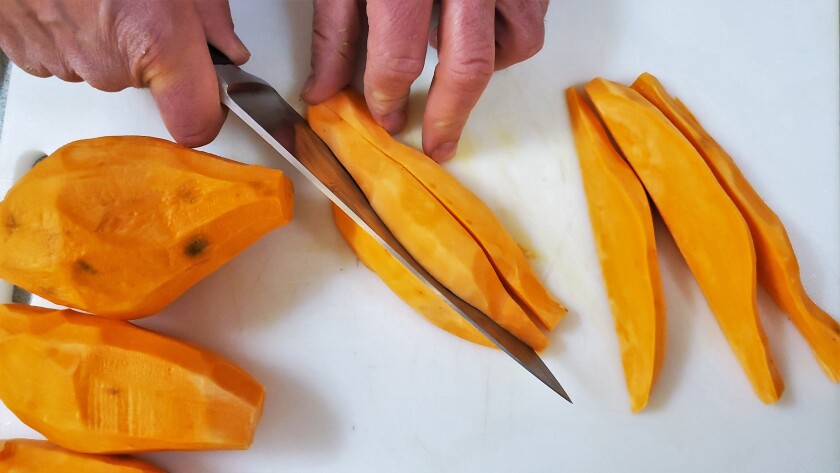 This recipe calls for three medium-large sweet potatoes and I recommend choosing ones that are similar in size and shape. This will ensure that the wedges are consistent in size, which helps to promote even baking while roasting.
To create the wedges, I peel each sweet potato and then slice it in half, lengthwise. Next, I cut each half into three or four wedges, approximately 1-inch wide.
I toss the wedges with extra-virgin olive oil, fresh rosemary, paprika, garlic powder and seasoning. Rosemary's sharp and piney flavor pairs beautifully with the sweetness of the yams, and I like to cut the fresh rosemary with a rough chop for this recipe so that it can shine.
The paprika brings a smidgen of heat and extra color to the wedges, and you can use regular or smoked paprika depending on your preference and what you have on hand.
Roasting is my favorite method for cooking sweet potatoes. The slow heat draws out their natural sugars and enhances their overall flavor. The roasting process for this recipe takes about 50 to 60 minutes, which gives you plenty of time to prepare the rest of the meal or just relax with a glass of wine.
I place the wedges on a parchment- or foil-lined baking sheet, flat side down, and bake them until the edges become golden brown, about 30 to 35 minutes. Then I pull them from the oven and use tongs to turn each wedge onto the other flat side and continue to roast them until they are golden brown and slightly crispy, about 15 to 20 minutes more.
As soon as the wedges are done roasting, I transfer them to a serving platter and sprinkle them with shredded or grated Parmesan cheese. The heat from the wedges will gently melt the cheese, and the salty tang of the Parmesan is the perfect balance to the sugary sweetness of the yams.
We love to serve these Rosemary Parmesan Sweet Potato Wedges with fillets of salmon, but they also pair well with a variety of proteins or even in a salad. Simple, healthy and delicious, this easy vegetable side dish is always a winner for dinner.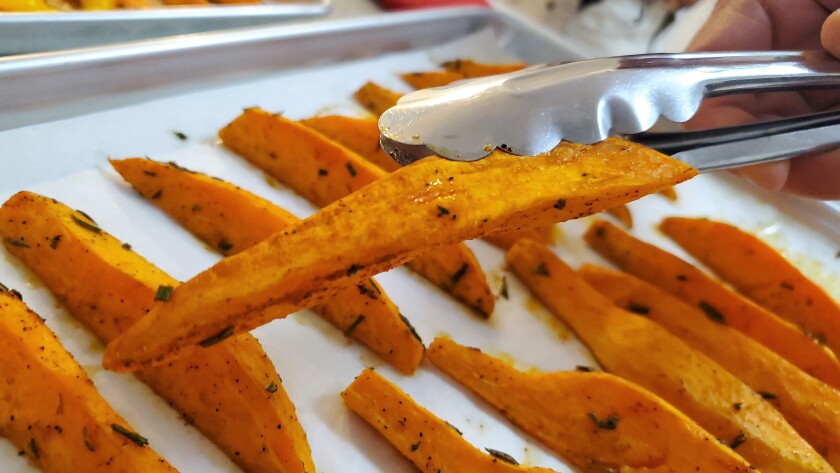 Rosemary Parmesan Sweet Potato Wedges
PRINT: Click here for a printer-friendly version of this recipe
Serves: 4 to 6
Ingredients:
3 medium-large sweet potatoes (of similar shape and size), peeled and cut into wedges
2 tablespoons extra-virgin olive oil
½ teaspoon kosher salt
¼ teaspoon ground black pepper
1 heaping tablespoon fresh rosemary, roughly chopped
½ teaspoon paprika
¼ teaspoon garlic powder
1 to 2 tablespoons shredded Parmesan
Directions:
Preheat the oven to 400 degrees and line a baking sheet with parchment paper or foil.
In a medium bowl, toss the sweet potato wedges with all of the ingredients, except the Parmesan, until well combined. Lay the sweet potato wedges on the prepared baking sheet, flat-side-down. Bake until the edges turn golden brown, about 30 to 45 minutes.
Turn each wedge onto the other flat side and continue to bake until the wedges are golden brown and slightly crisp, about 15 to 20 minutes.
Remove from oven and transfer the wedges to a serving platter. Sprinkle the wedges with Parmesan cheese and serve.
This week in...

Recipes can be found with the article at InForum.com.
"Home with the Lost Italian" is a weekly column written by Sarah Nasello featuring recipes by her husband, Tony Nasello. The couple owned Sarello's in Moorhead and lives in Fargo with their son, Giovanni. Readers can reach them at sarahnasello@gmail.com.