Southbound family puts Duluth home on market
The sun touches every corner of the main floor from the carpeted and tiled floors to the vaulted ceiling.
We are part of The Trust Project.
DULUTH — When Nancy and Denton Stam started searching for homes, they knew they needed a big kitchen, a not-scary basement — and a lake view would be nice.
Two outta three ain't bad.
The Stams' Woodland-neighborhood house boasts five bedrooms, three-and-a-half bathrooms, a four-car garage and a backyard overlooking Hartley Park.
After just three years, the Stams listed their home to return to their Arkansas roots. Denton is taking a new position at his old hospital, and the two will be southbound in time to greet another grandbaby.
During a Sunday visit, cherry woodwork abound in the cabinets, doors, walls, playing up a cozy ski lodge ambiance. The house was completed in 2003 by Bruckelmyer Brothers, a Duluth custom home builder.
On the main floor is a formal dining room, a game room, a large living room with an adjacent sun room, an open-concept kitchen and a large walk-in pantry. A gas stove was a must for Nancy, who loves to cook and host gatherings.
The Stams recalled updating the kitchen countertops from white to its current multicolored quartz, which draws out the floor's browns, grays and blacks.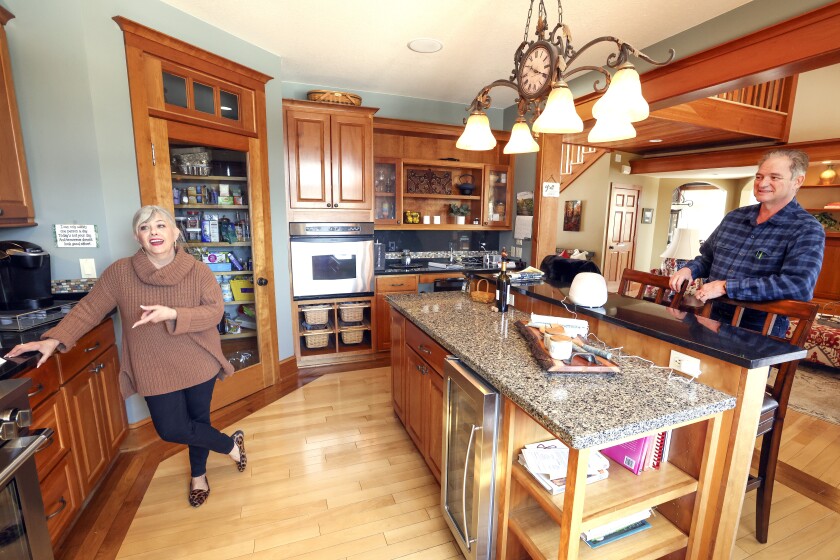 Separating the main-floor living room and the game room is a two-sided fireplace, an eye-catching centerpiece from every angle.
The sun room extends past the lower deck, offering a closer view of the backyard and nature preserve. Nancy uses this space to paint because it has the best light in the house. Her oil paintings of a Grand Cayman shore, decorative doors and a cowboy boot tribute to her home state of Texas are featured throughout the home.
The sun touches every corner of the main floor, from the carpeted and tiled floors, to the vaulted ceiling. The exterior oozes contemporary warmth with an inviting cream stucco with brown brick trim.
The upper level features four bedrooms and an open-concept hallway overlooking the first floor.
In the main suite is a large walk-in closet, a soaking tub and a standing shower. Moving through the space, the Stams joked about the shower-head pranks they pull on each other.
The lower level is a large family room, an exercise space, an enclosed hot tub, an adjacent study and the humidity- and temperature-controlled wine cellar.
Its 800-bottle capacity puts their 300-plus collection to shame, Denton said.
During their time in the Twin Ports, Denton served as vice president of the St. Louis Historical Society. He competed with a sailing crew. While Nancy and Victoria delved into the arts, creating works at Lake Superior Glass and Board and Brush.
The couple also opened up their home to host small groups through Eastridge Community Church.
Moving through their home, Denton stopped to wind a grandfather clock. It was the first big item he was able to buy his wife after he finished medical training. Asked if they picked it out together, Nancy asserted it was all her husband.
"I have good taste," he said.
"Especially in shoes," she added.
"And wives," he said.
Nancy's from Texas. Denton's from Florida, and they met while he was finishing his residency and she was working as a trauma nurse. "We met in the emergency room, it's been an emergency ever since," he joked.
The family has moved across the country — Texas, Colorado, Virginia, but their Duluth move is their first this far north.
Their daughter, Victoria Stam, hadn't been to Minnesota before they relocated, and she said her time here has solidified her stance as "a summer person."
"The tap water's nice; the summer's aren't too hot. I'm not a big fan of winters," she added.
Asked how they're going to say "goodbye" to their home, the Stams had various answers.
"Like so many things in life, you have to enjoy it while you have it. When it's time to move on, move on and take the memories," he said.
It's not what you have, it's what you do with it, said Nancy. "If you're gifted a lovely home, use it, open up your doors for the people to come and be nurtured and nourished."
Editor's note: The house was listed as contingent as of Wednesday afternoon, meaning an offer has been made, accepted and will be complete once additional criteria is met.
Part 1 of 3: Spouses, siblings, kids and grandparents will all be living together. They're calling it "a social experiment."