Snag 4 burgers on Superior Street
Take your pick of portobello, elk, salmon and good ol' beef in downtown Duluth.
Stuck hungry on Superior Street? Check out these four very different burgers for whatever you're craving.
The Elk Burger @ Fitger's Brewhouse
600 E. Superior St.
218-279-2739
It was a sunny and chatty Fitger's Brewhouse. Many nearby event-goers filtered in during a workshop break wearing colorful name tags. My waitress shared stories of quick orders from earlier in the day.
I was in for something different, and I found it with the Elk Burger. Despite being raised in North Dakota, I've never had elk or lutefisk. It was time for the former.
The burger smelled gamey, a nice change to the senses. The ground elk is mixed with garlic and onions, and it's topped with Roma tomatoes and romaine. It usually comes with house-made bourbon mustard, but I asked for the chipotle pepper sauce, which had a subtle kick that well-tempered the gamey-ness.
The burger was juicy, grilled with the perfect amount of pink in the center. And it's 100% elk. "They haven't cut it with anything in years," my waitress said.
Though the sandwich didn't need much, I would've added more fixings for flair: onions, mayo, jalapenos.
Burgers run around $12.99, and they come with your choice of beer-battered fries, blue corn chips with salsa, fresh veggies, small salad or coleslaw. I went with what I found to be a pretty basic salad with sprouts, lettuce, cukes. Add a GF bun or premium side for a buck-fifty each.
With that in mind and a price tag of $20 with a tip, this meal was a bit costly.
Prices range from $5.99 for Black Bean Vegan Chili to $13.49 for a Maple Salad. As a whole, Fitger's has a Chili Cheeseburger, a nice mix of Minnesota Wild Rice Burgers, and a mix of gluten-free, vegan and vegetarian options, which is a huge plus.
I'm glad I had an elk experience, but I'd come back for some wild rice action.
Portobello Melt @ Sir Benedict's Tavern on the Lake
805 E. Superior St.
218-728-1192
Sir's Ben's was filling up fast on Friday evening. The chatter was bustling, and the crowd was mixed with couples, happy-hour attendees, a woman and a young girl.
The line to order was long, and weaving through the restaurant were wait staff and customers rearranging tables as needed.
Slimming down menu options, it was a dead heat between the Portobello Melt and the Chick Peary. My dining guy ordered the Chick Peary, which comes with chicken, bacon, pear, medjool dates, greens and herbed boursin on a ciabatta.
After two bites and silence, he called it "a masterpiece," which is no easy feat.
I ordered the Portobello Melt, and no regrets.
It comes with marinated portobello mushrooms, Swiss, caramelized onions and Thai pepper mayo. It's usually served on pumpernickel, but after a gluten-free request, the cook wisely added a third slice in the middle, creating a sound structure for the abundance of juicy, cheese-covered portobellos, hmm.
The 'shrooms are marinated in roasted garlic, olive oil, crushed red pepper, thyme and lemon juice. Mixed with the Swiss and creamy onions, it was a warm and comforting vegetarian meal on a chilly March evening.
I topped it off with a not-so-healthy Wisconsin-made Sprecher's Orange Dream craft soda. And as promised by a waiter, it tasted like a creamsicle. More like a dreamsicle.
Sir Ben's has a slew of vegan and GF offerings, and a build-your-own sandy, 'Za Matador pizza, a Pear and Chicken Salad, French Silk Pie, Pesto Bruschetta.
I've never been disappointed with their fare, and this visit was no different.
The Salmon Cake Sandwich @ Pickwick Restaurant & Bar
508 E. Superior St.
218-623-7425
I creeped into the Pickwick to find a lively scene with two folks singing up a storm. It was lovely, but not my thing on Thursday night. The waitress was super fast and accommodating when I asked to sit away from the bustle.
When the Salmon Cake Sandwich came out, my plate was still warm. The hand-pattied and deep-fried salmon cake is the perfect amount of crunch on the outside with a signature salmon cakey and flaky inside — warm and wonderfully dissolving on the tongue.
Avocado and tomato rested in aesthetically pleasing cubes on a layer of housemade wasabi tartar with light sprinkles of sprouts. The sauce is a revelation that I intend to try at home.
This was my favorite sandwich of the bunch.
It comes with your choice of chips, fries, onions rings, a salad or broiled Parmesan tomatoes for an upcharge.
I was all for trying new things, so I went for the broiled tomatoes. The Parmesan and garlic made for a crunchy, tasty coating, locking in all the sweet tomato juice.
It was my second time at the Pickwick. The inside beams of rich history with lovely wooden carvings and elegant chandeliers — and a modern twist in flat-screen TVs hanging in the leather-covered booths.
The crowd seemed jolly, like a mix of regulars. Many sat in high-tops close to the band, smiling in admiration and likely the end-of-the-week glow. I sang the "Cheers" theme song to myself looking at them.
Prices range for a half order of onion rings for $7.50 to seared scallops for $37.50, a New York Strip for $39. The Salmon Cake Sandwich is $15, not a frugal choice, but certainly a memorable one.
The Taphouse @ 7 West Taphouse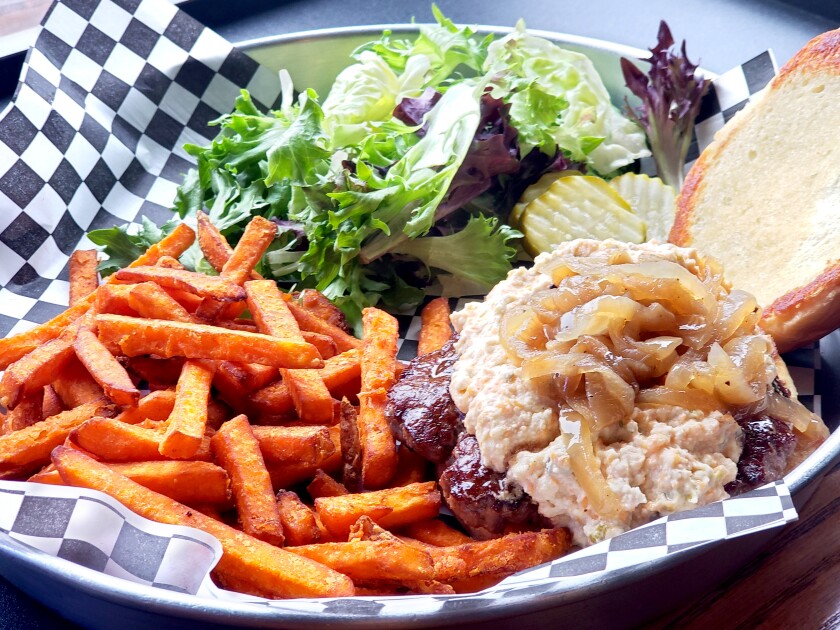 7 W. Superior St.
218-727-2494
For as long as I've lived in Duluth, I've never had a 7 West burger. My dining guy frequents their downtown spot for this very dish, so I figured it was time to giddy up.
And I was struck by the tots and the options. There's one with cheese curds, one with coleslaw, one with housemade bacon bleu cheese!
I went for the Taphouse that comes with Taphouse sauce, sauteed beer onions, jalapeno beer cheese. (For the temperate, allergic or underage, the beer cooks outta the food, the waitress said.)
I ordered a side of sweet potato fries, which were a crunchy contrast to the burger.
A pile of fried onions swirled atop a fluffy helping of jalapeno beer cheese. I spotted little dots of orange in the cloud-like puff. That's cheddar cheese, along with cream cheese, jalapenos and cajun seasoning, oof.
Beneath it sat a hearty burger resting on a generous layer of Taphouse sauce, which is a spicy Thousand Island without relish, mayo, mustard and ketchup. The lightly grilled, gluten-y bun well-held the burger's contents. And the flavors were rich, warming and heavy, hitting the spot during some early-March snowfall.
I visited after the lunch hour. Business was slow, service was fast, and the tables had rolls of paper towels, ready for sticky fingers.
Prices are reasonable, ranging from $4.99 for pretzel bites to $9.99 for a Sticky Pork Bowl. No gluten-free bun options, but 7 West has veggie and noodle bowls, tacos, salads and starters of fried green beans, Japanese beer cheese wontons, loaded tots.
And there are deep-fried Twinkies … what?
They played a throwback mix over the speakers. I danced to Milli Vanilli in one of the high-tops facing Superior Street, relishing a burger sandwiched with things I don't normally eat — gluten and dairy. I wouldn't be happy about it later, but on that snowy afternoon, all the cheese won.