Miller Hill Mall is food truck owner's new taco oasis
Starting Nov. 6, and going until March, Oasis Del Norte will serve food from a pop-up spot at the Duluth mall.
Eduardo Sandoval Luna might be giving you a little poke with a menu item he will be offering when Oasis Del Norte takes up a temporary spot at the Miller Hill Mall next weekend.
Among the picks: Real Tacos and American Tacos.
The former is made on a corn tortilla with a choice of meat, onion, cilantro and lime. It's consistent with the flavors he found growing up and helping in the kitchen of his mother's restaurant, El Oasis, in Jerez, Zacatecas Mexico. The latter, on a flour tortilla, adds lettuce, tomato and cheese to the mix — a point of confusion for Sandoval when he moved to Northern Minnesota 13 years ago.
"I was looking for a single taco, a real taco for me to eat," he said.
Sandoval opened Oasis Del Norte five years ago, a food truck offering authentic Mexican food, and has since spent summer weekends popping up at festivals and other designated spots around town. This year the electrician-by-day was laid off for part of the year and added regular stops in Woodland and Lakeside neighborhoods to his schedule. And now that his truck will be parked in his garage, his attention turns to the mall — where he plans to have weekend hours through the winter.
It's Sandoval's Real Tacos that led to a relationship with Christopher Gardner of Allstate Insurance. After Gardner, a true taco aficionado, tried Oasis Del Norte, he was hooked. He and his family have spent a significant amount of time in Southern California and were on the lookout for tacos that matched what they found there. Oasis Del Norte was parked behind the Duluth Public Library when they found a taco victory.
"We were like, 'These are the best tacos this side of California,'" Gardner said.
Gardner offered Sandoval a weekly spot in the lot, where the truck stayed consistently busy, and in return, Gardner received a box full of tacos, which he and his family enjoyed on the beach all summer long.
"It's been a good marriage," he said. And now that Sandoval is setting up at the mall, Gardner plans to travel for his food.
"Heck, yeah," he said. "The whole family will be going up there."
In Lakeside, Sandoval said, he had a customer who told him he thought of the food truck's weekly neighborhood visit as Taco Thursday.
While the first few years of Oasis Del Norte were tricky, Sandoval said that customers have begun to understand his style.
"After people taste the flavors, how fresh and flavorful it is, they crave it," he said.
Sandoval had been kicking around a way to stay open all winter, including setting up a lean-to on the west side of Duluth. Then, he said, he connected with Katie Kaz, manager of the Miller Hill Mall, and was offered a spot between Essentia Health and Claire's, formerly filled by Teavana and Bubble Tea.
This all started as a hobby, something outside of his job-job.
But he likes it, he said, making the meat and the salsa, passing along to his sons the family's natural lean toward entrepreneurialism.
Sandoval said that a friend joked he could have spent $30,000 on a boat. Rather: "I spent $30,000 on a food truck," he said.
The shop will run like the food truck: Orders to the right, move down the food line to the left. The menu will be similar to that of the food truck, though he is adding Tres Leches for dessert. There will be seating available, but not much.
This week, Sandoval has been in the shop preparing for opening week. His brother, Sam, came in carrying the plastic shield that will go between customers and employees — which will be Sandoval's family members, just like it was at his mom's place. There were cases of Jarritos Soda in the window in addition to Oasis Del Norte T-shirts and baseball caps, which will be for sale alongside branded masks. The space doesn't have a kitchen, so Sandoval will do prep work in the Oasis Del Norte food truck that is parked nearby at his home.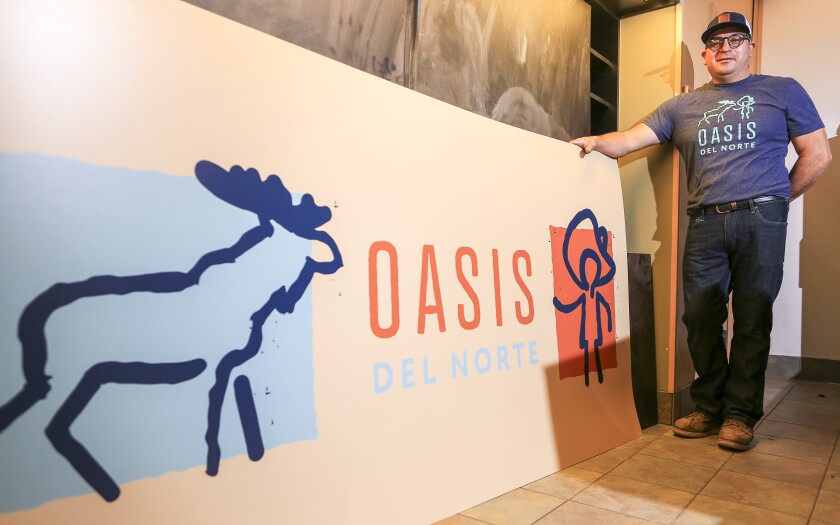 "We are one step closer to a brick-and-mortar restaurant," Sandoval said.
That, he said, is the goal.
"I am really passionate about sharing my culture," he said. "My main goal is to share, so we can understand each other. We care for food and we care for people."
He hadn't yet added the shop's logo to the window, another nod to his mother's restaurant. Where her design is a man feeding food to a camel, Sandoval's is a man in a sombrero feeding food to a moose.
Hours: 11 a.m.-7 p.m. Fri.-Sat., noon-6 p.m. Sun.
Where: Miller Hill Mall near Essentia Health and Claire's
Opening: Oasis Del Norte opens Nov. 6, and Sandoval is planning to offer nods to All Souls Day.