Here's what's happening this Easter season in Duluth
From gadget-building to egg-decorating, enjoy this roundup of some events offered this spring.
DULUTH — Whether you're painting, dyeing or hunting this Easter season, different Duluth spots have you covered. Here's a mashup of some of this year's offerings.
Wanna book a photo with the Easter Bunny?
There are time slots available from March 24 to April 8 at the Miller Hill Mall, 1600 Miller Trunk Highway, Duluth. Time frames vary from 10 a.m. to 8 p.m., depending on the day.
Visit tinyurl.com/3auvd4d2 to save your spot. For more information, visit tinyurl.com/4xzdfxft.
Time slots:

11 a.m. to 7 p.m. March 24-25
12-6 p.m. March 26
2-7 p.m. March 27-30
2-7 p.m. March 28
11 a.m. to 7 p.m. March 31
11 a.m. to 7 p.m. April 1-2
2-7 p.m. April 4-6
10 a.m. to 8 p.m. April 7-8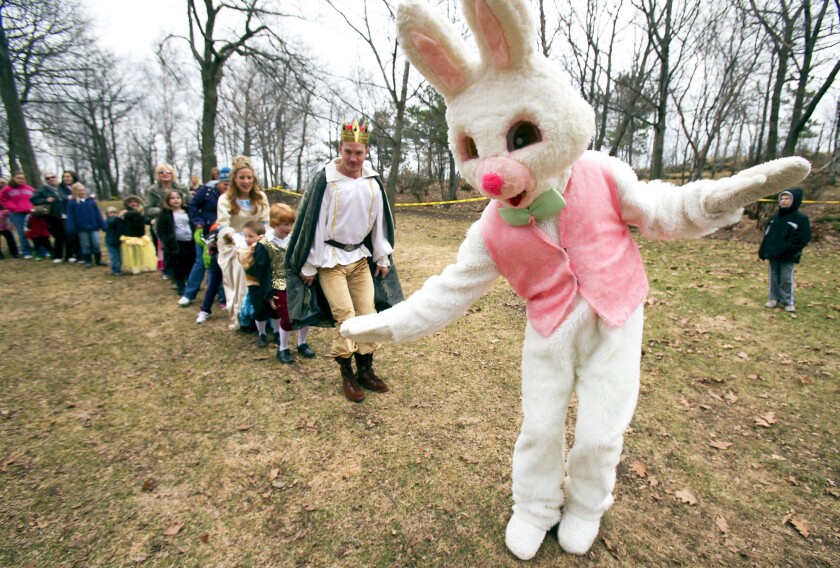 Whole Foods Co-op Denfeld is hosting a free spring egg coloring session.
Bring your own hardboiled eggs or faux eggs to be colored from 9 to 11 a.m. April 1 at 4426 Grand Ave. Expect a variety of egg dyes and multiple decorating stations.
For more information, call 218-728-0884, or go to tinyurl.com/nhbyjd52.
Decorating, gadget-building
The Northern Expressions Arts Collective has a few Easter-y events planned this season.
There's an Egg-splosion decorating party from 5:30-7 p.m. March 30 at the Harrison Community Center, 3002 W. Third St., Duluth.
A budget friendly edition, is scheduled for 10 a.m. to 1 p.m. April 1 at the same location. The event is free and open to all ages.
Expect egg-themed games and a giant egg pinata.
There will be donut holes, beverages, community, egg decorating and gadget-building for an egg drop contest. Prizes will be given to the contestants behind the three highest drops without breaking an egg.
Also, there will be time to recognize a few "Good Eggs" in our community. Visit tinyurl.com/22st56rs to submit a nomination.
Northern Expressions Arts Collective aims to bring families together through artistic play. For more information go to northexp.org.
The Lake Superior Zoo's annual Easter EGG-stravaganza is back from 10 a.m. to 4 p.m. April 8, with a members-only early bird hour from 9-10 a.m.
There will be a magic show, food trucks, an Easter egg hunt and much more at 7210 Fremont St., Duluth. Also on deck: "animal enrichment," which, in the past, has included petting a bearded dragon.
Past events have seen 700 to 1,700 people, with more turning out for warmer temps.
Members and ages 2 and younger are free. Non-member admission is $12 ahead and $16 at the door. Purchase tickets at lszooduluth.org/easter .
Cider with a side of cookies
Wild State Cider is hosting an Easter cookie class 6-8 p.m. April 3 at 2515 W. Superior St.
The event is hosted by Frosted: Sweets by Jessica , who will provide the pre-baked cookies, icing and decorating tools. Admission is $50.
Suggested age minimum is 10, and children 12 and younger must be accompanied by an adult with a paid ticket. No prior experience necessary.
For more information, contact frostedsweetsbyjessica@gmail.com
The Aad Shrine Event Center is hosting an Easter Bunny breakfast from 9 a.m. to 12 p.m. April 8 at 5152 Miller Trunk Highway in Hermantown.
On the menu: pancakes and eggs with a side of games, treats and pics with a costumed community member.
Tickets are $10 for 14 and older; $8 for 5-13; free for 4 and younger. The event is open to the public, and participants are asked to call 218-722-7488 for reservations.
For more information visit facebook.com/aadshrine , tinyurl.com/bdhsfa24.