Luther College, in Decorah, Iowa, selected Duluthian Shannon Baker as one of their Fulbright teaching assistants for the 2020-21 academic year. The U.S. Department of State and the J. William Fulbright Foreign Scholarship Board announced that Shannon Baker, class of 2020, has received a Fulbright U.S. Student Program award. Baker graduated with majors in English (writing) and Spanish. She was selected for a Fulbright English teaching assistantship in Peru. Baker's interest in teaching English began on a mission trip to Nicaragua her first year at Luther, during which she volunteered each day at local schools. Her interest in Peru grew during her semester studying in Chile, where she learned about the culture and history of Peru through the eyes of its South American neighbors. One of the reasons Baker chose to apply for a Fulbright award is the program's commitment to community engagement and mutual understanding across cultures. She looks forward to helping students share their culture and stories in their English classes. When not teaching, Baker hopes to connect with her host community by volunteering in a children's home or other youth organizations. After completing her year in Peru, Baker plans to continue teaching, either in the U.S. or abroad.

Sylvia Bowen-Bailey of Duluth was one of three students who received academic awards from the Knox College Environmental Studies Department during the 2019-20 academic year. Bowen-Bailey received the Desmond Fortes Environmental Studies Prize, which is awarded annually to a junior or senior student who has demonstrated outstanding academic performance in environmental studies courses and/or research. Bowen-Bailey's major is environmental studies at Knox College in Galesburg, Illinois.
Recently the Duluth Elks #133 delivered 190 homemade masks to the Silver Bay Veterans Home along with 40 hard covered books. The Duluth Elks also supplied a recently housed homeless vet with a "Welcome Home" kit with over $300 worth of living supplies and $100 towards groceries, along with a $50 gift card donated by Hermantown Walmart. With a Gratitude grant the group was able to donate $1,250 to the Second Harvest Food Bank and another $1,250 to the Salvation Army with matching funds from each organization. The Duluth Elks also supplied each third-grader from Hermantown Elementary and Stella Maris Academy with dictionaries.
Lake Superior College (LSC) automotive service students have benefited before and during the COVID-19 pandemic from an industry partnership that Lake Superior College and the Lake Superior College Foundation have with Subaru of America and Miller Hill Subaru which includes donated equipment and vehicles, software and technical support, and employment worth a total of over $100,000.00. Subaru of America and Miller Hill Subaru have donated over $100,000 of equipment, including a 2019 Subaru Ascent, numerous transmissions, engines, and diagnostic software through the LSC Foundation during the 2019-2020 academic year. Miller Hill Subaru has also provided ongoing technical support, vehicles, and facilities and equipment access. All donations are made to and administered by the LSC Foundation. Subaru of America officials who attended the thank-you event at LSC included Miller Hill Subaru Director of Fixed Operations Nick Beck, and Subaru of America Technical Training Education Manger Chris Weigel, Central Region Field Service Engineering Manager William Leigh and Field Service Engineer Olaf Strand. Lake Superior College is a Subaru U School . This affiliation means that by including Subaru University's Web-Based Training (WBT) in existing curriculum, students are assigned and complete Subaru's entry-level training that is required of all Subaru technicians. LSC is allowed access to the Subaru Technical Information System (STIS) and also provided with Subaru's SSM4 diagnostic scan tool software, and Flashwrite2 electronic control unit reprogramming software. Miller Hill Subaru continues to both employ and intern LSC students.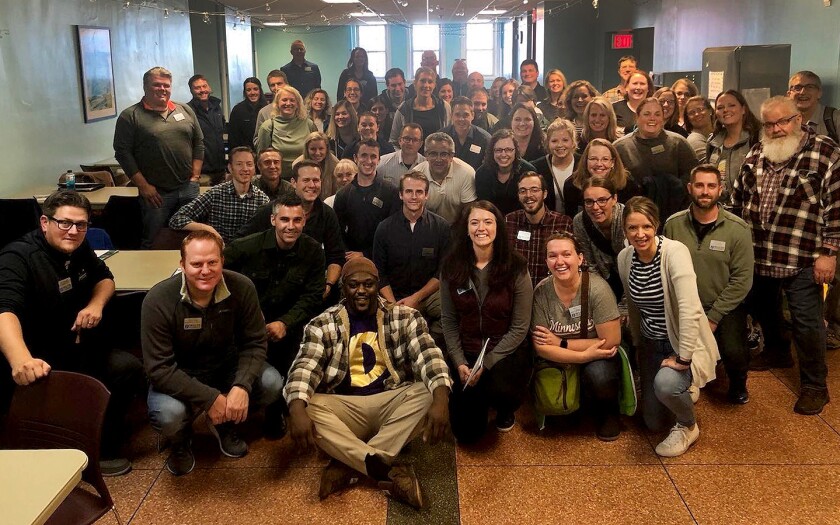 For more than three decades, Leadership Duluth has been educating and empowering Duluth area leaders to take an active role in the betterment of their community and workplaces. On June 25, Leadership Duluth celebrated 51 graduating leaders.
Due to COVID-19 restrictions, the 32nd annual graduation festivities adapted a virtual format. Leadership Duluth Director, Martha Bremer, along with volunteers from the LD Steering Committee, delivered celebratory gift packages to the doorstep of every graduate. The packages include 2 champagne flutes and a bottle of bubbly, individualized Leadership Duluth plaque, and a certificate for dinner from Mid Coast Catering. A virtual ceremony commenced to recognize the hard work completed throughout the ten-month program.
The evening's presenters included: Hilary Hodgman, Steering Committee Chair; Kim Chick, Steering Committee Member; Kate VanDaele, 2020 LD Class Representative; Steering Committee Members Tonya Loken and Julie Visger will present a toast to the Class of 2020 and the formal presentation of Graduates; David Ross, President and CEO of the Duluth Area Chamber of Commerce; and Martha Bremer, Director Leadership Duluth program for the Duluth Area Chamber of Commerce.
Developed by the Duluth Area Chamber of Commerce, Leadership Duluth is a comprehensive leadership training program. Leadership Duluth educates participants about Duluth's cultural and business history, as well as the current issues facing the Duluth area. The program focuses on the elements necessary to develop leaders who are invested in community health. In its 32 years, more than 1,300 area professionals have completed the Leadership Duluth program.
The 2020 Leadership Duluth graduates include (pictured): Emily Anderson, Essentia Health; Katherine Becker, St. Luke's Hospital; Daniel Berg, National Bank of Commerce; Paula Castleman, United Piping Inc.; Sara Cole, Duluth Area Family YMCA; Gregory Cooper, TKDA Architects and Engineers; Phil Davidson, Creative Arcade; Eric Dott, Barr Engineering Company; Lindsey Dueland, Northwestern Mutual; Mark Evans, The Jamar Company; Jean Farmakes, LHB, Inc.; Sarah FitzGerald, Wells Fargo; Mary Garness, St. Louis County; Ryan Gigliotti, 148th Fighter Wing; Eric Goetz, Life House, Inc.; Elizabeth Hanson, UnitedHealth Group - Optum; Sarah Hanson, Members Cooperative Credit Union; Nathan Hartman, Western Lake Superior Sanitary District; Grant Hauschild, Essentia Health Foundation; Jessica Hehir, Flint Group; Hillary Heinz, Whole Foods Co-op; Ruth Heitke, ZMC Hotels; Michael Henderson, Merrill Lynch/Bank of America; Blake Johnston, U.S. Bank; Michael Kerr, Bent Paddle/Heaven's Best; Steve Klinga, UnitedHealthcare; Courtney Klow, Fleet Farm; Melissa La Tour, Junior League of Duluth; Brittany Lind, Greater Downtown Council; Elizabeth Mayne, Head of the Lakes United Way; Janie Moore, Entrepreneur Fund; Jessica Natus, Wipfli LLP; Sara Niemi, Program for Aid to Victims of Sexual Assault (PAVSA); Brian Peltier, Fryberger Buchanan, Smith and Fredrick; Matt Privette, Real Living Messina & Associates; Connor Randall, Republic Bank; Jennifer Riden, UMD Center for Economic Development; Darlene Rossetti, ALLETE, Inc.; Samantha Schmidt, Braun Intertec; Pamela Schmitt, Minnesota Power/ALLETE; Karl Schuettler, The Northspan Group, Inc.; Samantha Smingler, Great Lakes Aquarium; Zach Steinhoff, Northwood Children's Services; Gracia Swensen, CHUM; Wilson Taylor, American Engineering and Testing; Robby Terry, DECC; Jeff Ubl, Barr Engineering Company; Matthew Vaillant, North Shore Investments & Trust; Kate Van Daele, city of Duluth; Amanda Van Kilsdonk, Essentia Health; Bill Whiteside, RSM US LLP; and Steve Wick, Arrowhead Regional Arts Council.