Duluth community garden space opens in Endion neighborhood
Demand is so high, these garden plots are already spoken for.
DULUTH — There's a new garden in town.
The Duluth Community Garden Program completed its latest space this week in the Endion neighborhood. Located at South 17th Avenue East and South Street, the community garden touts six raised beds, a rainwater catchment system, a compost bin, fence and tool shed.
The Lakeview Garden Project has been years in the making, said Steve Karels, DCGP land stewardship coordinator, and there is a lot of demand.
These garden plots are already filled, added Karels.
The DCGP manages 22 community gardens and stewards more than 250 plots. Its mission is to provide access to land, tools and food preservation equipment, as well as educational resources and community.
Most of the DCGP gardens are private-plot, meaning folks rent their space each year. Plots are available on a sliding scale, from $0-$200 per year, based on family size and income.
Registration closes May 31 to get a spot at an available plot. The locations with openings include:

Apple Tree Circle, 527 S. 72nd Ave. W.
Cook Home, 2716 W. Arrowhead Road
Emerald, 2001 W. Fourth St.
Riverside, 28 Riverside Drive
Visit duluthcommunitygarden.org for more info.
Construction on the latest garden plot began in the fall, and a $15,000 grant from the Duluth Superior Area Community Foundation covered the majority of the project, said Karels.
Outside the fence will be a pollinator garden and a Giving Garden space, which will provide free fresh produce. (And, two of the raised beds are wheelchair-accessible.)
"We try to provide those resources to give gardeners an advantage," Karels added.
Next up, the DCGP is working on building a 30-by-10-foot barn/garage and two 20-foot greenhouses in the Observation Hill area of Duluth, where they can centralize their equipment and create a community space for members to start seedlings.
The next construction project is funded by a $40,000 Minnesota Department of Agriculture grant. Karels anticipates the barn to be completed this fall. "The Lakeview project has been in our sights for a long time … it's really awesome to see it physically come together. It's been a lot of hard work," he said.
DCGP to host annual seed, plant sale
The Duluth Community Garden Program is hosting its annual plant and seed sale from 10 a.m. to 2 p.m. Saturday at Peace United Church of Christ.
Expect locally grown vegetable starter plants from Fairhaven Farm and seeds provided by the DCGP.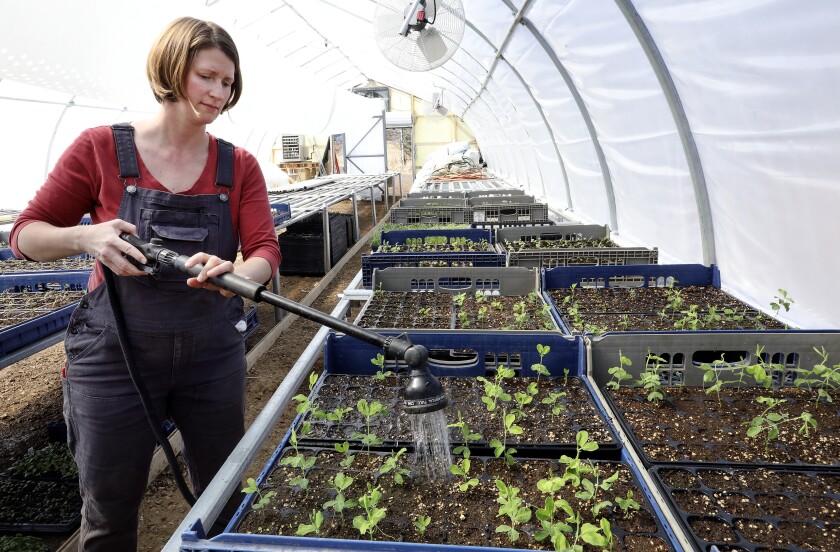 Plants will be offered on a sliding scale, thanks to a grant from Essentia Health. SNAP/EBT will be accepted, and a discount will be applied on purchases for customers who meet income requirements.
A personal shopper volunteer is available for customers who need assistance.
The plant and seed sale raises funds to support DCGP's accessible, low-cost garden space and programming in Duluth.
What: Duluth Community Garden Program plant and seed sale
When: 10 a.m.-2 p.m. Saturday; 9 a.m. early access for Duluth Community Garden Program members
Where: Peace United Church of Christ, 1111 N. 11th Ave. E.
More info: duluthcommunitygarden.org
St. Joseph Catholic's closure was due to a lack of priests, according to the Diocese of Duluth.