Christa Lawler column: Food is arts, math, magic, science … oh, and we eat it, too
At this point we have discovered the right ingredients to have on hand at all times. We've gotten to know ourselves so well!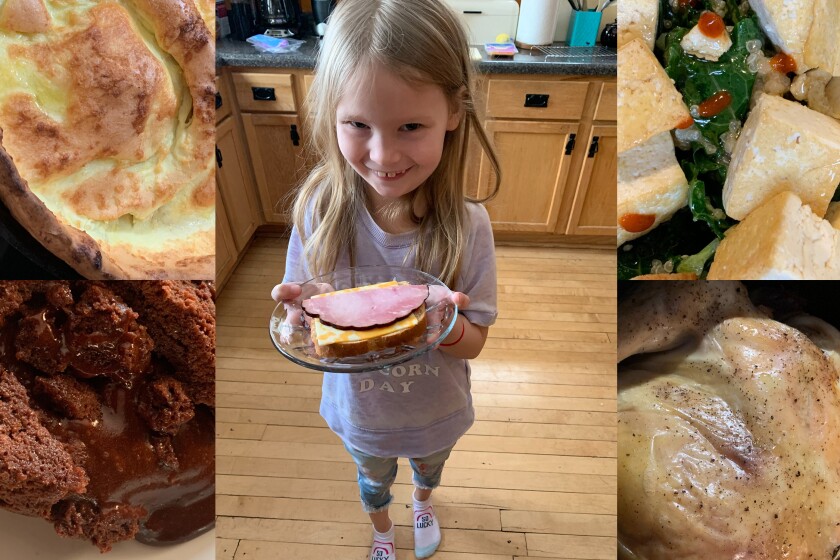 Last week I felt a compulsion to lie on the living room floor, tantrum style and scream: "I JUST WANT TO GO TO A RESTAURANT." Not a pandemic restaurant, where I would feel compelled to swing a yardstick to keep at bay the spittle of others — not to mention containing my own froth.
No, a restaurant-restaurant: dim lights, voices, a surprise run-in on the way to the bathroom and a charming server whose face I can watch for subtle shifts when I ask "Do I want this or this?"
Imagine someone putting a dish in front of you, its place of origin a kitchen where you've never had to defrost the dishwasher pipes. You spoon food into your mouth while eavesdropping on your neighbors and wondering if it's pure gluttony for everyone to order their own dessert.
Recently a friend said that she spends 95% of her time right now thinking about food, and dang if that didn't resonate. I think a lot about the food of then versus the food of now. In the past year, I have gone from a limping kitchen hobbyist with 101 chickpea recipes to the kind of human who boils the carcass of a small animal for an entire evening and then uses the stock to make turkey biryani — literally the most robust and delicious collection of flavors that our 7-year-old has ever rejected on impact.
Food, right now, is everything: it's arts, crafts and entertainment; it is skill-building, chemistry and magic. It is the hunting and gathering of new ideas — meticulously combing the New York Times Cooking App and the accompanying Sam Sifton newsletters. It is successes and failures and learning.
It turns out, I don't want to roast dates along with a chicken — a raw, 3-pound snuggle bug I sang to and danced with in the kitchen before my family suggested we not get too close to the dinner meat.
"Goodbye, Henry," I thought, tucking it into a pan and blowing a kiss. "May we waltz again in another time and space."
Food is also sustenance, duh, which sort of feels like an afterthought when you're eying a Dutch Baby as it rises up the sides of your cast iron, bends into its center and create its unique system of pancake-flavored bubbles.
What sort of mad science is going on in there, you wonder as you breathe on the oven window.
In an early scene of Rumaan Alam's new novel "Leave the World Behind," a woman shops for the necessities of a cabin trip that will ultimately have more in common with our modern uncertain life circumstances than the sun-n-fun week o'leisure she envisions. The character has an admirably strong gauge of what it will take to keep her family fueled during this vacation, including organic hot dogs and buns, garlic, salted butter, coffee, hummus, cake mix and hard salami.
But at this point in our lives, in the pandemic, we, too, have discovered the right ingredients to have on hand at all times, I reminded myself. We've gotten to know ourselves so well! A bowl of mixed berries, granola, yogurt, cheese, sliced ham, kale, tomatoes, onions, almond milk and up and down the aisles I go, pulling the same-old things in the same-old order — which will somehow make old standards and new adventurous things.
My daughter and I collaborated on a single-serving lava cake and found everything we needed within the square footage of the kitchen. One day, I pulled together a somewhat complicated kale and quinoa salad with tofu and miso dressing for lunch.
A recipe! For lunch!
I've been meal-planning, an uncharacteristic new obsession that is both great fun for me and a mega annoyance to me. "What should we have for dinner," I ask, and the answer "something easy" just isn't quite satisfying. At the very least, I could use an ingredient to build on, eggs or even cumin. That said, when the 7-year-old requested Velveeta Shells and Cheese, I recoiled at the way my plans had been hijacked — then bought two boxes of the stuff. It really is liquid gold.
Saturday, mid-morning: I read through the food-centric newsletters I receive via email, the screen grabs I've taken of Smitten Kitchen meals posted on Instagram, or whatever other recipe has flown out of the ether to tickle my taste buds. That night is for something fun.
This week, we made a snack tray centered on smoked salmon from Northern Waters. On Sunday, I might play the long game, cultivate food-house smells, with our Crockpot. Monday is for experimentations — a time to really shine. A return to chickpeas, but now with lentils and sweet potatoes. Baked orzo with spinach, peas and cheese. We recently explored a TikTok-famous pasta that combines orecchiette pasta with baked tomatoes and feta. It was so smooth and so warm. TikTok was right.
Tuesday is always, always, tacos — he uses seasoned tempeh. Sometimes he makes tortillas using the jar of lard I never thought I'd buy. On Wednesdays, we have grilled cheese and tomato soup, occasionally elevating it with better bread and kimchi. (Though one day, our daughter asked for a "wichsand," which has the ham on the outside, bread in the middle.)
By Thursday, I'm shaking down the online menus: a baked potato 'za from Pizza Luce, muffuletta from Gumbo Boi, matar paneer from India Palace, Beyond Burgers from the grocery store — cooked through 8 minutes after they're dropped into the pan. Friday is a wild card. Something easy.
At the beginning of the pandemic, we cleared a shelf in the basement and collected things we wouldn't eat under normal circumstances, things that we would be able to assemble easily if we were struck down by the virus: canned pears, chunky beef stew, marinara. That accomplished, we created a back stock of the things we used regularly: all the variations on beans, all-purpose flour, extra-virgin olive oil, jars and jars of crunchy peanut butter.
We discovered the treats that became as necessary as the bananas: chocolate-covered caramels, dessert hummus, Late July Sea Salt and Lime Chips with vegan queso that is only available at Target, nondairy ice cream that recasts avocado as a thing to mix with mint and chocolate chips.
And then I just got ridiculous. There are sleeves of limited-edition Lady Gaga Oreos in our cupboard right now — pink on the outside with green cream. I heard about them on the internet and waited for fate to throw them in my path, which it did. In a long-lost online cart, I have Sriracha salt (which I didn't even know existed!) and Botan Rice Candy, which I read about in Ross Gay's collection of essays "The Book of Delights." The wrappers, he says, melt in your mouth.
I've been more aggressive with other luxuries: Chili Crunch from The Momofuku Pantry, spicy cinnamon tea from Harney & Sons Fine Teas, gochujang, which I bought spontaneously from Amazing Grace Cafe & Grocery, its shelves arranged prettily with a variety of flavors and brands, its display pyramids so inspirational.
The smooth bottle seemed like a souvenir.
How has your approach to food changed during the pandemic? I want to hear about it. Email News Tribune reporter Christa Lawler at clawler@duluthnews.com.