Beatrice Ojakangas column: Comfort food for 'hard times'
We are part of The Trust Project.
Among the some 2,000 cookbooks that I donated to the University of Minnesota Library before we moved was a Finnish book, "Pula Ajan Ruoka" which translates to "Food for Hard Times." It has struck me that we are as close to those "hard times" as ever right now. The pandemic, the inflation, the news of foreign oppression and the general mood of the world makes me think that that Finnish cookbook is very timely. These are hard times for many people.
In Finland, the hard times were in the mid to late 1800s. That was when my grandfather was the only one of five boys in his family who didn't starve to death. I think he passed on strong survival genes to me.
Finns learned to live with what they had and I have heard stories about the "bark bread" that they made. Ground bark was added and used to supplement the dough for making rye bread. Even though people could not digest the bark, it made them feel full. I remember an aunt who said that the bark bread tasted really good.
I am not offering a recipe for bark bread, but a good, basic Finnish rye bread that has been the mainstay of the Finnish diet.
Rye bread was the mainstay of our diet when I was growing up. Coarse rye meal was our favorite. Rye flour was much easier to find than today, as wheat has taken its place. My father felt that there was nothing to eat in the house if we didn't have rye bread. My mother baked it at least twice a week. Big, round loaves, made shiny with butter.
Soup? Potato soup was always the one that we had plenty of ingredients for, even if today we would turn it into a "loaded potato soup." I still count it among my favorites.
I share my favorite rye bread recipe here, along with potato soup and potato casserole.
I used to make this bread with rye meal which is not available today. Now, I use Bob's Mill dark rye flour instead, which you can find in most supermarkets today.
Makes 1 round loaf.

1 package active dry yeast
¼ cup warm water, about 110 degrees
2 cups potato water (water saved from boiling potatoes)
1 tablespoon brown sugar
1 3/4 cups dark rye flour
1 tablespoon melted butter
1 ½ teaspoons salt
2 cups bread flour
In a large mixing bowl (or in the work bowl of a food processor with the steel blade in place), combine the yeast and the ¼ cup warm water. Let stand a few minutes until the yeast is dissolved. Add the 1 cup potato water, brown sugar, rye flour, butter and salt. Slowly add the bread flour and mix until a dough forms, you may not use all of the flour. If the dough seems very dry, add more warm water until the dough is smooth and pliable.
Cover and let stand about 10 minutes. Sprinkle any remaining flour onto a work surface and knead the dough. Lightly oil a large bowl and place the dough into it. Cover, and let rise until doubled in bulk. Punch down and shape into a round loaf. Place onto a lightly greased pan, cover and let rise in a warm place until doubled.
Preheat the oven to 375 degrees. Bake for about 45 minutes. Brush with additional butter while still hot.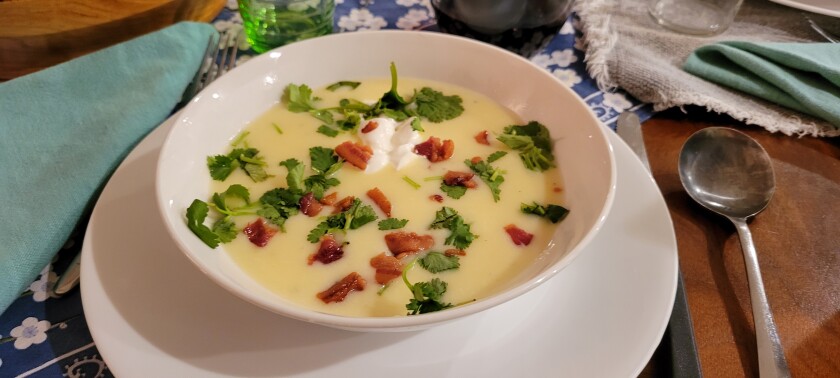 This soup is still one of my favorites — so simple and quick to make. In fact, it is one that my dad, Isa, just craved. Today, we might serve it plain or gussied up with crisp bacon, sour cream and chopped herbs. It is called "loaded" in some restaurants. This is less of a recipe, and more of a cooking lesson.
You can use any kind of potato, yellow, red or russets. I generally just scrub the thin-skinned potatoes and chop them up and throw them in the pot — one potato per person. I usually peel russets, especially this time of year, when the peels have dried a bit and gotten thick. In the summertime, the soup takes on a sweeter flavor when you use new potatoes.
I love to use sweet onions, but if all you have are the stronger-flavored white onions, by all means use them!
If you are so inclined, you can replace the water with chicken broth.
Makes for servings if you use four potatoes.

4 medium-sized potatoes, (or 1 per person you will serve) scrubbed and diced
1 medium-sized onion, peeled and diced
Water to cover
Salt to taste
1 teaspoon white pepper (optional)
About 1 cup light cream or milk or evaporated milk
Toppings:
Sour cream
Chopped crisp, cooked bacon
Chopped fresh herbs or parsley
Combine potatoes and onions in a cooking pot. Add water to cover. Heat to a simmer and cook 15-20 minutes until potatoes and onions are soft. Mash or puree the potatoes and onions using a potato masher or blender. Add salt and pepper to taste and add the cream or milk. Serve hot with a dollop of sour cream and a sprinkle of bacon and chopped herbs.
If using thin skinned potatoes, red or yellow, all I usually do is scrub them clean. However, russets need to be peeled because of their thicker skin.
Authentic Finns do not like the idea of eating potato skins. We've had fun joking with them about this. In fact, when Finns have come to visit us here in Duluth, Dick loves to order potato skins as an appetizer in local restaurants, just to tease.
This casserole is a great one to take to a potluck as it can be made ahead and reheated before serving.
Makes 6 servings.

6 medium-sized, thin-skinned potatoes, scrubbed and chunked (peeled or not)
2 eggs, beaten
1 cup light cream or whole milk
About 1 teaspoon salt
5 tablespoon soft or melted butter
2-3 tablespoons fine, dry bread crumbs
Preheat the oven to 375 degrees. In a medium saucepan, cook the potatoes in water to cover about 20 minutes. Mash the potatoes and whisk in the eggs, cream, salt and four tablespoons of the butter. Turn the potatoes into a shallow casserole, about 2-quart capacity. Dot with remaining butter and sprinkle with bread crumbs (panko crumbs add a very nice texture).
Can be made ahead to this point; hold refrigerated until ready to bake.
Bake for 20-25 minutes until heated through and the top is lightly golden.
Beatrice Ojakangas is a Duluth food writer and author of 31 cookbooks. Find her online at beatrice-ojakangas.com.
Old-Fashioned Rhubarb Meringue Pie, Rhubarb and Caramelized Onion Pickles and more.