Astro Bob: Watch Jupiter and Venus 'fuse' on Saturday
The two brightest planets in the morning sky nearly merge into one this weekend. The aurora's also lurking about, and Mercury glides by the Pleiades.
There's a lot going on! And not just with the morning planets, but we'll start there. Did you get a chance to see the crescent moon with Jupiter and Venus on April 27? I hope so. If not, we have something else in store. Venus and Jupiter will come together in a close conjunction on Saturday morning, April 30, separated by a little less than one full-moon-diameter.
From the East Coast, they'll be ever-so-slightly farther apart. West Coast observers will see them a little closer together. At a quick glance, the duo may mimic a single planet, but I'm sure you'll be able to split them apart without optical aid.
Best views will be from 75 minutes to 45 minutes before sunrise. Look low in the southeastern sky for bright Venus; Jupiter will be right next door. This sunrise calculator will help you determine your local sunup time. Once you know it, set your alarm clock so you have enough time to get to the right place in enough time.
Mars and Saturn will also be present but farther removed to the west or upper right. Venus will slide under Jupiter during the conjunction, with the two planets slowly separating in the coming week.
By the way, if skies are cloudy April 30, the duo will be nearly as close the following morning, May 1. From my location in the Midwest, their separation increases by only a tenth of a degree.
During their pairing, the two planets make look physically close, but that's a line-of-sight illusion. Venus stands in the foreground 92.3 million miles (148.6 million km) away, while Jupiter gleams from a distance of 527.4 million miles (848.7 million km) — almost six times as far.
Meanwhile, at the sky's other end, Mercury seekers will be delighted to know that the planet is very easy to see at dusk. It stands nearly 10 degrees high an hour after sunset low in the west-northwest sky and remains easily visible for about another week. Thankfully, you can use winter's brightest stars — sinking into the west along with the innermost planet — to help you find it.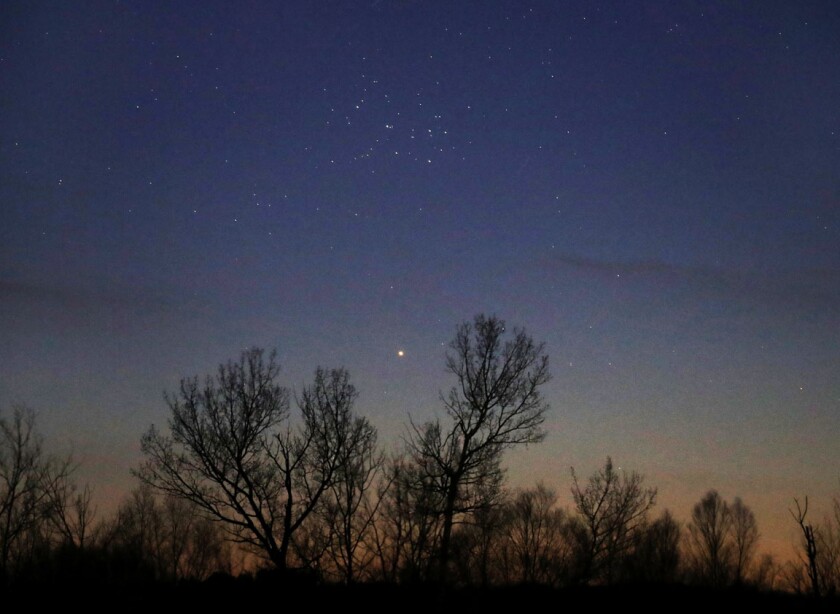 On April 27, Mercury and the Pleiades star cluster made an absolutely beautiful sight in binoculars. For the next few nights, the planet glides just below the cluster, so you'll have several nice opportunities to enjoy a similar view.
Also on Wednesday night, April 27, the aurora dropped by for a surprise visit! About the time I finished with the Pleiades and Mercury, the first rays shot up over the northern horizon in a bright but active display.
Space weather forecasters predict another minor (G1) storm for Thursday night, April 28, between about 10 p.m. and 1 a.m. CDT. G1 storms are best visible in the northern one-third of the U.S. in places like northern Michigan, Minnesota, Wisconsin and North Dakota. No moon will interfere. Find a place with an open view of the northern sky and be patient.
Quite the celestial smorgasbord. I hope you're able to sample a little of each!
"Astro" Bob King is a freelance writer for the Duluth News Tribune.