Astro Bob: Are you ready for more aurora?
We may get a repeat performance of Saturday's spellbinding aurora on Sunday, Sept. 4.
We are part of The Trust Project.
DULUTH — Last night, Sept. 3, marked the sixth appearance of the northern lights in the Upper Midwest since Aug. 19. What an absolutely out of this world show it was. The display evolved continuously over many hours, constantly remaking itself. Entranced, we watched sinuous arcs, phalanxes of spear-like rays, pulsating patches, and weepy waterfalls of light shimmer and dance before our eyes.
While green was the predominant color, occasional bright, red-tipped rays joined the fray, too. After midnight, I parked on a road that crossed a wide-open wetland. Looking up at a northern sky filled to bursting with aurora, it felt like standing at the bottom of a sea gazing up into a towering kelp forest wavering above my head. Is it possible to drown in northern lights? I came close.
It's tough to call it quits when the sky's on fire. Despite three unsuccessful attempts to drive home and go to bed, I finally turned my back on the lights at 2 a.m. after 4 1/2 hours of nonstop irradiation. The aurora never called it quits, huffing and puffing till dawn.
Neither you nor I should expect to regain that lost sleep soon. More northern lights are on the way! NOAA space weather experts predict another moderate (G2) storm Sunday night (Sept. 4) and lesser activity for Monday night, Sept. 5. Light from the waxing moon — just past first quarter phase — shouldn't be a problem. For reference, Saturday's show was also a G2 or moderate storm, with auroras visible at least as far south as southern Minnesota. One observer even sighted the aurora from the city of Minneapolis, a seriously light-polluted location.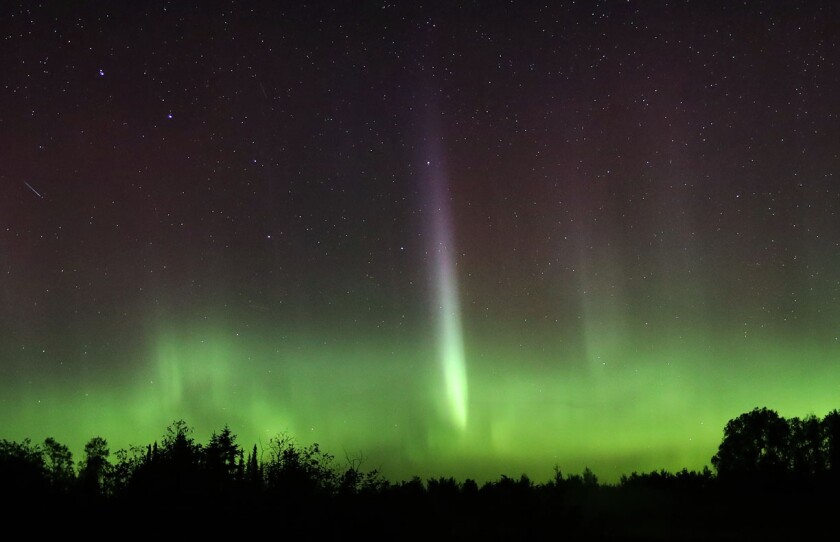 The cause of all the beautiful ruckus is twofold: a coronal hole or gap in the sun's atmosphere (corona) that allowed particles to stream toward Earth at high speed — like having a rocket engine in your face — and recent flaring from active sunspot groups. The hole is big and windy, the reason that chances to see the aurora will extend through at least Monday.
Far and away, 2022 has been the best year for sunspots and aurora in what, a decade? That's because solar activity has been rising rapidly as the sun climbs toward the peak of its 11-year cycle, which it will reach sometime in 2025. During a solar cycle, activity bottoms out at "solar minimum," which occurred in December 2019, then climbs to maximum before falling again. The average cycle lasts 11 years from peak to peak.
Judging from all the photos in my Facebook feed, LOTS of people got to see Saturday's show. Clear skies across more than half of the U.S. were a huge help. I spent the first couple hours watching with a former co-worker and her daughter. We took photos and also looked at Saturn, Jupiter and the Andromeda Galaxy through the telescope. While I used a DSLR camera on a tripod, she balanced her iPhone 13 on her head, stood as still as possible, and took some excellent photos.
Phone cameras up to the task
As many of you already know, you don't necessarily need a big, expensive camera to photograph the night sky anymore. Cellphones are clearly up to the task. While a tripod and an inexpensive adapter to secure the phone are still best, as long as you have a steady hand, you can get great stuff. Today's phones demonstrate just how far image stabilization technology has come.
When I shoot, I like setting the ISO to 3200, with my lens "wide open" to let in the maximum amount of light. That means setting the "f number" on the lens to its lowest value. I typically shoot at f/2.8. A high ISO and wide-open lens means I can expose for shorter periods of times, usually around 5-8 seconds for a bright aurora.
The shorter the exposure the more detail you can capture and the closer it resembles what you see with your eye. Cameras will always capture more colors than are visible with the eye because they accumulate light, while us humans see only in real time. In the future, there will be a technological fix for that, I'm certain.
In the meantime, get out tonight and look north as soon as it gets dark. Take along binoculars to poke around the sky in case the lights are shy. Or you can download an app such as Star Chart (free for iPhone or Android ) to help you identify the constellations. There's always lots to do outside at night to exercise all your senses.
Solar blasts are expected to arrive Monday evening and last through Tuesday. To help plan, we've got tips on aurora apps for your phone.
Monday night's aurora displayed a rare, deep-red SAR arc. We also recap NASA's successful mission to nudge an asteroid.
Scientists will test one way we might defend our planet from a future asteroid impact. Here's how to watch it live.