Two Harbors artist finds odd center of collage
Micky McGilligan's latest exhibit is on display at the Lake View Hospital.
TWO HARBORS — Artist Micky McGilligan has been working in collage for most of her life, but only started creating and selling pieces in the last five years.
The Two Harbors resident has a small show of her work at the Lake View Hospital lobby for the next few months. When she starts a new collage, she likes to start by looking for something odd to center her pieces.
"I try to find something a little, a little different," McGilligan said. "That seems to be what sells — something that has a little twist to it."
For example, she recently created a piece that focuses on a image of a man looking into a mirror then surrounded by eyes. She added a few magnets from a fridge poetry magnet kit to create the phrase "eye of the beholder."
"I used to be primarily a poet, so I have lots and lots of words and words on magnets," McGilligan said. "I thought, well, I'm not using them to write poetry. I'll do something with them, like little mixed up poetry phrases and sayings."
One of the centerpieces of McGilligan's show at Lake View is a large screen featuring several collages grouped together. She said she's been thinking about the piece for several years.
"I bought it 20-odd years ago and I finally decided, 'I've got this idea. I'm retired. I got time in the world to actually do this thing," McGilligan said. "The theme of it was 'Fantasy Makes Life Bearable,' so it's full of all kinds of birds and fantastical things on that one."
McGilligan's images come for several different sources such as magazines and photography, but also from her own photographs.
"I like to take photos of tiny things, like moss and patterns in the dirt in the shade of the sun," McGilligan said. "I take a lot of landscapes, too, and patterns in things. Sometimes they become the focal point of a piece surrounded by other objects and photos. It depends on what it is."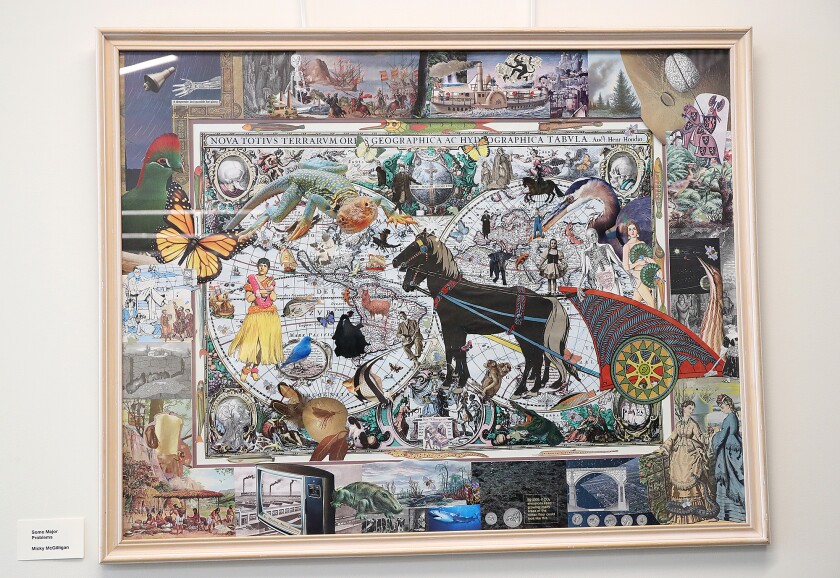 One of her main projects right now is a series of collages to run alongside her prose poetry in a book she's writing.
"So for example, I have a poem about looking for materials on the beach, so I took photos of rocks and moss and feathers the things you find when you look at a beach," she said. "I'm trying to put it together in an interesting way that somehow has elements of the poem in it."
McGilligan also does a lot of work with the Voyageur Artists art collective and gallery in Two Harbors. The group runs a gallery that's open through most of the summer and does a collective show every year. Her work can be found for sale there.