Twin Ports artists and organizers respond to coronavirus-inspired cancellations
The show won't go on (until later, maybe)
The Duluth Playhouse's production of "Spamalot" has classic Monty Python moments, huge dance numbers and Easter eggs for the die-hards, according to director Justin Peck.
Now he just hopes you get to see it.
"It's such a high-energy show," Peck said. "The scenic design is fantastic. When people — I'm going to say 'when' not 'if' — when people get a chance to see it, they're going to love it."
"Spamalot," originally scheduled to open Thursday, is among the ever-growing list of arts and entertainment events that have been postponed or canceled since Gov. Tim Walz called for limits on gatherings of more than 250 people. The threat of the COVID-19 coronavirus has preempted local performances ranging from Christian pop band MercyMe's April concert at Amsoil Arena, to the Duluth Superior Symphony Orchestra's Beethoven concert scheduled for this weekend, to the annual eight-day Homegrown Music Festival, which was to start at the end of April.
Peck was pegged as director for the show nearly a year ago, and auditions were held in September. The cast of 18 actors has been in rehearsals since early February, he said. The show was postponed just as they hit the polishing period and right before they began previews on stage. (The Duluth News Tribune was the presenting sponsor.)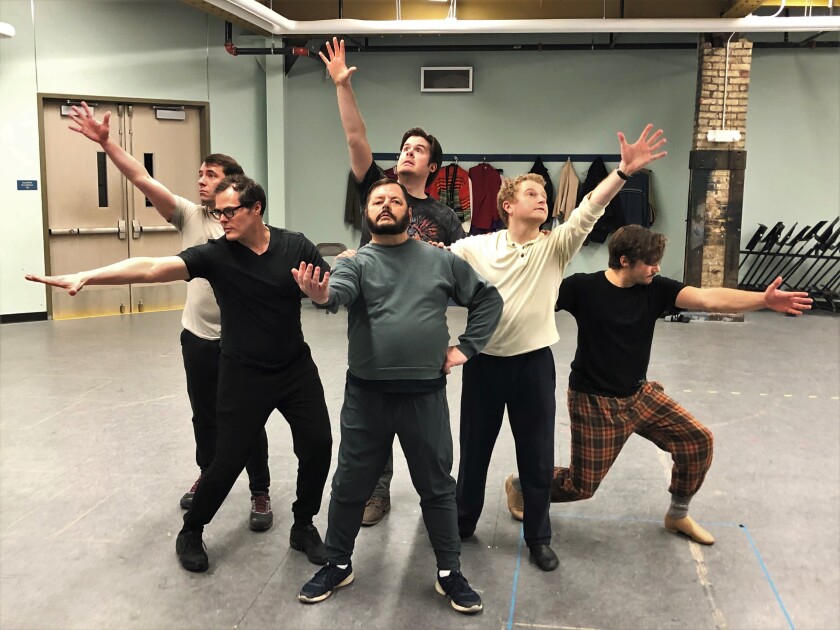 At the cast's final rehearsal, Peck asked the team to perform a version of "Always Look on the Bright Side of Life," which was later posted on Facebook for patrons.
"Some things in life are bad / they can really make you mad," principal actor Kyle McMillan sings, wearing a Superman shirt and hooded sweatshirt, before he's joined by the rest of the performers.
There is a postponement window for the group that includes actors who will soon graduate from the University of Minnesota Duluth or have other performance obligations in upcoming months.
"I think I'm finally at the point where I'm hopeful," Peck said. "I was sad at first. We were so close. We were right there. I was so pleased with how it had turned out."
He said he believes it will be a good show for when people are reemerging from their homes.
"A show that makes you laugh until you cry," he said. "Maybe that's a good show for this point in history."
Both the Minnesota Ballet's production of "A Midsummer Night's Dream" and its annual Black & White Ball, which was scheduled for this weekend, have been postponed. It would be one thing if she were thinking only about the patrons, said executive director Kelli Latuska, because it's a business transaction.
"When you have employees and students who have given hours and hours and hours into performing this piece," she said, "it's hard to break everyone's heart and tell them they have to wait until indefinitely."
The professional company members' job now is to self-quarantine and stay healthy.
"Any illness can set an athlete back in their ability to do their job," she said.
Latuska is in a unique position. She is also on the board of directors for Homegrown Music Festival, which made the decision to cancel earlier this week.
"I think it's pretty surreal for everybody," she said. "I don't know that anybody has really grasped what it is. Everybody feels like they're on a different planet right now."
So what are the artists doing instead?
Musician Blake Thomas, the artist behind the podcast "Take It With You," had a concert scheduled for this past Saturday in Milwaukee. When it was canceled, he and Josh Harty instead played on the internet.
The musicians played a 90-minute concert live on Facebook and shared their Paypal and Venmo links with the 1,800 people who dropped in on the performance.
This week, Virtual Duluth popped up on Facebook. The group, which had more than 500 members by Tuesday afternoon, includes listings for virtual concerts and storytimes and offers of performance spaces.
The Embassy, a self-described artist cult that opened the doors to the public in early March for a variation on the church bazaar, has offered the sacristy of the former First Lutheran Church of the Holy Trinity in West Duluth as a place to record.
Matthew Dressel, who operates Zinema 2, also has a call-out for artists in need of space.
Robin Washington, who hosts "Simply Superior" on Wisconsin Public Radio , recently ran a public service announcement on the station.
"If you are part of a musical or theatrical production canceled because of the virus but you can still perform it — either individually or with others at a safe social distance — we'd love to consider putting it on the air," he said.
Contact info: robin.washington@wpr.org .
What does this mean for the artists?
Scott "Starfire" Lunt created Homegrown Music Festival more than 20 years ago. It started as a relatively modest event — a handful of bands he lined up to play his birthday party. Though he is no longer involved in organizing the festival, his band Father Hennepin still plays most years.
"Everything is canceled, so it's hard to feel sorry about anything," Lunt said. "When they canceled SXSW, I thought they were crazy. They were just the first. Nothing's happening. Nothing seems more important than anything else."
Lunt expects to see creative output from his peers in the coming months. He is kicking around releasing a video with his band.
"People are going to think stuff out like that, and it's going to be cool," he said.
The Arrowhead Regional Arts Council on Tuesday announced a COVID-19 Emergency Program — small grants of up to $750 for artists to create something online during the period when venues are closed.
Thomas said he thinks this is going to hit his friends — fellow musicians, artists, local crafts people — hard. On Tuesday, he started planting seeds for his garden.
"The silver lining about some of this stuff is that maybe it does make us slow down a little bit and just breathe for a second," he said, then added. "Breathe, but not around a number of people."