Streaming review: Netflix serves dumb summer fun with 'Floor is Lava'
Its 10 episodes will leave you feeling like you could do better.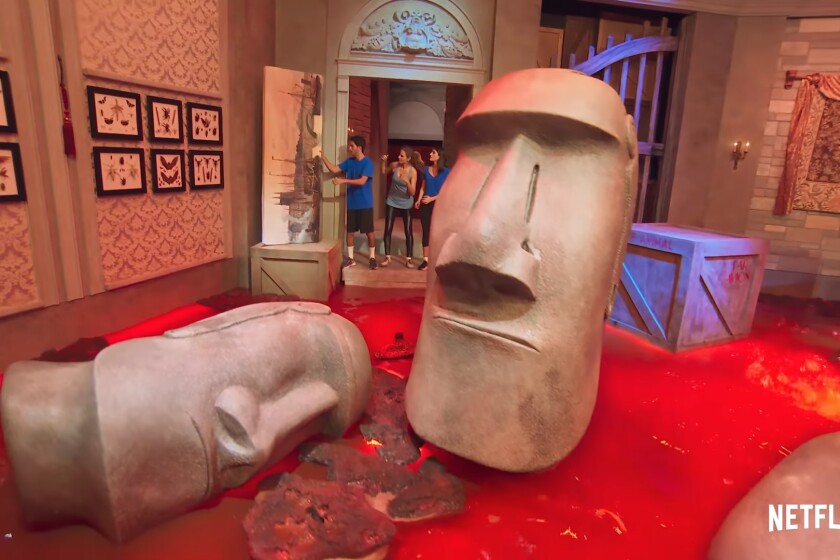 If you liked jumping from rock to rock by the lakeshore as a kid — and who didn't — Netflix has some silly summer fun for you.
The 10 episodes of "Floor is Lava" are topping the Netflix chart this week. Teams of three people with varying relationships (family, friends, co-workers) tackle a room full of obstacles and filled with water lit up glowing red and occasionally bursting into the air. In case viewers forget, the host frequently reminds us that this water is the "lava."
Teams must climb across the room. It's that simple. The team with the most points wins $10,000. To earn the points, they're timed, but you'd never know it. They spend way too much time thinking and talking, just one of many opinions my family quickly formed. They should help each other more. Hold hands. Make bolder leaps. Stop wasting time. Ever the couch quarterbacks, we keep yelling at them to "GO!"
Then we laugh really hard when they fall and seemingly disappear below the glowing red. Nobody actually gets hurt, so it's fine. Each episode has a theme, so the obstacle course is different, which keeps things fresh. What stays the same are a funny host and people having a great time.
It's like "Total Wipeout" but smaller, "American Ninja Warrior" for the weak, with puzzle-solving added in. The "I could do that" factor runs strong, like when you solve the "Wheel of Fortune" puzzle at home before the contestants do; it makes you feel smart. "Floor is Lava" is like that, but with imagined athletic abilities.