Readings & Writers
Book events and a book blurb.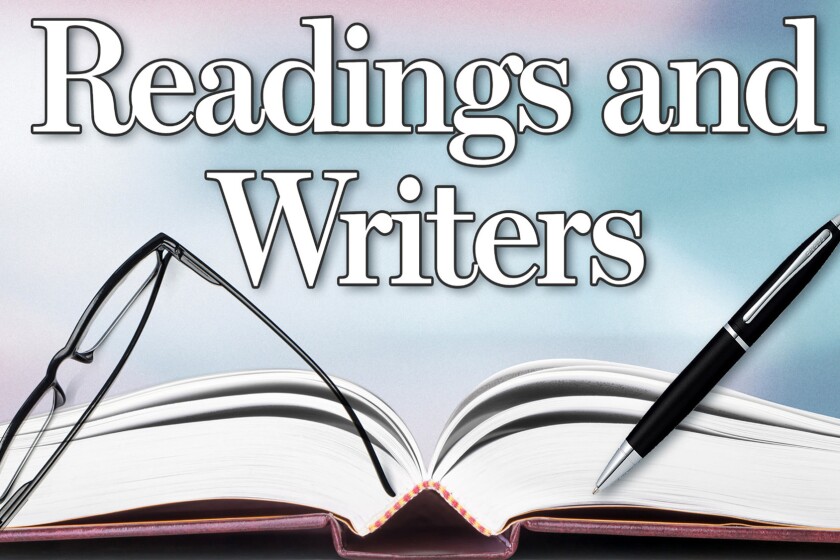 Bookstores
The Bookstore at Fitger's, 600 E. Superior St., Duluth, offers these events. Go to bookshop.org/shop/fitgerbooks .
Tuesday Night Author Talk features local poetry professors Jayson Iwen and Ryan Vine, 6:30-8 p.m. Tuesday, Nov. 16, in the Fitger's Inn Executive Board Room to discuss their latest works, "Roze & Blud" by Jayson Iwen and "Ward" by Ryan Vine as well as the collection of poetry, "Come, Take a Gentle Stab" that Jayson helped translate from Arabic. Masks are required.

Children's author Jen Teschendorf signs copies of her book "Say What Little Duck?" noon to 2 p.m Nov. 20.

10 a.m. to noon Nov. 27: Emily Kilgore signing copies of her children's book "The Whatifs."

2-4 p.m. Nov. 27: Linda LeGarde Grover signing copies of her books including the new release "Gichigami Hearts: Stories and Histories from the Misaabekong."

5-7 p.m. Nov. 27: Diana Ostreich signing copies of her book "Waging Peace: One Soldier's Story of Putting Love First."
Zenith Bookstore, 318 N. Central Ave., offers these events: Call 218-606-1777 or go to zenithbookstore.com.
Author Mark Munger signs copies of his book, "Duck and Cover" from 2-3 p.m. Nov. 20.
Author Chris Monroe signs copies of her book, "Monkey with a Tool Belt and the Craftiest Christmas Ever," from 3-4 p.m. Nov. 20.
Author Sarah Bamford Seidelmann signs copies of her book, "Where the Deer Dream," from 11 a.m. to 1 p.m. Nov. 27.
Author Tashia Hart signs copies of her book, " The Good Berry Cookbook," from 1-3 p.m. Nov. 27.
Author Marcie Rendon signs copies of her books, "Murder on the Red River" and "Girl Gone Missing," from 3-5 p.m. Nov. 27.
Virtual book launch event for Brene Brown, author of "Atlas of the Heart," 7-8 p.m. Dec. 2. Your book purchase of "Atlas of the Heart" from Zenith Bookstore (in store or online) will include admittance to this virtual event. Order online at zenithbookstore.com/atlas . Use promo code ATLAS and you will receive the Zoom link for the event.
The Friends of the Saint Paul Public Library, as the Minnesota Center for the Book, announces the sixth chapter of One Book | One Minnesota, titled "The Song Poet: A Memoir of My Father" by Minnesota author Kao Kalia Yang . In the Hmong tradition, the song poet recounts the story of his people, their history and tragedies, joys and losses. In "The Song Poet," Kao Kalia Yang retells the life of her father, Bee Yang, the song poet ― a Hmong refugee in Minnesota, driven from the mountains of Laos by America's Secret War. Now through Dec. 19, Minnesotans will be invited to read the featured book selection and will have access to reading guides and virtual book club discussions. Readers can access the ebook and audiobook for free on Ebooks Minnesota for eight weeks. All Minnesotans are invited to participate in a statewide discussion with author Kao Kailia Yang at 7 p.m. Dec. 9. Free. Registration required.
Ojibwe storytime, for ages 2-12, at 10 a.m., noon or 2 p.m. every Wednesday in November at the St. Louis County Historical Society, Eli's Farm interactive children's exhibit, Level 2 of the Depot, 506 W. Michigan St., Duluth. Storytelling in the Ojibwe culture is a traditional way to pass on knowledge. All books have been approved by our American Indian Advisory Committee. Go to thehistorypeople.org .
Storytimes, 10:15 a.m. Wednesdays at the Duluth Main Library and West Duluth branch as well as 10:15 a.m. Thursdays at the Mount Royal branch. Go to duluthlibrary.evanced.info/signup/calendar .
The University of Wisconsin-Superior's Pruitt Center for Mindfulness & Well-Being offers Kelly McGonigal, best-selling author and TED speaker, presenting "The Joy of Movement," at 4:30 p.m. Tuesday, Nov. 16. In this free, interactive online community event, McGonigal will focus on how individuals can harness the power of movement to increase happiness, resilience and social well-being. Individuals learn how and why physical activity promotes resilience, belonging and even meaning in life. From the biological, including how exercise remodels the brain to make you more receptive to joy and social connection; to the psychological, such as how movement is intertwined with identity, self-expression and self-efficacy.
McGonigal will also give practical guidelines for maximizing these benefits, and how to make movement part of your psychological self-care. The session will also include Q&A and fun, accessible opportunities to try the joy of movement wherever you are.
Registration deadline: 6 p.m. Monday, Nov. 15. Register at uwsuper.edu/pruittfall21 .
Book Club for Writers with Danielle Sosin, author of "The Long-Shining Waters," 6:30-8 p.m. Tuesday, Nov. 16 by Zoom. In the Book Club series, authors read from their books, talk about craft, what it took to write the book, and life as a writer for 30 minutes. Then there is 60 minutes for a Q&A and book discussion. Membership not required to attend. Register by emailing writers@lakesuperiorwriters.org . You will receive an email with a Zoom link close to the event. Registration deadline: Nov. 15. Free.
Auntie M's Guide to Greaseless Self-Promotion for Authors by Tex Thompson, 9-11 a.m. Nov. 20. Marketing your writing is an unavoidable task, but it doesn't have to be an unbearable chore. If you're wondering where to start, this workshop is for you. Arianne "Tex" Thompson is the author of "Children of the Drought," an internationally-published epic fantasy Western series from Solaris. Her class is ideal for traditional and independently published authors as well as unpublished authors. Cost is $5 for Lake Superior Writers members; $15 for non-members. Registration deadline: Nov. 19. You will receive an email with a Zoom link close to the event. To register: lakesuperiorwriters.org/events/auntie-ms-guide-to-greaseless-self-promotion .
Author Renee Bertram Anduze, a Grand Rapids graduate, will signs copies of her new book, "Take a Left at Tomorrow," from 2-6 p.m. Dec. 12 at Timberlake Lodge, 144 S.E. 17th St., Grand Rapids.
Books
Title: "The Wolf and the Willow"
Author: Robert Downes
Synopsis: "The Wolf and The Willow" is a story of first contact between indigenous peoples and European invaders, set in the bones of ancient America. Willow, a slave of Black and Arab descent is swept up in a doomed 1527 expedition of Spanish conquistadors to the New World, where she meets Wolf, a trader, storyteller and spy for the shamans of the Ojibwe nation. An odyssey takes Willow and Wolf along the length of the Mississippi River from Minnesota to the Gulf of Mexico. Together, they outwit their captors while traveling through the heart of many lost Indian civilizations, culminating at the ancient ruins of Cahokia, outside present-day St. Louis.
Cost: $18.95
Publisher: The Wandering Press
Contact Info: robertdownes.com