Readings & Writers
Bookstore events and a book blurb.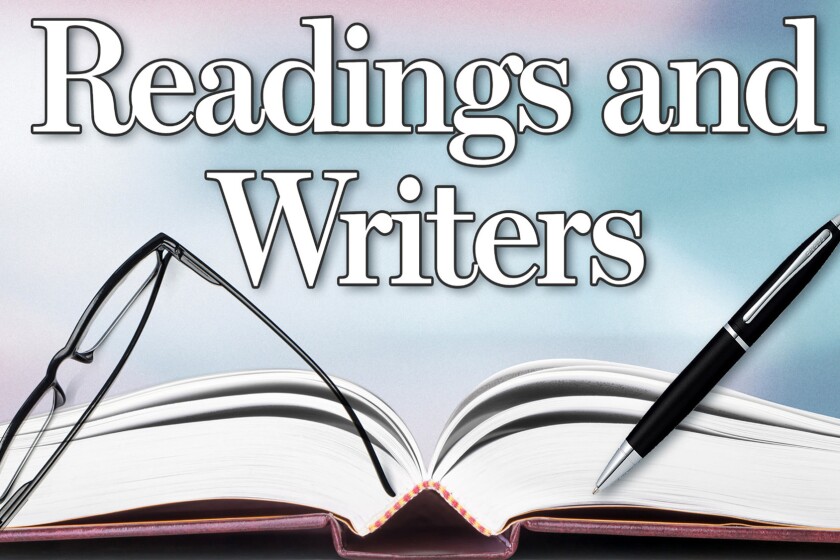 The Bookstore at Fitger's, 600 E. Superior St., off author Susan Borden signing copies of her book "Clockwise: A Ghost Story for Autumn," 2-4 p.m. Saturday, Oct. 23. Go to bookshop.org/shop/fitgerbooks .
Zenith Bookstore, 318 N. Central Ave., hosts a book launch for "Ward" by Ryan Vine, 7-8 p.m. Tuesday, Oct. 26, in the parking lot. Call 218-606-1777 or go to zenithbookstore.com for details.
Barnes & Noble, Miller Hill Mall, offers author Chad Corrie signing copies of his book, "Triumph of the Wizard King," the last book in the trilogy, 2 p.m. Oct. 30. Call 218-786-0710.
Kristy Boike will be signing copies of her book, "Rise Up, Little Bluebirds," from 1-3 p.m. Friday, Oct. 22, Lake Superior Trading Post, 10 S. First Ave. W., Grand Marais.
Ojibwe storytime, for ages 2-12, at 10 a.m., noon or 2 p.m. every Wednesday, at the St. Louis County Historical Society, Eli's Farm interactive children's exhibit, level 2 of the Depot, 506 W. Michigan St. Storytelling in the Ojibwe culture is a traditional way to pass on knowledge. All books have been approved by our American Indian Advisory Committee. Go to thehistorypeople.org .
Storytimes, 10:15 a.m. Wednesdays at the Main Library and West Duluth branch as well as 10:15 a.m. Thursdays at the Mount Royal branch. Go to duluthlibrary.evanced.info/signup/calendar .
Cloquet Public Library, 320 14th St., Cloquet, offers author Eric Dregni discussing his book "For the Love of Cod," at 10 a.m. Saturday, Oct. 23. Go to cloquetlibrary.org .
The Nordic Center offers a book talk with "For the Love of Cod" author Eric Dregni, 1 p.m. Sunday, Oct. 24, Nordic Center, 23 N. Lake Ave. This book recounts a father-son trip to Norway that becomes an idiosyncratic investigation into the fact and fiction of Norwegian bliss. Admission: Free. Proof of vaccination or a recent negative Covid test (within three days) will be required at the door. Additionally, masks are required for all attendees. Go to nordiccenterduluth.org .
Are you a NE Minnesota teen, ages 13-17, who loves to write? The Arrowhead Library System invites you to join award-winning Minnesota Author Mary Casanova in a 4-week long virtual writing workshop experience Tuesday, Oct. 26, through Nov. 18. There are three opportunities to participate:
7-9 p.m. Tuesdays: Participants meet Tuesdays, Oct. 26, Nov. 2, Nov. 9 and Nov. 16.
9-11 a.m. Thursdays: Participants meet Thursdays, Oct. 28, Nov. 4, Nov. 11 and Nov. 18.
9-11 a.m. Fridays: Participants meet Oct. 29, Nov. 5, Nov. 12 and Nov. 19.
With a small group of other teen writers, you'll create new work, share with others and discuss the writer's craft and journey. It's free. Workshop size is limited. Pre-registration is required. This program, sponsored by Arrowhead Library System, was funded in part or in whole with money from Minnesota's Arts and Cultural Heritage Fund. To register, go to surveymonkey.com/r/Fall2021ALSWritingWorkshops or call ALS at 218-741-3840. Zoom log-in information for each session will be sent out 24 hours prior to the first session. Registration deadline: Sunday, Oct. 24.
Title: "Wolfman"
Author: Stanley Trollip
Synopsis: Crystal Nguyen, a young investigative reporter, lands a job at a Duluth TV station that comes with promises that she would cover environmental and conservative issues. After the first few months, she realizes her assignments have nothing to do with her interests so she takes matters into her own hands. She secretly goes after poaches of grey wolves, creating incidents that she can then report on. Her on-screen reports create a divided audience. She escalates her actions and suggests that someone out there is intent on punishing poachers. She calls this mysterious poacher, "Wolfman," a name that goes viral.
Cost: $13.95
Publisher: White Sun Books
Contact Info: info@whitesunbooks.com
Title: "The Scars You Can't See"
Author: Natalie Zeleznikar
Synopsis: Healing from the trauma of near death — a healing journey of double mastectomy and sepsis.
Publisher: WiseInk
Cost: $18.95
Contact: nataliezeleznikar.com