Readings & Writers
Bookstore events and a book blurb.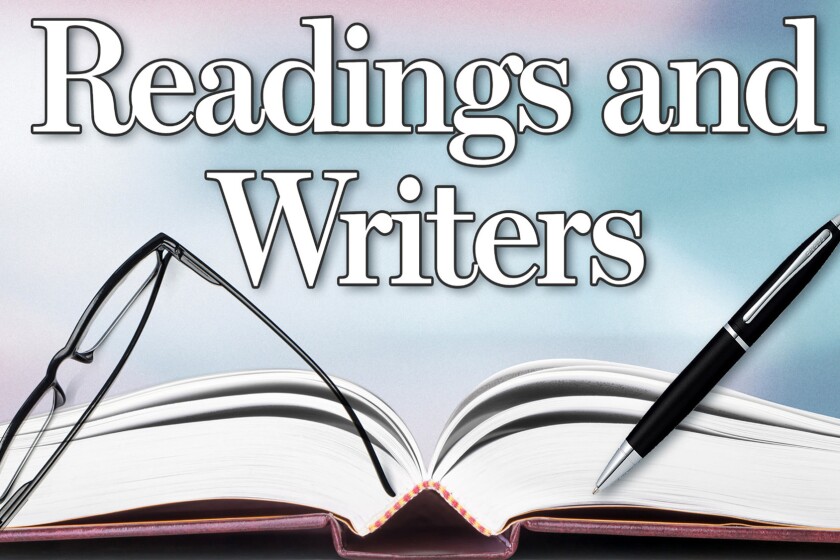 The Duluth Public Library is inviting local teens to join its new Teen Advisory Board. The Teen Advisory Board will meet once a month. It will provide input to the library to create a dynamic place where teens will want to come. Teens will assist library staff in creating teen programming, suggest books and materials for the library to purchase, promote the library to their peers and more. Interested teens are invited to a TAB open house to learn more, 5:30-6:30 p.m. Thursday, Oct. 21, Main Library, green room. Go to duluthlibrary.org/teens/teen-advisory-board-tab .
The Bookstore at Fitger's, 600 E. Superior St., off author Susan Borden signing copies of her book "Clockwise: A Ghost Story for Autumn," 2-4 p.m. Oct. 23. Go to bookshop.org/shop/fitgerbooks .
Zenith Bookstore, 318 N. Central Ave., hosts a book launch for "Ward" by Ryan Vine, 7-8 p.m. Oct. 26, in the parking lot. Call 218-606-1777 or go to zenithbookstore.com for details.
Barnes & Noble, Miller Hill Mall, offers author Chad Corrie signing copies of his book, "Triumph of the Wizard King," the last book in the trilogy, 2 p.m. Oct. 30. Call 218-786-0710.
Storytimes, 10:15 a.m. Wednesdays at the Main Library and West Duluth branch as well as 10:15 a.m. Thursdays at the Mount Royal branch. Go to duluthlibrary.evanced.info/signup/calendar .
Fond du Lac Tribal and Community College and The American Indian Community Housing Organization host United States Poet Laureate Joy Harjo for the free virtual evening of music and poetry, "Bringing Joy - Minanaawigwendamowin Biijigaadeg," 7 p.m. Monday, Oct. 18. To register, go to fdltcc.edu/bringing-joy .
Cloquet Public Library, 320 14th St., Cloquet, offers author Eric Dregni discussing his book "For the Love of Cod," at 10 a.m. Oct. 23. Go to cloquetlibrary.org .
The Nordic Center offers a book talk with "For the Love of Cod" author Eric Dregni, 1 p.m. Oct. 24, Nordic Center, 23 N. Lake Ave. This book recounts a father-son trip to Norway that becomes an idiosyncratic investigation into the fact and fiction of Norwegian bliss. Admission: Free. Proof of vaccination or a recent negative Covid test (within three days) will be required at the door. Additionally, masks are required for all attendees. Go to nordiccenterduluth.org .
Are you a NE Minnesota teen, ages 13-17, who loves to write? The Arrowhead Library System invites you to join award-winning Minnesota Author Mary Casanova in a 4-week long virtual writing workshop experience Oct. 26-Nov. 18. There are three opportunities to participate:
7-9 p.m. Tuesdays: Participants meet Oct. 26, Nov. 2, Nov. 9 and Nov. 16.
9-11 a.m. Thursdays: Participants meet Oct. 28, Nov. 4, Nov. 11 and Nov. 18.
9-11 a.m. Fridays: Participants meet Oct. 29, Nov. 5, Nov. 12 and Nov. 19.
With a small group of other teen writers, you'll create new work, share with others and discuss the writer's craft and journey. It's free. Workshop size is limited. Pre-registration is required. This program, sponsored by Arrowhead Library System, was funded in part or in whole with money from Minnesota's Arts and Cultural Heritage Fund. To register, go to surveymonkey.com/r/Fall2021ALSWritingWorkshops or call ALS at 218-741-3840. Zoom log-in information for each session will be sent out 24 hours prior to the first session. Registration deadline: Oct. 24.
Title: "Project Bloom: Diverse Reflections on Surviving the Pandemic"
Editors: Lisa Alexander and Joshua Potter-Efron
Synopsis: Project Bloom provides one window into the experience of the pandemic in the United States. The voices in this book are those of persons whose stories have gone untold. Twenty-four artists, poets, and writers, from California to New York, share their experiences during isolation, discrimination, illness, aging, disability, and more. Essays include "The Long Haul," "Loneliness, Despair, and Recovery in Covid-19," and "Social Distancing When Blind." Three authors reside in the Duluth area.
Cost: $12.99
Publisher: Self-published.
Contact Info: Lisa Alexander, Lisa@BeingAsil.com