Northlandia: Virginia meets at Maco
The landmark has been a movie theater, a Christian church and most recently, it opened as a yoga and fitness studio.
We are part of The Trust Project.
VIRGINIA — What makes a building significant? The people who run it, visit it, value it. The Maco theater building in Virginia has touched people's lives in a variety of ways.
Originally, it was a movie theater built in the 1930s that opened under a different name.
From the '40s onward, it was a popular movie theater that showed films like "It's a Wonderful Life" and "Return of the Jedi."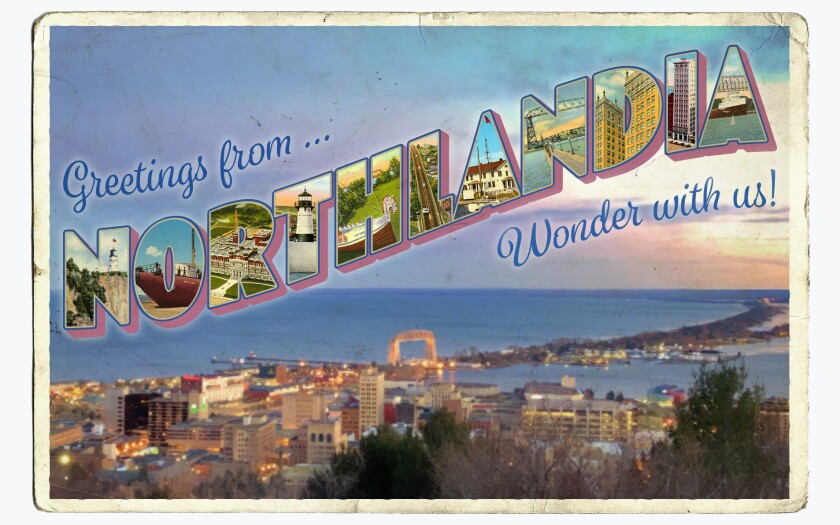 It was a nightclub and youth center for short stints in the early '90s before becoming a place of worship for a church for around 20 years.
The building was opened Sunday to the public again in a new light: as the home of a boutique yoga and fitness studio owned by a mother/daughter business team. Before delving into the future, let's look back at what makes the building unique.
The Maco, originally called The Garrick, was built in 1920 at 415 Chestnut St. The MACO, or Minnesota Amusement Co., reopened the theater Aug. 26, 1938. It was designed by architects Jack Liebenberg and Seeman Kaplan, according to documents from the Virginia Historical Society.
Liebenberg and Kaplan were among the first graduates from the University of Minnesota's School of Architecture in the 1910s. They designed an estimated 200 theaters around the Midwest, including the NorShor in Duluth, The Riverview in Minneapolis and the Ely State Theater, according to their files, which were donated to the University of Minnesota Library's Northwest Architectural Archives after they died.
The theater featured art deco design alongside four large Native American reliefs in the four corners of the lobby and concession stand area. These four sculptures, along with several plaster totem poles, were removed at one point, traveling as far as an antique shop in Superior in the late 2000s, according to film enthusiast and theater aficionado Rick Olson.
"I walked into this antique shop and there it was: this giant Native American head I recognized from my youth," Olson said. "I said, 'That looks like it's from the Maco.' And he said 'It is.' It was a long way from home. ... I'm glad to hear it got back there."
Olson grew up in Midway, between Eveleth and Virginia, but spent a lot of his time at the theater when he was a boy. His father worked in Virginia and Olson would often see movies on the weekends. He saw everything from classic family films like "Lassie" and "Old Yeller," shown as reruns for 10 cents, to one of his favorite monster movies, "Gorgo."
"I recall seeing 'Gorgo' coming to town under the 'coming attractions' sign and it was a big dinosaur movie and I was really into dinosaurs at the time," Olson said. "And I liked monster movies. We used to call ourselves the 'Midway Monsters.' Bobby Driscoll and I were just anticipating this movie when it came to town."
Olson remembers going to the theater, getting a box of popcorn and picking the ideal seat. He recalls playing 75 cents for admission and the first time that the price was raised to a full dollar — a special price for "Planet of the Apes." He also recalls paying $1 for a ticket that tore into 10 pieces and got children in for 10 movies during the summer vacation.
"It was a good way to get my brother and me out of their hair for an afternoon," Olson said. "Of course, there was the time when we got kicked out by an usher for using the popcorn boxes into Frisbees after we ate all the popcorn."
But Olson's biggest memory from his years going to the theater was the opening night of "Star Wars: Return of the Jedi." He knew the owner a little and the owner knew Olson had a Darth Vader outfit.
He was asked to dress up for the opening and greet people as they stood in line and entered the theater. He did so with enthusiasm, even getting a photo op with the then-Mayor Jelmer Johnson. He ran up and down the rows with a lightsaber before the show began.
His favorite moment was when a kid timidly asked him for his autograph.
"He was clutching his coloring book, scared as can be and his dad kept encouraging him," Olson said. "Eventually, he gave it to me, and I found I was more afraid because I was having writer's cramp in my head. I couldn't remember if Vader was spelled 'er' or 'ar.' I got it right and he ran back to his dad."
Becoming a place of worship
The movie theater closed in the late 1980s and the building briefly became a nightclub, Club Maco, from around 1991 to 1996. There were plans somewhere along the way to turn the building into a teen center, but it didn't last.
The building was up for sale in 1997 when the Rev. Terry Hartikka was looking for a home for his expanding Cornerstone Family Church.
"We were meeting at the Storm Shelter, a youth center in a strip mall," Hartikka said. "One of my board members pointed out the Maco and something inside just said, 'That's the place.' We made an offer for it and wound up selling a lot of the artifacts in there because they weren't conducive to our church."
By this time, all the original seats had been torn out and a bar was placed in the middle of the building along with tiers of floors meant to level out the slight slant from the seats. The church kept the bar and turned it into their sound and light booth.
Hartikka remembers using "about 70 gallons of paint" to turn the inside from the black, red and and orange color scheme to white. The sanctuary was adorned with large cloth banners reading "Rejoice" and "Jesus" on the sides and middle of the stage.
Having a downtown church came with unexpected challenges and opportunities. "Interesting characters," as Hartikka described them, would drop by and occasionally look for an opportunity to brawl.
"We built up a relationship with some of them," Hartikka said. "And we became a youth spot on Friday nights for many years. They could just drop in and do music or play games like ping-pong and pool and hang out. It was what you'd expect from a downtown ministry."
Hartikka got involved in public access television shortly after moving into the Maco so he could get his sermons broadcast to a wider audience. He had a background in broadcasting before becoming a pastor and expanded the television studio and coverage of local sports teams while working there.
Around 2018, Hartikka retired for health reasons. The church dissolved and it placed the building for sale. A developer bought it and had plans for an event center, but in 2021, listed it for sale and a mother/daughter business team came across it.
A place to workout and feel good
Alison Kreibich has been teaching yoga and fitness classes for 22 years in various schools and YMCAs, but she never had studio of her own until her daughter, Hannah Kreibich, noticed the Maco building was for sale in 2021. The mother and daughter decided now was the right time to go into business together.
"We thought it was so beautiful and felt inspired once we walked inside," Hannah said. "And the timing ended up being right as we weren't the only people looking for a place to teach fitness. The YMCA in Mountain Iron just closed, so a bunch of teachers and students were displaced and looking for a place to be."
The team opened The Studio at the Maco on Sunday. Alison's State Farm Agency moved into the theater's office space up front a few months earlier.
After purchasing the building, the team went to work remodeling the space. Inside the former theater/sanctuary, they opted to drape fabric along the brick walls to make the space more cozy and relaxing. They set up their projector and sound system inside the bar/sound booth to display on the screen relaxing images to accompany their immersive yoga classes or provide visuals for their Zumba classes.
"That's what fitness is to me. I want it to be really soothing and relaxing or for you to have such a blast that you're not caring what you look like — just really feeling it," Alison said. "If I'm up there hooting and hollering when you come to class, you're going to be focusing on that and not on how tired you might have felt. We want to make it an experience."
The Studio already has a full array of classes lined up for the next few months. Alison said they'll test out classes and see how the community responds. They'd filled up their first day of free tester classes.
In addition to the fitness classes, the Kreibichs plan to open the space to host events such as children's parties and reunions.
They also plan to restore the well-known marquee on Chestnut Street, but said it will prove to be a challenge.
"Basically, there are marquee laws that require you to work on restoring it while it remains up. You can't remove it and then put it back up," Alison said. "So that'll be a little more challenging. But we've got some electricians who said they're up to the challenge of working on the lights from the inside."
They've also begun replacing and restoring bits of the Maco that were removed over the years. One day, Alison received a call from a friend who found part of a totem pole-style plaster work that used to be in the Maco.
"They were at a rummage sale and said they'd found a piece of the Maco at a rummage sale, of all places," Alison said. "So we were like, OK, buy it and I'll pay you back and pick it up tonight. We'd like to see more of the original pieces restored."