Lake Superior Youth Chorus members find new ways to connect as COVID-19 cancels rehearsals
The program has 165 musicians from around the area.
As artistic director of the Lake Superior Youth Chorus, Bret Amundson takes rehearsal time seriously. Singers in the group's four tiered choirs, grades 3-10, are expected to show up on time and prepared for two hours of practice every Sunday night at First Lutheran Church in Duluth.
In many ways, those weekly rehearsals serve as the backbone of LSYC's program.
But the COVID-19 pandemic has made it impossible for LSYC's 165 young choral musicians to gather in person as they once did.
Instead, they've had to settle for electronic work-arounds, making use of virtual rehearsal spaces, weekly director check-ins and opportunities to share "musical moments" from their weeks sheltering at home with family members.
As imperfect as the replacement activities may be, Amundson still sees value in them.
"We know that it's not going to be the same as a normal rehearsal," he said. "We know that we can't be together making harmony … but the biggest thing that we do is create great leaders who can communicate well and who are in community with each other and who love being together and love making a difference in the world. So, we are still meeting together to do those things on a weekly basis."
Jenna Kelly, LSYC's executive director, said it still made sense to maintain the established weekly schedule.
"We stuck with our Sunday evenings as sort of this sacred LSYC time," she said.
"So, we are doing little check-ins with our choirs. They are using Zoom, but for the most part, not all of them are using it to really sing. It's more about just connecting with the choir and seeing everyone all together," Kelly said.
She explained that choir directors put together some exercises, practice tracks, activities and games for the week ahead.
Amundson said that initially the organization had hoped the health concerns would pass, allowing LSYC to still present its season finale "Sunset Serenade" concert May 17, but the health threat has lingered, forcing the group to cancel that performance.
Kelly said LSYC has a Plan B, however.
"We are putting together a compilation video and are hoping to have a big watch party for it, and still hold sort of a virtual concert and release this cool video that all of our singers can participate in," she said.
Amundson said that video will feature a performance of "I Sing of the Northland," a choral piece written specifically for LSYC singers by composer Eric Barnum and debuted in the 2015-16 season. The piece draws from questions Barnum posed to choir members at the time about what makes living in this part of the world special and how it connects them with music.
She explained that singers are being asked to record vocal tracks as well as video of themselves engaging in some of the outdoor activities described in the song's lyrics.
"Our hope is, over the next several weeks, that we will be putting together this video compilation, so that on May 17th we can have this really cool experience and this gift that we can give back to our community," Kelly said.
Amundson said that while choir members can connect online, singing together online is another story. "Virtual choirs" exist, allowing singers to join their voices from separate locations, but Amundson described them as "a technology nightmare," explaining that it can be a challenge to balance and time the voices, especially with young musicians.
Nevertheless, Amundson said LSYC's choir directors are doing their best to sustain the program with the available technology.
"It's totally weird. I see the students looking at me through Zoom. And they're trying so hard to make this normal. But you can just see in their eyes that they want to be doing the thing we do together" making music, he said. "So, it's tough."
Kelly agreed.
"Obviously, we can't do what we do best, and that is be a choir and be together," she said. "But there are other things that as an organization we value and we try to teach our young singers. And one of them is how to be flexible in circumstances that we can't control.
"These singers come into these check-ins with a great attitude, and they're able to still do the work, despite all of these challenges, all these obstacles that are being thrown at them," Kelly said. "It's very inspiring to watch these young singers and to see them wanting to work hard, despite all the barriers that they're trying to deal with."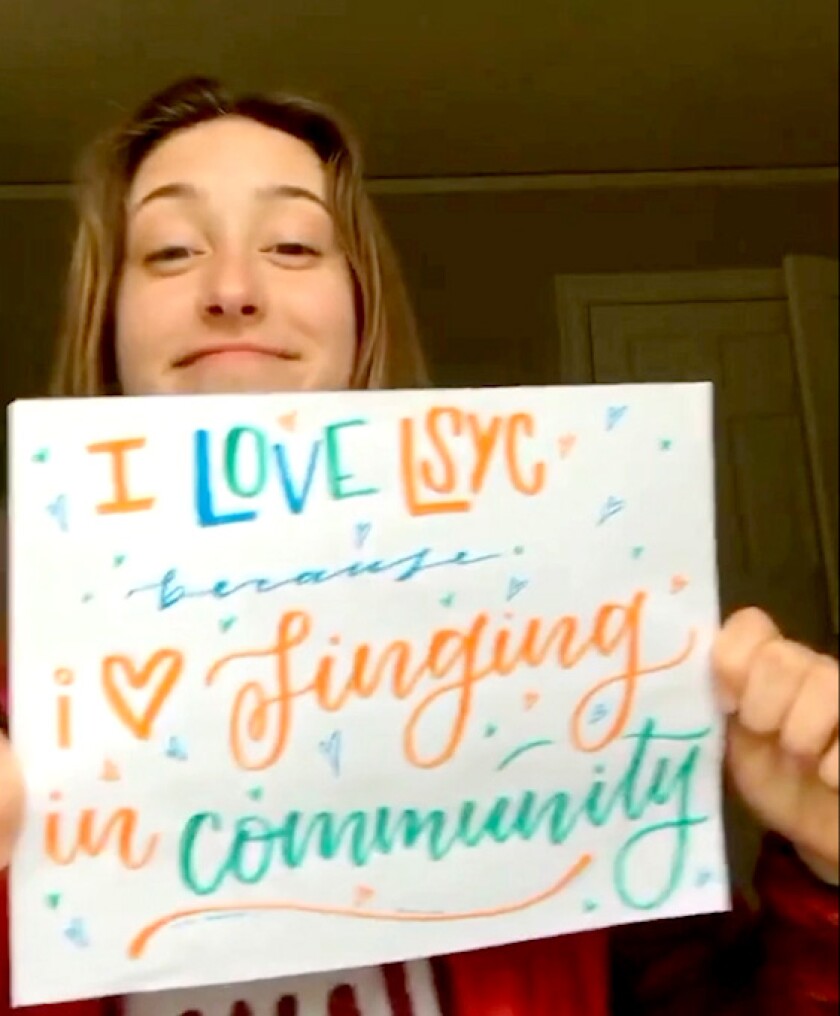 Alee DeVlieger, 10, a member of LSYC's Concert Choir, said she misses attending the in-person Sunday rehearsals with her 12-year-old sister, Kendell, who also sings with the group.
"It's always a joy going there," she said. "But I think it's amazing we're doing video chats so that we can connect with all the amazing people that work there."
"They really help you find your voice," said DeVlieger, adding that she's eager to produce a video with her fellow choir members.
"I'm super excited and glad that they're doing that or at least trying to," she said. "I think that's a good way to connect while we're in this time, and we can still do songs as a whole group,"
Kelly said LSYC continues to deliver for its young members.
"For all these families, music is a very important thing in their lives. And sometimes it's easy to forget how powerful music can be," she said. "I think that our singers find joy. They find humanity. They find all those things that make them who they are, just by checking in with their choir for 20 minutes."