Homegrown Music Festival, unofficially, has Lanue's summerscape, Cash-ian Sonofmel and a bejeweled Father Hennepin
On the third day of Duluth's annual music and art festival week, event creator Scott "Starfire" Lunt celebrated his band's 24th birthday.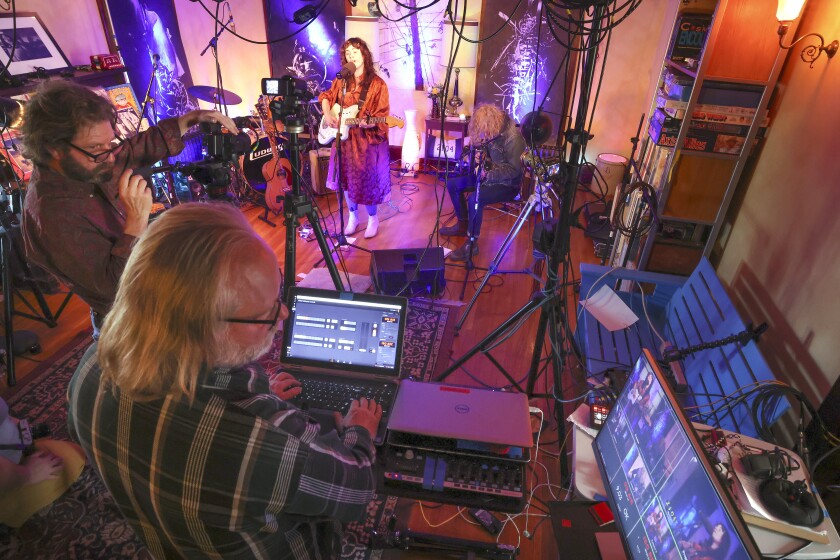 On Tuesday night, at a big old house on Superior Street where people seem to come and go freely — but are asked by way of signage to keep the door closed because of the cat — six members of the band Father Hennepin set up in the living room between a piano decorated with records and a shelf stacked with retro board games.
The light here is nice. The tech is professional, the lit candles a romantic touch. The music aficionados who work behind the scenes to beam this live feed to an iPhone near you are finely oiled and cueing off eye contact.
Not only is it Homegrown Music Festival, Scott "Starfire" Lunt said from this stage, it's also the 24th anniversary of Father Hennepin — the alt country band that started around the first time Lunt collected his musician friends together to celebrate his birthday with a concert.
"Let's hear it for geezer rock," added Ted Anderson, a guitar player who splits vocals with Lunt.
Homegrown Music Festival is an annual event that, in a non-pandemic year, features hundreds of bands with local ties playing at venues in Duluth and Superior. This year, like last, much of the entertainment is available for virtual viewing — including, on Tuesday, The Homegrown Hotline , a DJ live stream backed by The Crunchy Bunch and enhanced with trippy lights, which played alongside the livestream from 2104, but from a different pocket of the internet.
Starting now, Earth Rider is also offering an in-person option with its "Starfire Unofficial Birthday Bash" — which includes more than a dozen acts, including Father Hennepin, Black-eyed Snakes, Charlie Parr, Ingeborg von Agassiz, Lanue, Superior Siren and more.
Meanwhile, three acts divided the night at 2104, starting with Lanue — a new project by Sarah Krueger, who was joined by Alan Sparhawk for a set of tunes from her latest self-titled album.
These songs are rich, dreamy and lyrical — all of it synching with the videos she has dropped with a home movie aesthetic and natural imagery.
(Later in the night, before Father Hennepin's set had started, drummer Brad Nelson yelled out to Krueger, watching from a doorway, that he loves her new album.)
She closed with a wholly warm and original take on the Talking Heads song "Once in a Lifetime."
Sonofmel played next from a secondary stage in the dining room. This singer-songwriter has a signature: jumpsuit tucked into boots, hat and Johnny Cash-flavored, deep-voiced linear narratives, sometimes more spoken than sung.
He sings about experiences and places, a love interest with so many sunsets in her eyes.
"This old house is feeling the reverence for art," Sonofmel said from the stage.
Early in Father Hennepin's set, Lunt's band members went around the circle in reverse chronological order to talk about why they love this human: answers ranged from the bejeweled chicken patches he had given his squad — now sewn on to shirts and accordion player Suzi Ludwig's denim dress — and the seed he planted with Homegrown that has turned into this music scene.
The band tried to close with a cover of Neil Young's "Homegrown," but fans offline and on insisted on an encore.
Homegrown Music Festival (and more) schedule
"Starfire Unofficial Birthday Bash" is in-person, outdoor concerts at the Earth Rider Festival Grounds that run through Saturday. Or forever. The venue's summer schedule is stacked with live entertainment. Meanwhile, Homegrown Music Festival continues to show pre-recorded videos throughout the week.