Front Row Seat: Great Lakes Aquarium's ecology includes art
The Merrill Lynch Fine Arts Gallery is one of the most distinctive features in Duluth's aquarium, hosting regular exhibitions of work by local artists.
DULUTH — Painter Kelly Schamberger is a member of the Duluth Art Institute, trained for four years at the Great Lakes Academy of Fine Art, and studied figure drawing at the Atelier Studio Program of Fine Arts. To see her latest exhibition, you walk into the Great Lakes Aquarium and take a right at the giant eelpout.
"This is like a level up for me," said Schamberger, "and a chance to reach a whole bunch of people who ... I probably wouldn't reach in a gallery, or even Instagram or anywhere else."
Schamberger was speaking in front of the aquarium's water wall, having stepped away for a few minutes from the June 8 opening reception for her show, "Immersed in the Pause." The aquarium's Merrill Lynch Fine Arts Gallery was packed for the occasion, with people peering at Schamberger's paintings and lining up to congratulate the artist.
"Any of the artwork that we showcase here," said Great Lakes Aquarium communications director Allison Iacone, needs to "work within what we do here in terms of engaging and inspiring people, to encourage stewardship of the wilderness, of wildlife and the water."
Schamberger's recent work certainly fits that bill. "Immersed in the Pause" grew out of the artist's turn toward Northland nature during the Covid-19 pandemic, she said.
"There's kind of three layers," Schamberger explained. "There's the surface layer: these are landscape paintings and studio paintings based on the nature of Duluth."
She continued, "the next layer down would be, this is the year in the life of an artist. If you walk through the exhibit, it's kind of spring, summer, fall, winter, and then back to spring, and everything's blooming again."
Finally, said Schamberger, "the third layer is how life coming out of the pandemic was super dark, and trying to find that peace. How do we find calm when everything's been so chaotic?"
At various scales, Schamberger's oil paintings depict landscapes familiar to local wanderers: placid lake views; dense and verdant forests; a sunset over a rocky shore; snow-covered plains. The show's two centerpiece paintings, though, both depict figures of women in repose.
In "Even the Fields Rest," a figure reclines against a tree amid colorful autumn leaves. (The background represents Duluth's Hartley Park, though the central tree is actually in the artist's own yard, she said.) "Solace" is an interior view, with a woman sitting in an armchair and reading.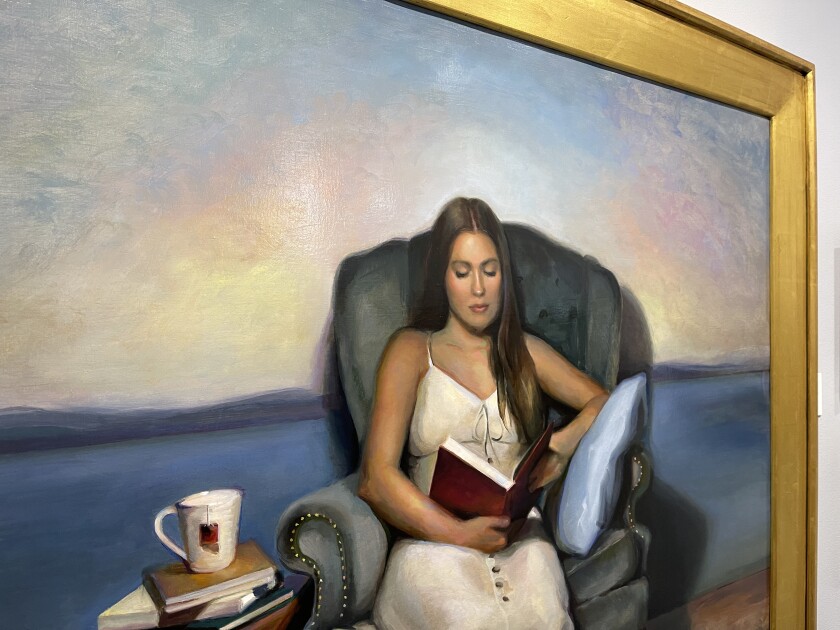 In a book accompanying the show, Schamberger describes "Solace" as "an image of refuge ... my mind fully elsewhere listening to the pulsing of Earth's heartbeat in the whisper of a great freshwater sea."
In the book, the artist relates her struggles with anxiety and depression; and her efforts to find peace and security through painting from nature. "You see the landscape paintings," she explained at the reception, "but then there's also the portraits that represent more of the emotional things that were going on with me."
Schamberger originally hails from Bloomington, Minnesota; she came to Duluth in 2016 to participate in the Great Lakes Academy of Fine Art's four-year apprenticeship program. "It is super rigorous," she said. "It's a very small program, but everyone is there because they want to become a full-time career artist."
The onetime Hawk Ridge bird counter is now trying to make it as a full-time artist.
Iacone said Schamberger's Academy background was a strong indication of the quality of work the artist would bring to a show at the aquarium's gallery. "I recognize the challenge and the technical skill," said Iacone.
The Great Lakes Aquarium seems to be entirely unique among such institutions in maintaining a permanent gallery space for rotating exhibitions of local artwork. Iacone, who's curated the gallery for a decade since requesting to have that responsibility folded into her job, said the aquarium has never considered using the space for anything else.
Permanent vinyl stickers are hot souvenir items right now, and local artists have crafted many designs available for sale.
"What I love about the art gallery is that it really does encourage that unique audience that we don't normally get," she said. "If we have 100 people come into our space that haven't been to the aquarium in five to 10 years, awesome."
"The board and the staff," said Cindy Hayden, who was on the Great Lakes Aquarium board when the 2000 facility was designed and built, "always wanted to incorporate art into everything the aquarium did. ... We've got lots of art included in the exhibits, as well as on the exterior of the building."
During the construction process, said Hayden, "it became obvious there was an opportunity we weren't using" in a space just off the lobby: that space became the Merrill Lynch Fine Arts Gallery. Hayden noted that John Anderson, then a Merrill Lynch advisor and a fellow board member at the aquarium, was instrumental in securing the naming sponsorship.
"Immersed in the Pause" has been in the works for a year and a half, and Schamberger admitted, "in all honesty, there were points where I wanted to call Allison and be like, 'I can't do it.'"
She explained, "it's scary to put yourself out there ... for me, my art, I can't help put my mind and heart and mental health and all those things into it. So then to put that out here and have all these people come read about it and see it and talk about it is super vulnerable, but also awesome."
Duluthians have been buying Jurassic Quest tickets like they're going out of style...how will they feel about "Jurassic World Dominion," the new movie currently playing at the Marcus Duluth Cinema and other Northland theaters? This Duluthian's take is that it's a hot mess, despite a wintry setting that I'd describe as unlikely if we weren't already talking about dinosaurs being brought back to life. Most oddly, the movie doesn't do anything interesting with its premise that a wide variety of dinosaur species are out and about living at large. Duluth is still talking about the Lake Superior Zoo seal that escaped during the 2012 flood; can you imagine what we'd do if pterosaurs joined a smelt run?
Speaking of zoos, last week brought the welcome news that the Minnesota Zoo has welcomed a new litter of Amur tiger cubs sired, via January breeding, by Putin: the zoo's 12-year-old tiger who died in March. Given that the "routine medical procedure" Putin was undergoing at the time of his death involved "the collection of samples to assist with breeding efforts," he may be looking down from big cat heaven and taking comfort in the fact that his various exertions were not in vain.
And finally, in one last bit of fauna-themed news, the Jayhawks have been added to the lineup at Bayfront Festival Park on July 9, replacing Jenny Lewis (pulling out due to "unforeseen circumstances") in the slot between headliners Trampled By Turtles and the opener, Palomino Grant winner Emma Jeanne. The alt-country band adapted their name from that of the Hawks — the original name of the band that became simply "the Band" after they left Ronnie Hawkins for Bob Dylan — but unlike "hawk," the term "jayhawk" doesn't actually describe a specific bird. It's most famously associated with Kansas, where "Jayhawk" describes both the state university's mascot and a member of an anti-slavery guerrilla gang during the 1850s state border wars. Here in Minnesota, though, it's the musical Jayhawks, who formed in Minneapolis in 1984, who are are our own home team.