Front Row Seat: 'Antiques Roadshow,' Duluth style
Our columnist brought a vintage electric clock to the St. Louis County Historical Society's monthly antique appraisal event.
DULUTH — On Wednesday afternoons, there's not a lot of foot traffic on the stretch of Fifth Avenue West running from the courthouse to the Depot, so I turned a few heads as I hustled down the hill last week holding an antique electric clock the size of a patio table, the frayed cord dangling behind me.
It was already a few minutes after noon when the St. Louis County Historical Society's monthly antique appraisal event started. Having seen "Antiques Roadshow," I was expecting a long line winding its way through the Great Hall. Would they even be able to look at my heirloom before the event ended at 3 p.m.?
I needn't have worried. The Great Hall was empty, and a Depot staffer pointed me over to the performing-arts wing, where a lone appraiser sat at a table in the center of the rotunda. "There's just one person ahead of you," said volunteer Karen Bray. "Have a seat, and feel free to help yourself to a snack!"
Before I even finished my Cheez-Its, antiques expert Denny Mager had finished advising the man ahead of me on a pocket watch and a porcelain figure. Mager was so eager to see the clock that he didn't even wait for me to walk over to his table. "Oh!" said Mager, jumping to his feet. "You've got a nice clock!"
I do. It's a Telechron model 1L715 commercial clock dating from the World War II era, with an illuminated face. (It did run and light up last time I checked, but due to the tenuous state of the electric cord, Mager and I agreed not to tempt fate by plugging it in at the Depot.) The face is painted with the name and address of Ryan Drugs, 1210 Tower Ave. in Superior.
The drugstore is long gone; my father bought the clock at a sale when the store closed back in the 1980s. We brought the clock from Duluth to St. Paul with us when we moved south in 1987, and it hung on our kitchen wall for decades. Eventually, the clock was handed down to me and I brought it back up I-35.
"Every business had one," said Mager about advertising clocks. "When the clocks quit after so many years, they just pitched 'em." Now, continued Mager, "advertising clocks are very good. They sell really good."
Mager is an appraiser and dealer based in Grand Rapids. He drives in to the Depot on the third Wednesday of every month for the county's appraisal program, offered free with the suggestion that participants make small donations.
Bray first came to the appraisals after cleaning out her parents' house. "I came for a few months, bringing in a couple items each time, and then eventually they needed somebody to help out volunteering," she said. "This is just kind of fun."
As a volunteer, Bray has seen plenty of different items submitted for Mager's consideration. "One woman brought a tusk that was carved," said Bray, "and she wasn't sure actually what it was made out of, but they did decide it was actually ivory. So there was a lot of value with that. People bring coins. We've seen a few antique swords and handguns, a lot of paintings. Some of them turn out to be prints."
Wait, people have prints ... and they believe they own the original paintings? "That happens quite a bit," said Bray.
Mager explained that as advertising clocks go, drug stores aren't the hottest items. "A clock of this nature, the best ones right now are gas and oil. People pay more for those," he said. "One time we found an Arco Coffee clock. We can sell those really good ... people like coffee clocks."
A clock repair shop I'd previously consulted in the Twin Cities had advised me to replace the entire motor due to the aged wiring, but Mager said I could likely simply replace the wiring and thus keep the original motor, which moves the hands across the face in an elegant, continuous sweeping motion without any ticking.
After "30, 40 years" in the business, said Mager, "I know a lot about a lot of stuff — but there's a lot of stuff I don't know. I mean, I do not know about Chinese vases."
He can, at least, tell you who to call. "I try to help people," he said. "They don't want to get fleeced."
In the end, how much is my family's clock worth? "You're probably looking at $350, at least for the right party," said Mager. "Some shops would probably ask $2,000, but they'd never get it."
Mager proceeded to mime a discussion with an imaginary swindler. "How much for that clock? '$3,500.' Wow, what's in it? $2,500 of old bills?"
So the clock's worth $350 rather than $3,500 — but still, not a bad investment for my dad, who said he paid about $30 for it in the mid-1980s. That's the equivalent of $80 today.
Another patron had arrived at the rotunda, so I thanked Mager and lifted the clock to leave. "Fix that cord, hang it on the wall, and never turn it off. That's the secret with a clock," said the dealer by way of parting advice. "And if your wife hates it, there's my card!"
What are Cars & Trucks up to? The Duluth band were hot in the late 2000s and early 2010s: Almost everyone polled by the News Tribune in 2009 called the band's album "Mere Mortals" their favorite local release of the year. Over the past handful of years they've been "on ice," and not just in the sense that everything in Duluth is often on ice. Recently, though, Cars & Trucks have taken to Facebook with a couple rehearsal clips, one of which features an intriguing Easter egg. On April 19, they wrote: "What are you guys doing two weeks from today? Anything fun? Big plans?" Keep your ears to the ground, and check out facebook.com/carsampersandtrucks.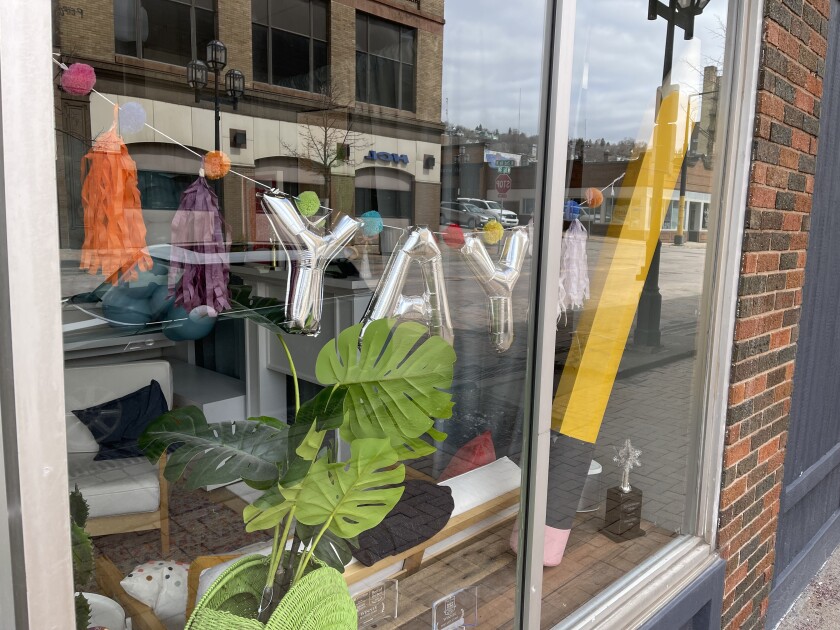 Earlier this month, News Tribune business columnist Laura Butterbrodt reported that multiple independent vendors would be working in cahoots at 134 W. First St. in Duluth. The new venture has now officially opened as, yes, In Cahoots. It's part of a triple storefront that also includes Reimagined by T. Underwood, whose owner Tammy Clore runs the space, and Hucklebeary. The shops make a bright sight downtown, with inflatables by Lauralloons (creator of the balloon Depot) as a standout feature. The space's Facebook page identifies it as "a boutique flea market of woman-owned businesses." Learn more at facebook.com/incahootscoop.
My streaming discovery this week is "Losing Ground," a movie made in 1982 but only seen in festival screenings during the lifetime of writer-director Kathleen Collins, who died of breast cancer at age 46 in 1988. It was finally restored and reissued in 2015, when it was greeted as a revelation: a feature-length narrative drama made by a Black woman at a time when the coterie of filmmakers admitted to the director's club was even more lopsided than it is now. "Losing Ground" follows the rhythms of the era's independent cinema, but instead of offering yet another dive into Woody Allen's troubling obsessions, it looks at love, life, learning, loss and personal growth from the perspective of the beautiful and interior Sarah (Seret Scott), a Black woman whose artist husband uses her as a muse without committing to her complexity. It's now available on the Criterion Channel.
Pietro Mascagni's 1890 opera about a woman scorned will be performed twice this weekend in Duluth. Singers and musicians came together Sunday for a run-through that radiated warmth.
One of the Twin Ports' most buzzworthy new bands of 2022 is kicking off the summer season with the Saturday release of their LP "See the World Through."
After the success of a hastily organized debut in 2022, the daylong celebration of the Twin Ports' trans and gender-expansive community returns to Duluth on Saturday.
Find something to do this week in the Northland.