Duluthians dish on the quality movies, TV and webisodes consumed in 2020
The best of what we watched this year: Check out our list of draw-alongs, sci-fi gold, Oscar bait and more.
This was a year most of us needed a little escapism, and what better (and safer) way to do it during a pandemic than from the comfort of the couch.
So in the spirit of saying "sayonara" to 2020, we asked Northlanders to share the best thing consumed from the tube. Here's what they had to say.
WWI masterpiece
"1917" was my favorite film of 2020. It was a cinematic masterpiece about WWI, with breathtaking and sweeping visuals that create the appearance of being filmed in one take; it was riveting from start to finish. Although "Parasite" was a worthy contender, and it did win Best Picture, I still hold that "1917" deserved that honor.
Adam Sandler stars in "Uncut Gems." (Netflix) free
Also, I gained great respect for Adam Sandler, as an actor, who has demonstrated great flexibility as he fully morphed into a gambling addict/corrupt New York jeweler in "Uncut Gems."
— Bob Boone, The West Theatre
Get 'Possess'-ed
Sci-fi/horror fans should check out Brandon Cronenberg's "Possessor," a great example of the many impressive films coming out of Canada. It's a truly unique techno-thriller about an assassin who inhabits other people's bodies to commit her crimes. (Fair warning, though: This colorful, violent adrenaline ride is not for the squeamish!)
— Jordan Brown, creative director for the Duluth Superior Film Festival
Taking to 'Task'
A group of comedians attempt to toss a potato into a golf hole from a distance. Doesn't sound too exciting at first, but, I promise, it is one of the highlights of the second season of the British comedy show "Taskmaster."
When Joe Wilkinson takes his shot, the outcome is legendary.
"Taskmaster" started to release full episodes and seasons worldwide on its YouTube channel this year. Each season, five British comedians compete by completing a series of absurd tasks at the behest of the Taskmaster Greg Davies. The tasks are overseen by co-host and show creator Alex Horne, then presented in front of the contestants, audience and Davies for his appraisal.
What I love about the show is how the tasks could be literally anything from painting a picture of a horse while riding a horse, choreographing a dance to a ringtone, knocking down rubber ducks the quickest and the previously mentioned get the potato into the hole without touching the green.
It brought a lot of humor and light to a dark year.
— Teri Cadeau, News Tribune reporter
Draw-alongs
A COVID silver lining has been the number of local artists doing "draw-alongs."
Jonathan Thunder's sasquatch on a skateboard ; Brian Barber's "Draw Along Fun-Time" — especially the monte carlo; and Joe Klander's "Ampersand Island ."
Our whole family got into it, and I'll still catch my 6-year-old humming the cheesy tunes from Brian Barber's segments when he is making art. It is so generous of these artists to share their talents with the community and spread a bit of joy.
— Annie Dugan is the organizer of Free Range Film Festival
Sweet tooth TV

I've enjoyed a few shows this year. "I'll Be Gone in the Dark" and "The Great British Baking Show."
— Carla Hamilton, Duluth artist
'90s flashback
The best thing I watched this year was "PEN15" on Hulu. It's a series that features two 30-something actresses playing middle school versions of themselves in the mid-'90s with a supporting cast of actual middle-schoolers. The result is awkward and hilarious, just like middle school! If you grew up in the '90s, this is a must-watch.
— Keith Hopkins, Duluth filmmaker and author
A 'Portrait' for the ages
The best film I saw this year was "Portrait of a Lady On Fire." The director, Celine Sciama, who is no stranger to making powerful artistic statements, created a language previously unspoken with this film. I became obsessed with "Portrait," watching it three times in the theater. Sometimes, I would even sneak into the projection booth for a couple minutes to watch a scene. It didn't matter which one, every second is a brushstroke from a master. This will be a film that will stand as one of cinema's precious touchstones. Sciama's name will stand beside Fellini, Kurosawa, Bergman and Scorsese in the pantheon.
— Jody Kujawa, Duluth actor and Zinema Box Office
Woof, that's good
I watched more horror and suspense this year than I have since I was a kid. Not surprisingly, it was helpful to focus on something scary rather than let the imagination run wild with the news of the day, so that made finding an oldie from Yorgos Lanthimos that much more delightful.
The director of "The Favourite," "The Lobster" and "The Killing of a Sacred Deer" knows how to warp and twist human drives on paper and onscreen, and his second feature "Dogtooth" isn't any different.
From the first shot, Lanthimos sets the stage for a world of different meanings. And this film's grip doesn't let up as it unfurls the story of three teens navigating an existence of starched linens and IKEA-like interiors under the thumb of their parents.
Devastating and haunting, "Dogtooth" reveals more with more viewings, and it reignited my love of inventive storytelling.
Also: I gobbled up "The Curious Creations of Christine McConnell." This maker/photographer/baker/painter extraordinaire can sew a gown, create edible, lifelike arachnids and construct an intricate ginger-dead house the size of a Saint Bernard.
Her Netflix show has the vibe of Mr. Rogers meets Morticia Addams, and even though it was canceled after one season, there's more goodness to view on her YouTube and Patreon channels. Check it.
— Melinda Lavine, News Tribune features reporter and movie reviewer
A gamut of good (and bad)
My year in streaming mostly comes down to this regrettable truth: We spent about six months rewatching "Nip/Tuck" in its entirety.
This series, an early one in the career of Ryan Murphy, is about boundary-busting besties Dr. Christian Troy and Dr. Sean McNamara, plastic surgeons based first in Miami then Los Angeles in later seasons. It's firmly set in the early to mid-2000s, where the lead characters' phobias are more terrifying than The Carver — whose serial assaults are at the crux of Season 3.
Everything you've never thought of happens in every episode: a home circumcision, the diagnosis of a terminal illness that lands on the wrong character, another who falls in love with the blow-up doll version of another character. Neither of us ever needs to watch this again.
What was good, though: "I May Destroy You" starring Michaela Coel, who was drugged and raped after a night out and then fictionalized the story for this project. Coel is a full-body actor who is so human in this role. We get a look at her closest friends, too, and an entire catalog of ways humans' boundaries are blown past without consent. The soundtrack is perfect for a long run.
Also-also: "PEN15," in which grown adults play young teens wrapped in braces and American Eagle, makes me cringe, and laugh, so hard.
Also-also-also: I got through three seasons of "Succession," twice, a series I'd avoided because who wants to watch rich people abuse each other? Well, me apparently. The writing on this show is so horrible and so precise and so delicious. You'll be forever changed when Kendall Roy raps.
— Christa Lawler, News Tribune features reporter
A Southern comfort movie
"Peanut Butter Falcon" is one of those rare movies (these days) that has a PG sensibility, but you can watch it with the whole family and it has a depth that will touch adults and kids in different ways.
It also draws on Greek mythology and "The Odyssey" which, let's face it, other artists have been adapting and remixing for centuries, but in this case it definitely has something new and powerful to say with that material. And one of the things it says is that everyone carries a wound, and everyone can help heal someone else's wound. And while they are doing that, sometimes their own wound starts to heal, too.
Bonus: The setting and scenery down on the salt marshes of the southern U.S. (South Carolina?) is just the thing to help get somebody through the darkest part of our Minnesota winter.
Suitable for about 8 to 80 and older. There is some violence and threats of violence and dark themes of loss and failure, but also redemption. There are one or two instances of the use of the dreaded "R-word," but they are integral to the story.
— JP Rennquist, American Indian Liaison at Denfeld High School
'Creek' to 'The Crown'
"Game of Thrones" is always a good go-to series.
I found "Schitt's Creek," of course to be funny. It's also very heart-warming. I just love the family and people and the humanity of it.
"The Crown," I found that interesting. It's about the Queen of England and how she came to power and the monarchy that followed up to Charles meeting Diana.
— Amy Sipola, Video Vision employee
Indie love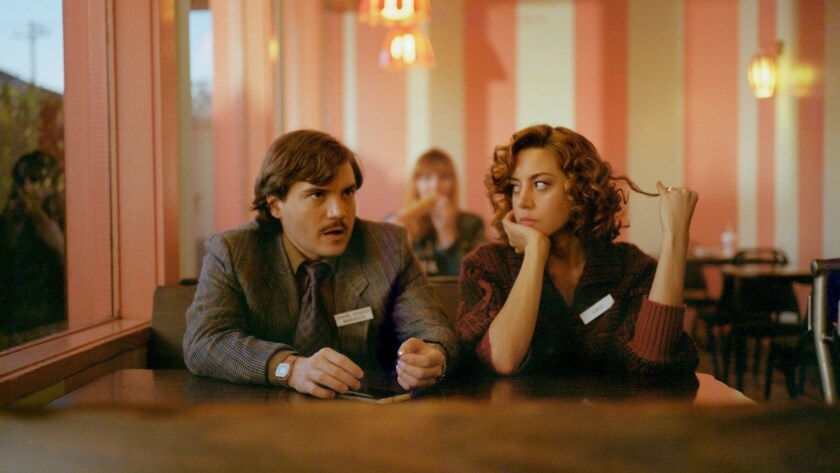 I watched a movie recently that reminded me what I love about independent filmmaking. It's called "An Evening with Beverly Luff Linn" (2018). The movie resembles something that would be produced if David Lynch and Jared Hess teamed up to direct a film. The director Jim Hosking has an older film called "The Greasy Strangler" from 2016. After watching the trailer I think I might have a look.
Other than that I have been watching "The Mandalorian" pretty steadily.
— Jonathan Thunder, Duluth painter and filmmaker
From 'Palm Springs' to 'Bel-Air'
By far the best movie I saw this year was "Palm Springs," a genius take on the "Groundhog Day" story, which managed to be more than just another weekly comedy feature.
"The Invisible Man" comes at a close second, so I highly recommend both of these if you haven't seen them already.
I didn't catch too many new television shows, but "The Last Dance" really surpassed my expectations. It chronicles the life of Michael Jordan and the Chicago Bulls during the '90s, but it touches upon so much more, like the pop culture effect, the grudges, the personalities and how it all came apart. I've watched it twice, and it's on Netflix currently. It will definitely suck you in.
As for old stuff, I was able to finally see some classics like "Roman Holiday," "Stagecoach," "True Romance," "Scarlet Street," "Ben-Hur," "The Killing," and "Bill & Ted's Bogus Journey," the BEST of the Bill & Ted saga. These were all great and well worth the time.
And just to give one more option: With HBO Max, I've been watching reruns of the "Fresh Prince of Bel-Air," which has held up much better than many sitcoms from that time.
I may enjoy it even more than "Friends," but don't tell my fiance that.
— Justin Wilton, Cinephile Studios
In the holiday spirit
One of the best movies I watched this year was "Klaus," the Christmas movie. I was very surprised that I like it and was happy it supported the post office!
— Jazmin Wong, Indigenous First Art and Gift Shop coordinator
Have anything to add? Email the best thing you watched this year to Melinda Lavine at mlavine@duluthnews.com.