Dance review: Even while masked and socially distant, UMD dancers still connect
DanceWorks2020 is being streamed by the University of Minnesota Duluth through Dec. 20.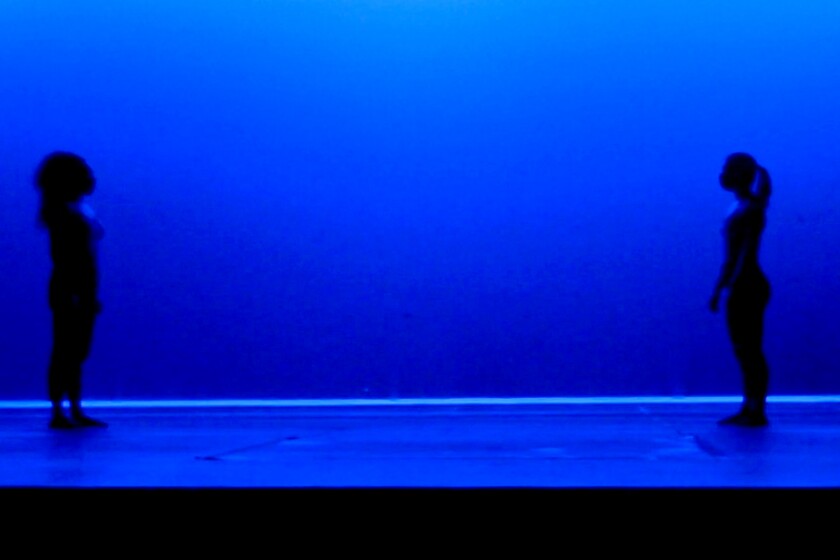 Dancing on a lonely gravel road, in a dimly lit ballroom studio, by the shores of Lake Superior at sunrise — the settings for the University of Minnesota Duluth's Virtual "Danceworks 2020" concert were as eclectic as the musical styles and choreographers' visions.
In many ways, this virtual concert, done as individual videos, made for an appropriate study in "art-making in the COVID era," as described by Rebecca Katz Harwood, co-artistic director and UMD associate professor.
Co-artistic director and new assistant professor Matthew Wagner noted the key ingredients were "the resiliency and adaptability" of everyone involved from the faculty, student choreographers, dancers, videographers and the legion of collaborators it took to make this happen, including the MMAD Lab (Department of Art and Design).
Video: Pandemic sparks creativity for UMD dance students "Danceworks 2020" is available for free streaming starting at 7 p.m. on Dec. 17.
While there were plenty of BA and BFA theater majors featured prominently, there were biology, criminology, history, public health and a variety of other majors and minors who were on board for the sheer joy of dancing, expressing themselves in ways that allowed them to break free from the cloistered lives most have been living for months.
Some of the pieces were at times uneven and under-rehearsed. Some seemed like those dances one does alone with no one watching, while others took flight and soared with elegance, whimsy and grace.
Three of the most polished and well-conceived student choreographed pieces were "something" by Audrey Lokken, "Feel It Still" by Bri Shea, and "Birds of Prey" by Emily Chittenden. Each used their chosen music and talented dancers to make very different statements using the medium of dance.
Patrick Timmons' evocative, self-choreographed piece, "A Love Letter to The Self," had a lovely mix of American sign language hand movements, facial expressions and ethereal scarves blowing in the midst of gorgeous outdoor scenes. Kudos to videographer Christopher Hoffmann's fabulous work done in black and white.
"Homeward," Katz Harwood's introspective piece, recreated the spirit of the "poor wayfaring stranger," with dancer and collaborator Elsa Hennessey-Barnes. Videographer Colin Hennessy-Barnes wonderfully captured the iconic nature of a solitary country road in the middle of nowhere.
Wagner's "Rhythm Rooms" was an exciting tap number with "islands" of small platforms: six dancers doing solos, dancing together and providing the rhythm underscore for each other. The only music used was the staccato of the tapping, in one of the evening's highlights.
Bryn Cohn, a Los Angeles-based choreographer, filmmaker, movement director and educator, was the show's guest choreographer on "Center Center." Katz Harwood, Wagner and the three talented dancers — Patrick Timmons, Camryn Buelow and Danielle Mattson — worked on the UMD campus virtually with Cohn to bring her brilliant piece together.
A mix of dance and musical styles gave Cohn's piece a theatrical Broadway quality that allowed each of the performers a chance to strut their stuff. Videographers/editors David Cowadin and Dan Fitzpatrick did incredible work moving from location to location on campus, down hallways and steps and then moving into the theater onstage and in the empty audience seats for this total wow of a finale to the concert.
What: UMD's Danceworks 2020
Where/When: Streaming Dec. 17 through 11:59 p.m. Dec. 20.
Link from tickets.umn.edu (Click on Fine Arts and then Danceworks)
Tickets: Free of charge, with opportunity to make a donation to the UMD Theatre Department from Danceworks link
Sheryl Jensen is a former teacher, magazine editor and director. She reviews theater for the News Tribune.