Best Bets: Skate, laugh and Springfield
This week's top picks in local arts and entertainment.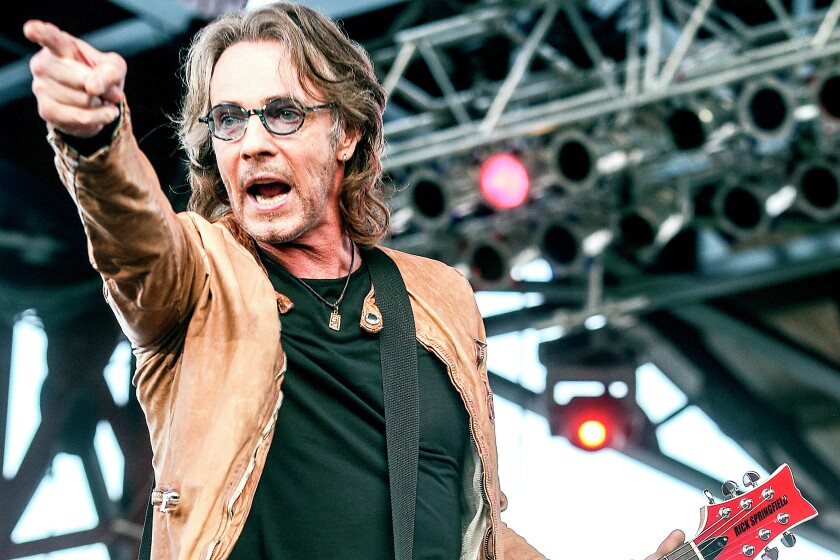 We are part of The Trust Project.
For the Springfield inclined, the 1980s rocker/soap opera actor returns to the region with a concert at 7 p.m. Friday at the Otter Creek Event Center at Black Bear Casino Resort in Carlton.
Rick Springfield played Duluth's Bayfront Festival Park in 2015, an incredibly fan-forward show filled with souvenir pick tosses, full wanders off the stage only to be absorbed by the crowd, and "Jessie's Girl" played twice.
Then he told the crowd of 3,000 that they were cooler than he thought they would be: pierced, tattooed.
"This is Haight-Ashbury in the '60s," he cooed.
It was deliciously corny and retro and beautiful, just like his hair.
Tickets start at $45 at etix.com .
Skate stars offer holiday performance
"Stars on Ice," a long-running and Emmy Award-winning tour featuring big names in the blades biz, makes a stop in Duluth for a show at 4 p.m. Sunday at Amsoil Arena in Duluth. This year's crew includes Olympian and World Champion dance champs Meryl Davis and Charlie White and Canadian figure skater Kurt Browning.
Also performing: Ilia Kulik, Ashley Wagner, Mirai Nagasu, Jeremy Abbott, Alissa Czisny, Kaitlyn Weaver and Andrew Pjoe and Ryan Bradley. (The lineup is subject to change.)
Tickets start at $30 and are available at Ticketmaster outlets including the Amsoil Arena box office.
Renegade back in the holiday biz
Renegade Theater Company returns with a holiday comedy show for the first time in about a decade. "The Dollar Store Comedy Special" is billed as an "irreverent and raunchy collection of sketch and improv comedy, music and many ridiculous surprises."
This go-round, the cast includes Jody Kujawa, Robert Lee, Luke Moravec, Mary Fox, Addison Houle, Jonathan Manchester and more — the sort of humans one might see during their improv shows. Expect sketch and improvisational comedy, music and dance.
There are just two performances: 8 p.m. Saturday and Dec. 31 at Teatro Zuccone, 222 E. Superior St., Duluth. Tickets: $20 at zeitgeistarts.com .
Rather than her traditional holiday concert, singer-songwriter Rachael Kilgour is offering a nightly song (or once even a set) at 7 p.m. on her Facebook page through Dec. 24. It's a sweet and gentle offering, with tunes ranging from "Rudolph the Red-Nosed Reindeer" (she had a relative named Rudolph, she tells her audience) to "Do You Hear What I Hear," (a favorite from childhood).
These songs, brought to you from a low-lit room with instruments on the wall, are prefaced with charming stories and a true treat.
Kilgour is in the middle of a Kickstarter campaign for "My Father Loved Me," an album she has planned to release in 2022. It's a collection of songs she began writing for her father toward the end of his life.
Rubber Chicken Theater returns with its almost annual holiday show, "I Saw Mommy Vaxxing Santa Claus, or, Over the River and Almost Through the Woods," at 7:30 p.m. Thursday through Saturday at the Spirit of the North Theater at Fitger's in Duluth.
This crew, which relies on a very specific style of humor, is known for poking at topics ranging from local names to national headlines. The lineup includes founder Brian Matuszak, Tate Haglund-Pagel, Anders Hultstrom, Maria Lockwood, Kaylee Matuszak, Chris Nollet, Madison Grimsbo and Joel Youngblom. Jadie Schwarzkopf is behind tech and Linda Bray is the pianist.
Tickets are $15.
Actors from the Duluth Playhouse are in their second week of "A Charlie Brown Christmas" at the Family Theater at the Depot.
It's a theatrical take on the longtime TV special wherein C. Brown is bummed out by the holiday materialism and as a salve, directs the school Christmas pageant. Will he discover the true meaning of Christmas?
"A Charlie Brown Christmas" plays at 1 p.m. and 4 p.m. Saturday and Sunday.