Best Bets: 6 nights of live music at Wussow's and more
Find something to do this week in the Northland.
We are part of The Trust Project.
DULUTH — As spooky season continues, there are lots of terrifying things to do in the Northland. Check out our features on Halloween happenings and the Haunted Ship for more information; here are six more events to keep in mind this week.
One Week Live at Wussow's
On Monday, Wussow's Concert Cafe in Spirit Valley kicks off its 20th edition of One Week Live, an annual celebration of original music. There will be live music for six nights straight, with each show livestreamed on video if you can't make it out. The lineup includes local favorites like Feeding Leroy (Monday), Teague Alexy (Tuesday), Judas Rose (Friday) and Fenestra Funk (Saturday). The series will also feature out-of-state artists like Jason Dea West (Thursday) and a new local project called Babie Eyes, led by songwriters Heidi Feroe and Ian Alexy. On Wednesday, Ryan Lane hosts a songwriter competition. For the complete lineup, see facebook.com/wussowsconcertcafe.
Stories of 'dis-ease' at Zeitgeist
On Wednesday night, Zeitgeist is hosting a production by Minneapolis company Sod House Theater. "RARE: Stories of Dis-Ease" was created after the University of Minnesota's Center for Orphan Drug Research contacted the university's Department of Theatre Arts & Dance about the possibility of using the performing arts to raise awareness of the prevalence of rare disease. That may sound like a contradiction in terms, but given that there are over 7,000 rare diseases, more people than you might realize are afflicted. Some of the Twin Cities' top theater artists are involved with the touring show, which was written by beloved storyteller Kevin Kling. Plus, it's free! To reserve seats, see sodhousetheatre.org.
Local history guru Tony Dierckins has a grand new book on "Duluth's Grand Old Architecture." Co-authored with the late Maryanne C. Norton, the 336-page tome chronicles the staggering number of monumental buildings created in the city during the glory years from 1870-1940, when Duluth was a booming industrial city bursting with an influx of money and civic pride. While the money's come and gone, many of the buildings remain, and the book will give you a renewed appreciation of structures from the Medical Arts Building to the Duluth Civic Center ("the nation's best surviving example of the City Beautiful movement") to Glensheen. That's where Dierckins will celebrate the book's publication, with a Thursday presentation and book signing. For information, see facebook.com/glensheenestate.
Are those birds singing in Symphony Hall? No, it's the recorded sounds of Arctic birds, part of Einojuhani Rautavaara's "Cantus Arcticus." The Duluth Superior Symphony Orchestra is presenting that piece along with Wolfgang Amadeus Mozart's "Symphony No. 36," Jacques Ibert's "Homage a Mozart" and Florence Price's "Violin Concerto No. 1." Bulgarian American violinist Bella Hristova, praised by the New York Times for "impeccable sound and technique," will solo. For tickets and information on Saturday's performance at the DECC (and a Sunday encore in Superior), see dsso.com.
There's a bountiful harvest of fun fall events happening Saturday in the Lincoln Park neighborhood. Choose your own adventure! From 11 a.m.-10 p.m., Duluth Cider is throwing its annual Big Bad Apple Bash with live music, community apple pressing, a dog costume contest, special snacks and of course, cider — with four special releases, including one brewed with the outcome of last year's community press. (See facebook.com/duluth.cider.) From 1-4 p.m., the Duluth Art Institute is having its first in-person Free ArtDAI in years, with the public encouraged to drop in for projects including paper flowers and paper puppets. (See duluthartinstitute.org.) Then, from 7-10 p.m., the Duluth Children's Museum is hosting a "Night at the Brewseum" fundraiser: a mini craft beverage festival with 10 local companies contributing samples of beer, cider, spirits and kombucha. (See duluthchildrensmuseum.org.)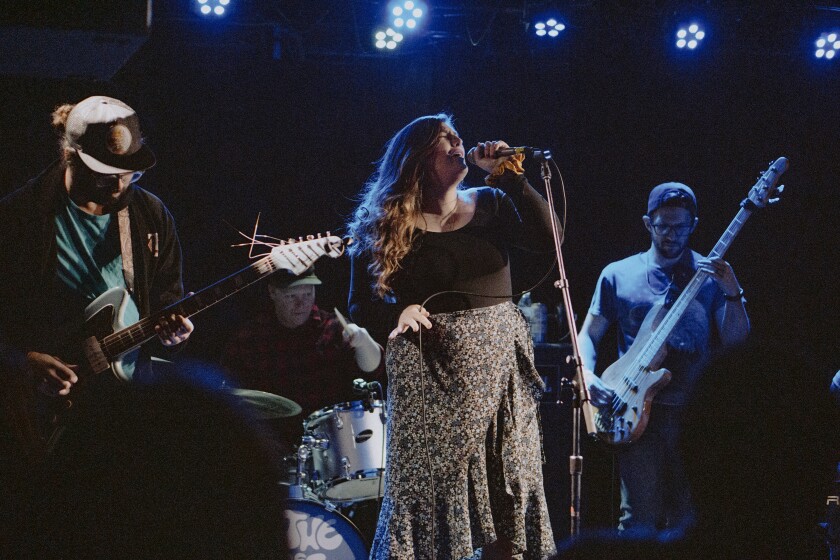 Ready to rock out this weekend — or find space to contemplate? We've got you covered. On Friday, rising Minneapolis pop rockers Maria and the Coins are making their Twin Ports debut with a show at Earth Rider's Festival Field; the stacked lineup also includes the Slamming Doors and AfroGeode & the Gemstones. (See earthrider.beer.) Then, on Saturday at Sacred Heart Music Center, David Huckfelt and Annie Humphrey are bringing their practiced songcraft to one of Duluth's most beloved venues. If you caught them at the recent Water Is Life event at Bayfront Festival Park, this is a chance to change it up. (See sacredheartmusic.org.)
Over 4,000 people gathered at Bayfront Festival Park to celebrate efforts — many unseen — that advocate for clean-water access.