Aided by a new 'miracle' drug, I gave up sugar for two weeks and this is what happened
How would I cope without sugar, my constant companion when feeling sad, mad, tired or lonely? When life was too much, what would I do without Betty Crocker, my good friends at the Reese's factory and Ben and Jerry? Was I supposed to just sit there, gnaw through celery sticks and FEEL things?
We are part of The Trust Project.
I think most of you know about my lifelong love affair with that delightfully sweet, pale and seductive creature.
Sugar.
We go way back. It's become my favorite addiction . You can always count on sugar. Friends may leave, pets may die but that cupcake is always there. In fact, it is there with a parasitic codependency, moving right into your thigh fat so it can be with you forever.
As I've said before, life without carbs might help you live to 92, but if you can't eat carbs, who wants to?
Even so, I joined a diet plan this summer that incorporates Mounjaro, which sounds like a delightful Italian greeting but is actually a new diabetes medication which is also being prescribed for weight loss. The plan also includes bi-weekly sessions with a coach and a gradual behavior modification program.
The behavior program hasn't been anything revolutionary. Yes, I know I should be drinking 32 gallons of water daily and if I have to write down everything I eat, it makes it more difficult to eat a whole pie in one sitting.
Yes, I've long known the preferred serving of protein should be about the size of the palm of my hand vs. that of a window air conditioner.
And yes, I sometimes eat to assuage pain, which explains why my very special "me time" consists of driving through the carwash while chowing down on Take 5 bars and crying softly.
But the hardest part of this program is a challenge I have never tried before. The challenge, known officially as a "metabolic reset," called for completely eliminating sugar as well as quick-digesting carbs.
The challenge was so frightening that I kept putting it off. By the time I was done making excuses, my diet coach likely wondered how one person could have survived tetanus, sunstroke and an owl attack all in one summer.
How would I cope without sugar, my constant companion when feeling sad, mad, tired, lonely or nervous? When life was too much, what would I do without Betty Crocker, my good friends at the Reese's factory and Ben and Jerry? Was I supposed to just sit there, gnaw through celery sticks and FEEL things?
When I could no longer avoid it, I downloaded the suggested diet plan, with its recipes for Chia-Spinach Smoothies and Vegan "Tacos" (technically mashed chickpeas on kale "shells").
I bought cauliflower, broccoli and brussel sprouts. I invested in sugar-free, individually packaged, exorbitantly expensive snack foods like unroasted almonds, pickles, olives, hummus and pumpkin seeds.
Somehow, I got through Day 1, although I desperately missed my amaretto creamer-doused coffee. Instead, my day started with herbal tea — because nothing makes you skyrocket out of bed and put Monday in a headlock like a bracing shot of tepid lavender-chamomile tea.
Day 2 passed and I missed my sweetened coffee a little less. That evening, my favorite time for snacking, was rough. I ate half a jar of olives to get through it.
By day 3, I tried the kale-chickpea "tacos," which would have benefited greatly from some cheddar cheese and a heap of sour cream. Surprisingly, I wasn't craving sugar. The Mounjaro, which heightens feelings of fullness sooner and keeps blood sugar on an even keel, definitely helped.
By day 4, I noticed my knees didn't hurt as much. I could actually breathe through my nose for the first time in ages. (Horror of horrors. Could I be allergic to my beloved gluten?) I felt more energetic.
By that weekend, I was sleeping better and could lift a couch over my head. (Just kidding on that last part.)
But the fact I'd gone five days without sugar bordered on miraculous. It was a relief to not be driven by the whims of erratic blood sugar and subsequent food cravings.
At the same time, all these responsible choices and healthy foods made me a little sad. Who was I if not a food addict who alternately craved bad foods and then reprimanded myself for eating them? Perhaps some of my sadness was grief over my sudden and tragic divorce from Famous Amos.
Although I felt little physical hunger, my psychological cravings remained. I often pig out when on a stressful work deadline and these roasted chickpeas weren't doing the trick. Would my diet coach understand that Crumbl Cookies had its chilled iced sugar cookie on its weekly menu and it could be a whole year until it was offered again? Was there even a point to eating a burger without a bun?
I somehow soldiered on, although — in the interest of full disclosure — I did break down and eat one sugar cookie. (And you know what? After my recent sugar fast, it tasted way too sweet)
The next day, I climbed right back onto the chickpea wagon.
At two weeks, I'd lost 14 pounds and gained self-satisfaction in doing something that once seemed impossible.
Now it's onto phase 2 of the plan, which allows me to at least have two whole-grain slices of bread topped with "a healthy spread" in the next week.
I'm wondering if a healthy spread includes cookie butter.
---
READ MORE COLUMNS FROM TAMMY SWIFT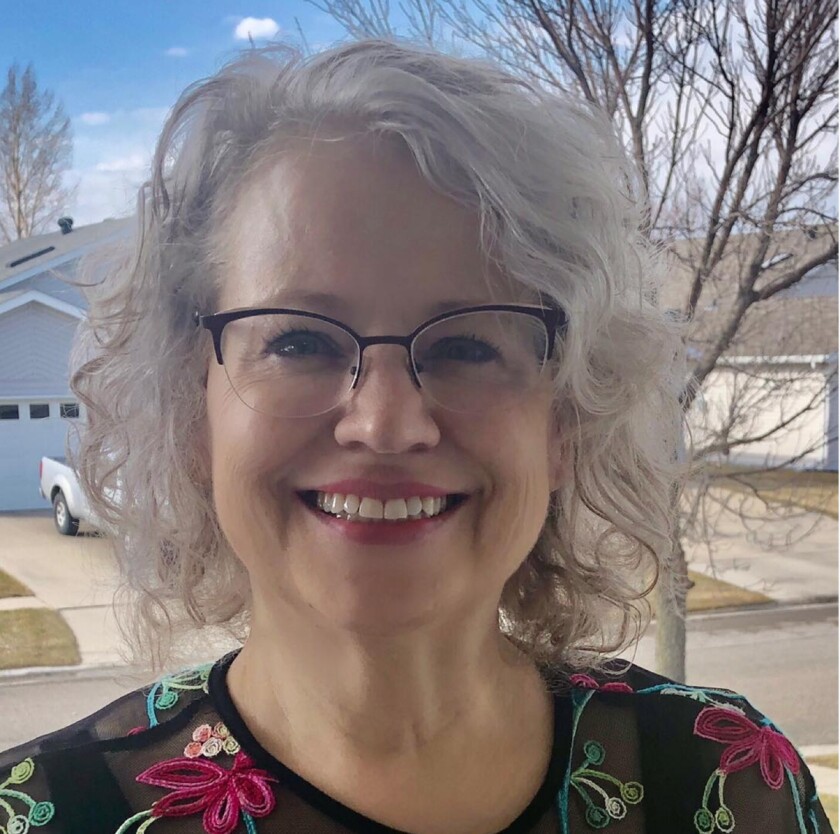 Hi, I'm Tammy Swift, a loooong-time columnist for The Forum. Over the years, I've written about everything from growing up on the farm and life as a single woman to marriage, divorce and the "joys" of menopause. I'm also slightly obsessed with my dog. Check out my latest columns below. Reach me at tswift@forumcomm.com.