The last families of Isle Royale: Cabins remain occupied by families that predate the island national park
The first part in a three-part series on families that still have cabins within Isle Royale National Park. We take a look at the past — how these families came to the island and what life was like.
ISLE ROYALE NATIONAL PARK, Mich. — On a warm summer night in 1987, John Snell rowed his dad's wooden boat into the middle of Tobin Harbor — a stretch of protected water that reaches into Isle Royale National Park and is shielded from Lake Superior by the main island and a series of small islands within the harbor.
The harbor's waters were still, the stars were bright and the last bit of light from below the western horizon silhouetted the island's ridgelines.
From his boat, he could see lights marking cabins still occupied by the families that had them before the creation of the national park.
"Everyone's kerosene lights were on because that's all we had … but to be sitting in the harbor with (Elizabeth Kemmer's) light on, the Merritts' light on, the Gales' light on, Mattsons' light on … our light was on," Snell said "There were seven kerosene lights on — perfectly still. It was just a magical evening to see the symbol of the communities out here."
Five years later, he wrote about that night in a letter to William Fink, the park's superintendent at the time, urging the National Park Service to preserve the cabins.
"These simple kerosene lights crystallized in me the fond memories that I have of all the families in the Tobin Harbor community and how sad it will be when the last light goes out. I only hope that some effort can be made to allow future generations of Tobin Harbor types and other aficionados of the harbor to share these experiences on the edge of the wilderness," Snell wrote.
Today, just six cabins remain under special-use permits. And those that hold the permits are aging, with cabin owners hoping for a more permanent preservation plan for the future.
The structures are simple wood or log construction with no electricity or running water (though some have the luxury of hand pumps that bring in water from Tobin Harbor) and were built throughout the late 1800s and early 1900s by people who arrived on the island to mine, fish or vacation.
But between the authorization to turn the island into a national park in 1931 and the park's establishment in 1940, the Park Service began buying the remaining private property within the soon-to-be national park.
Some families opted to sell their properties and leave entirely. Many of those cabins were destroyed and the parcels reclaimed by wilderness. But other families negotiated lifetime leases, which allowed the former cabin owners and their children the exclusive right to use the cabins in the summer for the remainder of their lives.
The life leases were later changed to special-use permits and modified to add any former cabin owner's children who may have been left off the original life leases. Namely, children who were minors at the time the leases were negotiated were added.
When the last life leaseholder or special-use permit holder died, cabins were no longer allowed to be used by those families. Some were destroyed by the Park Service.
But several families, including the Snells, who no longer have a family member under the special-use permit, have been allowed to use their cabins in exchange for volunteer work within the park under a volunteer in the park program that's considered on a year-by-year basis.
"This might be my last year," Snell said in August from the cabin his grandfather Roy Snell, a children's author, acquired in the 1930s. He was preparing to leave after a few weeks of volunteering, mostly replacing roofing on nearby cabins. "It could be my last day here."
How it started
Long before the fishing families, industrialists and cottagers arrived on Isle Royale, the island — called Minong, "the good place" in Ojibwe — had been used by Indigenous people along the shores of Lake Superior in what is now Minnesota and Ontario. They mined copper on the island as far back as 4,500 years ago, which was then cold-hammered into knives, spear points and other ornaments that have been found as far away as New England.
Fur traders found and used the island, too. Then, later, it attracted those in pursuit of its resources: fish, copper and timber.
Outside the relatively protected Tobin Harbor and around Blake Point — the northernmost tip of the main island fully exposed to a northeastern wind off the big lake — lies another series of islands offering protection from the big lake.
There, on the small Johnson Island, Carla Anderson, her family and her friends maintain the four cabins that housed her great-grandfather and grandfather's commercial fishing operation through the late 1950s.
John Anderson, her great-grandfather, and his fishing partner Herman Johnson began fishing on that side of Isle Royale in the 1880s. Moving from place to place, they were eventually based out of a fuel storage building next to Belle Isle on a tiny island called Gasoline Island. But when Belle Isle was purchased to become Belle Isle Resort, the owner sent them over to what is now Johnson Island, thinking he owned it.
But he didn't. So fishing partners had to homestead the island, which required a 12-month occupancy requirement.
Gil Anderson, John's youngest son and Carla's great-uncle, and Johnson braved the winter of 1915 and it became theirs.
For Anderson, it's a powerful Scandinavian immigrant story.
"My great-grandfather and grandmother came over here and they didn't speak probably any English; they didn't have anything," Anderson said. "But they had the skills of a commercial fisherman, and they knew how to build things. So they came here and they were able to eventually homestead this place. And this fish camp provided a stable income for my family from World War I, through the Great Depression and through World War II. And paid college tuition from my father and my aunt."
Other families came to Isle Royale looking for copper but never left.
From inside his New Hope home — with nearly every wall adorned in Isle Royale photos and paintings — Duluth native Grant Merritt, 87, shared his encyclopedic knowledge of Northeastern Minnesota and Isle Royale history.
His grandfather Alfred and great-uncles were the famed "Seven Iron Men'' who discovered iron ore on the Mesabi Range and founded the Mountain Iron Mine in 1890. (In what Merritt admits is "ironic," he spent his career as an environmental lawyer and fought Reserve Mining in Silver Bay to get them to stop dumping taconite tailings into Lake Superior, first as a private attorney for the grassroots groups and then as the first commissioner of the independent Minnesota Pollution Control Agency).
But before the seven Merritt brothers had found that iron ore on the Mesabi Range, Alfred was poking around Isle Royale for copper.
In 1866, Alfred made his first trip to Isle Royale when he was a 19-year-old deckhand on the schooner Pierpont, ferrying kegs for the commercial fisherman to fill with their catch.
A few years later, Alfred was on a crew to help build a road — now a hiking trail — for the short-lived Island Mine up from Siskiwit Bay on the southern side of the island.
"They didn't find much (copper)," Merritt said. "The (Native Americans) mined it but there wasn't a great deal of it, and it wasn't really merchantable. But he then kept going back because he fell in love with Isle Royale."
As the mining and logging industries left, swathes of land became available, allowing resorters and cottagers the chance to move in.
In 1908, after the more than 450 islands surrounding the main island were surveyed, Alfred began buying them up — eventually gathering 14 in total. He built a large cottage on one of Tobin Harbor's outermost islands near Blake Point. That island still bears the family name — Merritt Island. As does Merritt Lane, the thin strip of water separating Merritt Island and its neighboring islands from the main island, and Merritt Lane Campground.
But that's not the cabin the Merritts use today. When they needed to negotiate lifetime leases in the 30s, they only got one for their cabin on Glenn Island — they call it "Camp Dig Inn." All that remains of their original cottage is the stone fireplace. Unoccupied, the cottage was burned down by the Park Service in the 1950s, Merritt said.
The Merritt's longtime cabin is deeper in Tobin Harbor, on just a 1⅓-acre island, within shouting distance of the Snell Camp.
Built in 1905, it first belonged to Albert Ribenack, who, with his brothers, owned downtown Duluth's Hotel Lenox on the corner of Superior Street and Sixth Avenue West, where the Incline Station bowling alley is today.
Alfred bought it from Ribenack in 1915 and the family began using it in 1925.
"We try to live just like they did back in those days," Merritt said. "We pump the water out of the harbor and drink it."
The only added luxuries are a propane stove and fridge.
Merritt figures he's been up there all but four summers since his first trip to the island when he was 5 years old in 1939.
Others came to Isle Royale to get away or vacation.
Sally Orsborn's parents, Wayne and Marge McPherren, began coming to Captain Kidd, one of the outermost islands on Isle Royale's north side, from Omaha so Marge could get some reprieve from hay fever.
Wayne would be up there during the beginning of the summer, drop off Marge and the kids, and then return to Omaha to work and return at the end of the summer.
Orsborn's favorite weeks were when her dad was on the island.
"I considered myself his 'boy,' loved boats and motors and became a proficient fishing guide for his guests as a pre-teen. My sister (a year older than I) and I swam whenever we wanted, shaking vigorously when warming up," Orsborn, 89, said in an email. "Today that would probably be called hypothermia. Even during WWII war years we went to the island; during the polio epidemic we stayed longer into the fall."
Anchored by fishing families
Like oil in an outboard motor, the fishing families kept each cabin community running.
They were often there earlier and later in the season than the cottagers and would help prepare the cabins for their return.
Many of the cabins that dot Tobin Harbor were built by Art Mattson, who operated a fishery there while his boathouse served as a hardware store for the harbor's summer residents.
The fishing families also passed their experience navigating the unpredictable Lake Superior on to the cottagers.
"Because of those dangerous conditions, these people that came from vastly different socioeconomic backgrounds formed friendships and bonded together: where the fisherman taught the cottagers the boating skills that they needed, pointed out where the reefs were, helped build their cabins," Anderson said. "And the cottagers, for the most part, they were very influential in terms of encouraging people to go to college."
During their first year at Captain Kidd, the McPherrens had no boat and Wayne had returned to Omaha. When Sally became sick, Ed Anderson, Carla Anderson's great-uncle, grew concerned and brought over a boat and taught her mother how to use it, as Peter Oikarinen documented in his book "Island Folk: The People of Isle Royale"
"And the first lesson he gave her was how to swear at an outboard," Anderson said.
And in return, the cottagers encouraged and inspired many of the children of fishing families to go to college.
Anderson's dad, Jim, spent time around the college-educated McPherrens as well as a Dr. Clay, a physician with a cabin on nearby Clay Island.
Jim's education then led to a career with the Murphy Oil Corporation at their refineries in Superior and Louisiana.
College education came at the right time for the children of fishing families. Commercial fishing was no longer a sustainable job. By the 1950s and 60s, invasive sea lamprey had decimated the lake trout population, hurting the Isle Royale fisheries that relied on them.
Today, the friendships forged several generations ago on Isle Royale continue to flourish, with families banding together to reminisce among each other, share their histories with park guests and advocate for the continued preservation of their century-old cabins and cottages.
"There's just this constant, because this has been made into a national park, everything was frozen in time," Snell said. "This is one of the rarest examples, you'll find out what it was like to come to a place that's really very simple."
News Tribune digital content producer Samantha Erkkila and photographer Steve Kuchera contributed to this report.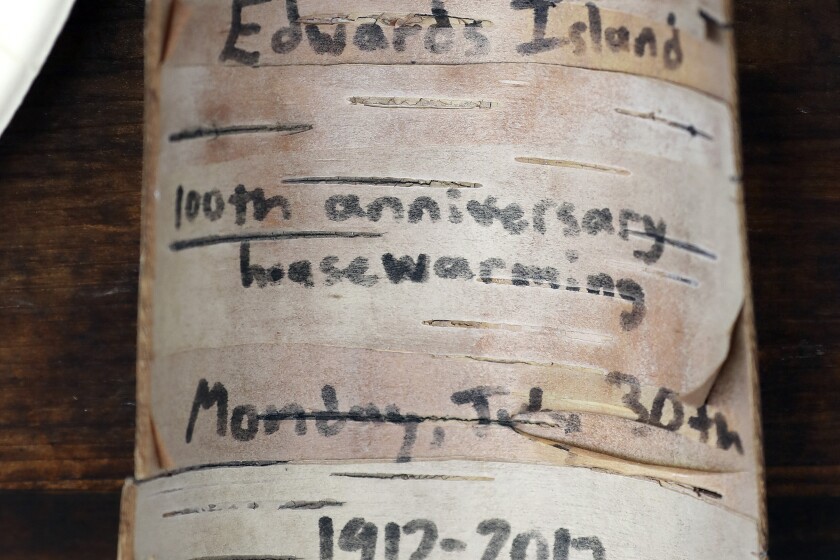 1
/
4:
A piece of birch bark hanging in Cliff Crest remembers the 100th anniversary of a nearby cabin in Isle Royale National Park. Steve Kuchera / Duluth News Tribune free card
2
/
4:
A painting of the Merritt's Isle Royale cabin hangs in the couple's New Hope, Minn., home. Steve Kuchera / Duluth News Tribune free card
3
/
4:
Two old wooden boats decay near a smokehouse at Crystal Cove on Aug. 3, 2021. Steve Kuchera / Duluth News Tribune free card
4
/
4:
Grant Merritt free card