Rosie Awards go digital, continue to honor Northland women
Although The Woman Today's awards were delayed due to the COVID-19 pandemic, six Northland residents were honored online for their work and contributions.
The Rosie Awards are usually presented to Northland women in a large ballroom filled with nominees, family members, colleagues and friends wishing to celebrate a variety of achievements.
This year's awards program, presented by The Woman Today magazine, took a different approach due to the COVID-19 pandemic. But the underlying goal remained the same.
The awards were presented to winners ahead of the presentation, with social distancing in mind. Nominators shared their reasons for nominating each award-winner via a Zoom presentation.
This year's Rosie Award was presented to Virginia resident Marlise Riffel. The award is named after the cultural icon Rosie the Riveter and presented to a woman who has a history of accomplishing tasks.
"If living with integrity means to behave in ways that are in harmony with your personal values, then Marlise represents the standard bearer of this fact," said Ericka LaMar, Marlise's nominator. "She's a well-known figure in Virginia. In fact, it's hard to find someone who hasn't heard of her good works in the areas of social change."
Riffel is known for her efforts to create a local and sustainable food network on the Iron Range through the creation of several programs. She co-founded the Rutabaga Project, which provides local food to low-income people. She serves on the board of the Iron Range Partnership for Sustainability, writing grants and organizing local events such as Earth Fest and the Pasty Festival. She's heavily involved in Growing Together, a community garden program.
Riffel also is the founder and manager of the Virginia Farmers Market. She's involved with local LGBTQ youth programs, the Lyric Center for the Arts, Northern Progressives and is an active member of the Mesabi Unitarian Universalist Church.
"She continues to inspire me and countless others to do better and to be better," LeMar said.
Five other area women were honored for their contributions and work in other categories.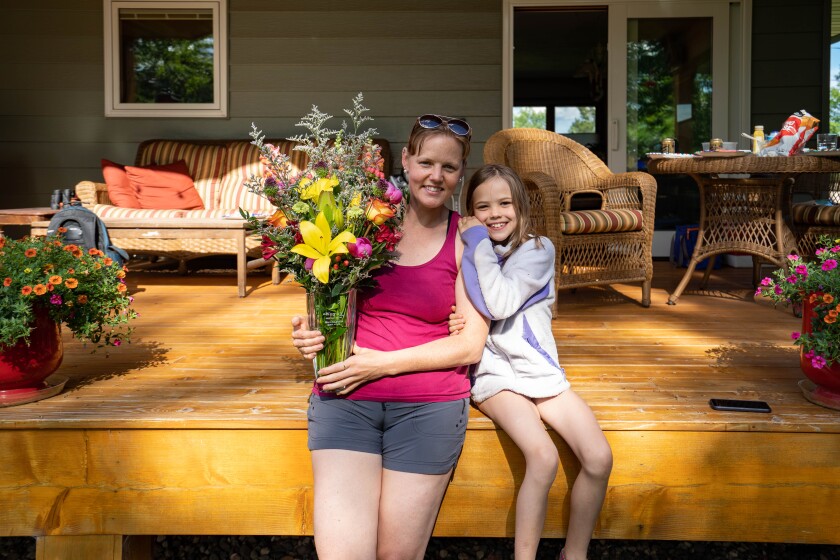 Spirit Award
Shawna Mullen was awarded the Spirit Award. Mullen is the active living coordinator for Zeitgeist Arts, where she's been an advocate for alternative modes of transportation such as public transit on buses, bicycling and walking. She created Duluth's Bike Bus Walk annual event and was recently hired as the transportation service manager at Essentia Health.
Leadership Award
Pastor Kathy Nelson of Peace United Church of Christ was presented with the Leadership Award. According to her nominators, Nelson is "an all-encompassing leader" who leads clergy meetings, advocates for CHUM, speaks at gun violence vigils, promotes justice and sanctuary for refugees and immigrants and volunteers at the county jail. Nelson is also noted for being a strong supporter of LGBTQ rights and was cited as one of the first clergy in the area to perform gay marriages and partner unions.
Mentor Award
College of St. Scholastica Student Support Services counselor Kathleen Cargill was awarded the Mentor Award. Cargill has mentored students for nearly 30 years and helped nearly 250 first-generation college students. She has taught classes in genealogy through CSS, community education and the St. Louis County Historical Society. She's an active member of the Twin Ports Genealogical Society.
Silent Advocate Award
Geri Hamilton was awarded the Silent Advocate Award. She was nominated by her husband, John Hamilton, for her work creating Dammit dolls. The dolls share messages of hope to cancer patients visiting infusion centers at St. Luke's and the Mayo Hospital's cancer centers. Hamilton has made about 500 of the dolls. She was inspired by her brother's fight with pancreatic cancer.
Most Engaged Volunteer
New Hope for Families founder and president Therese Gruba was presented with the Most Engaged Volunteer Award. Gruba was nominated by her husband for her volunteer work with and on behalf of foster care families through New Hope for Families and other outlets. She raised money and led the effort to create an emergency foster care building, which opened in 2019.
The Woman Today magazine, established in 1996, was purchased in late 2015 by Forum Communications Co., which also owns the News Tribune.