Northland Teen Challenge completes major renovation
The renovation provides clients in the treatment center's program with more space to live and learn.
Residents at the Northland campus of Minnesota Adult and Teen Challenge are getting more rest since a big move last week. Anthony Garcia, a client at the faith-based residential addiction recovery program in downtown Duluth, said he's finally getting a good night's sleep.
"I never once slept through the night before this," Garcia said. "With six guys in a room, there was always someone coming and going. Now I just have to worry about waking up my roommate and he's a pretty solid sleeper."
On April 21, all of the residents in the program were able to move from the main building at 2 E. Second St. to the former Chatham apartment building next door after a major $2 million renovation project. Teen Challenge bought the building for $400,000 in 2019 and has been working on the renovation ever since.
"The Chatham building was originally built in 1906," said Jocelyn Hoeft, the community relations and development coordinator for the Northland campus. "While we love its history, after more than a century of use, it was time for a renovation."
The renovation included 154 new windows, paid for by an anonymous donation, 20 mini-splits to regulate temperatures through the building, refinished hardwood floors, an expanded laundry room, space for a staff break room, and connecting indoor walkways on two floors between the main and residence buildings. Another anonymous contributor donated the $50,000 necessary to replace the roof.
The biggest change is in the apartment layouts. Clients were split into large barracks-style rooms with six residents to a room. Now residents stay in studio, two-bedroom and three-bedroom apartments. Each apartment has access to at least one bathroom and living/study rooms.
"I like that we actually have space where you can go and chill," said resident Luke Prescott. "You have space to be alone. It's so much quieter."
Hoeft said the changes are hoped to provide better comfort and privacy for the program's clients.
"Transforming our space into a home-like setting was really important to us," Hoeft said. "Clients are going through a very difficult time in their lives. We believe that finding the right balance between companionship from a roommate and comfort and privacy from a private bedroom and bathroom will help our clients succeed."
The changes have also helped increase the program's capacity by 15%. Previously, the program was able to take in 54 clients. Now the program houses 62 clients with the possibility of expanding to 72.
The former residence spaces in the main Teen Challenge building will be converted to recreation rooms, classrooms, TV rooms and office spaces.
This major renovation is phase one of the program's plans. In the future, Hoeft said the program plans to move all of its licensed treatment programs out of its current building, across the alley from the main building, into its main and residential buildings.
"We currently lease that building, so once we finish up phase two, we'll be able to let that lease go and move all of our staff into this building," Hoeft said.
In the meantime, Garcia said he's happy with the new apartment layout.
"In my last room, we had people come into the room and flip the light on at 6:30 a.m.," Garcia said. "I'm much happier with my roommate. He's very respectful of me and I'm respectful of him. It's better."
1
/
5:
A small lounge area at Minnesota Adult and Teen Challenge Tuesday, April 27, 2021 in Duluth. The treatment and recovery center recently completed a major renovation to the Chatham building on its Duluth campus to provide more space for residents and also intake more clients. (Clint Austin / caustin@duluthnews.com)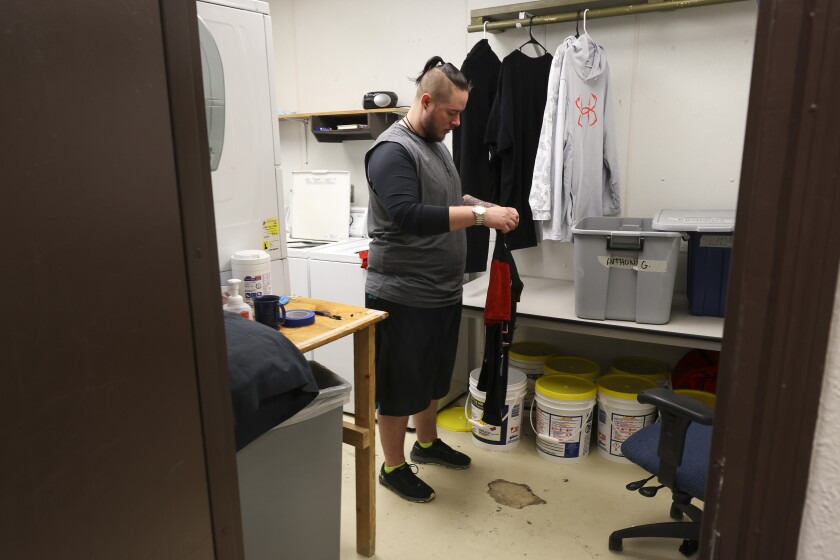 2
/
5:
Anthony Garcia of Roseau does laundry at Minnesota Adult and Teen Challenge Tuesday, April 27, 2021 in Duluth. The treatment and recovery center recently completed a major renovation to the Chatham building on its Duluth campus to provide more space for residents and also intake more clients. (Clint Austin / caustin@duluthnews.com)
3
/
5:
A new laundry facility seen at Minnesota Adult and Teen Challenge Tuesday, April 27, 2021 in Duluth. The treatment and recovery center recently completed a major renovation to the Chatham building on its Duluth campus to provide more space for residents and also intake more clients. (Clint Austin / caustin@duluthnews.com)
4
/
5:
An updated basement storage area at Minnesota Adult and Teen Challenge Tuesday, April 27, 2021 in Duluth. The treatment and recovery center recently completed a major renovation to the Chatham building on its Duluth campus to provide more space for residents and also intake more clients. (Clint Austin / caustin@duluthnews.com)
5
/
5:
Some photographs found in the walls during a remodel at Minnesota Adult and Teen Challenge Tuesday, April 27, 2021 in Duluth. The treatment and recovery center recently completed a major renovation to the Chatham building on its Duluth campus to provide more space for residents and also intake more clients. (Clint Austin / caustin@duluthnews.com)