Make a Difference
Volunteer and donation opportunities.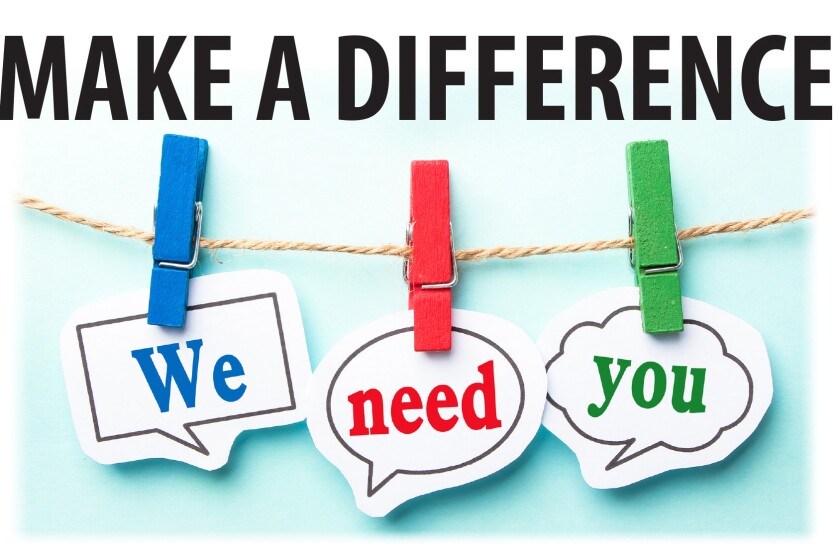 AEOA's Meals on Wheels program is in need of volunteer drivers. Consider becoming part of this very rewarding work helping seniors and people with disabilities maintain good health while remaining in their own homes. Call Kirsten at 218-409-5991.
Memorial Blood Centers is calling all eligible blood and platelet donors to step up and help save lives. The need for blood is constant, but the supply isn't. Donors with Memorial Blood Centers help supply nearly 40 local hospitals and more than a dozen air ambulance bases. MBC is dangerously low on all blood types at this time. Help hospital patients in need by scheduling an appointment at mbc.org or by calling 888-GIVE-BLD (888-448-3253).

1-5 p.m. Wednesday, Jan. 19, Silver Bay High School, 137 Banks Boulevard, Silver Bay.
9 a.m.-4:30 p.m. Thursday, Jan. 20, Grand Marais Community Center, 317 W. Fifth St., Grand Marais.
9:30 a.m.-4 p.m. Friday, Jan. 21, Arrowhead EMS Conference, 350 Harbor Drive.
9:30 a.m.-3 p.m. Saturday, Jan. 22, Arrowhead EMS Conference, 350 Harbor Drive.
11 a.m.-5 p.m. Monday, Jan. 24, Moose Lake Community Center, 60 Hartman Drive, Moose Lake.
10 a.m.-5 p.m. Tuesday, Jan. 25, Hayward Area, 15586 County Road B, Hayward.
10 a.m.-4 p.m. Jan. 26, Aurora Community Center in Aurora.
10 a.m.-1 p.m. Jan. 27, Fortune Bay Casino, 1430 Bois Forte Road, Tower.
7:30 a.m.-2:30 p.m. Jan. 28, Hermantown High School, 4335 Hawk Circle Drive.
9 a.m.-4 p.m. Jan. 31, Ashland High School, 1900 Beaser Ave., Ashland.
Make-A-Wish Minnesota is seeking volunteers in Carlton County to help grant life-changing wishes for local children battling critical illnesses. The role of a wish granter is essential in fulfilling each child's wish. Wish granters work in pairs to help the wish kid determine their wish and maintain ongoing engagement with the family. This position is available as a fully remote or partially in-person hybrid opportunity (masks and social distancing required). Other needed roles include wish discovery volunteers who virtually visit families to gather information and brainstorm wish options, and wish pal volunteers who send monthly morale boosts to kids waiting for their upcoming wish. To learn more and get started visit mn.wish.org/volunteer .
AEOA Virginia gun raffle fundraiser is selling tickets for the drawing Feb. 26. Only 500 tickets will be sold. Tickets $20; cash only. Tickets can be purchased at AEOA Virginia, 702 Third Ave. S., Virginia, during normal business hours (8 a.m.-4:30 p.m. Monday-Friday). Call Jessica at 218-748-7301 for more information.
Second Harvest Food Shelf is seeking volunteers to help in the food shelf. Shifts are 8-11 a.m. or 10:45 a.m.-3:30 p.m. Mondays through Thursdays. You must be able to lift and must enjoy working with people. A firm commitment to the chosen shift is very important. Email Sandy at sandy@secondharvestncfb.com if you want to help out.
The American Red Cross blood supply is at historically low levels and it continues to decline. If more donors don't come out to give, hospitals may be forced to delay care to patients relying on blood transfusion. Those who come to give in January will automatically be entered for a chance to win a getaway to Super Bowl LVI in Los Angeles and will also be automatically entered to win a home theater package and a $500 e-gift card. Terms apply; visit RedCrossBlood.org/SuperBowl for more information. To make an appointment or for more information, download the Red Cross blood donor app, visit redcrossblood.org , call 800-733-2767 or enable the Blood Donor Skill on any Alexa Echo device.
Second Harvest Northern Lakes Food Bank needs 10-12 volunteers who can pick up food from local convenience stores, retailers, restaurants/caterers and deliver it to local food shelves, on-site meal programs or their food bank. This opportunity is available nearly every day of the week throughout Duluth, Superior and surrounding communities. Volunteers need to be reliable, able to stand, lift, bend and carry up to 50 pounds. This opportunity does require a valid driver's license, proof of acceptable insurance limits and a clean, reliable vehicle. Contact Andrew Haukebo, volunteer and development coordinator, at 218-336-2303.
AEOA's Central Kitchen in Duluth needs volunteers to help in the kitchen, 11 a.m.-1 p.m. Monday-Friday. Call Kirsten at 218-409-5991 if interested.
Duluth Art Institute seeks docent volunteers for the weekends. Docents supervise the galleries to ensure visitors and the artwork are safe. The Duluth Art Institute gathers volunteer docents during special events when there are more visitors expected than the average day. Call Liz at 218-723-1310 or email engagement@duluthartinstitute.org for more details.
Ecumen Lakeshore, 4002 London Road, Duluth, is seeking drivers for its home-delivered meals program. Call Jana at 218-625-7822 or email janawarner@ecumen.org .Do you like to read aloud?
The Lighthouse Center for Vital Living needs volunteers who will read the newspaper once a month. Reading takes place at the Lighthouse in a recording booth that is COVID-19 safe. To learn more, email Michelle at michjunt@gmail.com .
Essentia Health St. Mary's Hospice is seeking caring and compassionate people who have a listening heart and may have talents, skills, hobbies or interests to share. Essentia Health Duluth Hospice serves people at Solvay Hospice House, and within a 75-mile radius area including the communities of Silver Bay, Superior, Solon Springs, Sandstone and Saginaw. To volunteer, call Katie Neff Dawson 218-786-4020 or email hospiceduluthvs@essentiahealth.org . To volunteer in the Grand Rapids area, call Robbie Radaich at 218-327-8780. In the Virginia area, call Katie Bird at 218-749-7976.
AARP Tax-Aide Program seeks volunteers in Lake County and Itasca County for the 2021 tax season. For Lake County; volunteers do not need to be an AARP member or retiree and do not have to have a background in tax preparation to participate. Tax-Aide volunteers receive free tax training. Also needed are district manager and communication coordinator positions in Lake County. These do not have to be filled with trained tax preparers, but have the important role of managing the local program. Greeters who assist those who come to the sites are also needed. To help, call Jerry at 218-595-0268 or email mn2d41th@gmail.com . For Itasca County; they are looking for one to two people for the following positions: client facilitator and tax counselor. If you are interested in either of the positions in Itasca County, or if you would like more information (with no obligation), contact Tax Aide at 218-245-9202 or email taxaidegr@gmail.com , or contact ElderCircle at ecircle@eldercircle.org or 218-999-9233 and leave your contact information.
Second Harvest Northern Food Bank seeks 9-12 volunteers who can help distribute BackPack Program food to children experiencing weekend hunger in Duluth schools. Volunteers pick up food from its facility and deliver it to a Duluth school twice each month (the first and third Wednesday, 9:30-11:30 a.m. pickup). Volunteers need to be able to stand, lift, bend and carry up to 50 pounds. This opportunity requires a valid driver's license, proof of acceptable insurance limits and a clean, reliable vehicle. Contact Andrew Haukebo, volunteer and development coordinator, at 218-336-2303.