Fundraiser exceeds $62K for Superior woman who died after childbirth
"Everybody wanted to do something. It was a way for people to feel like they were helping."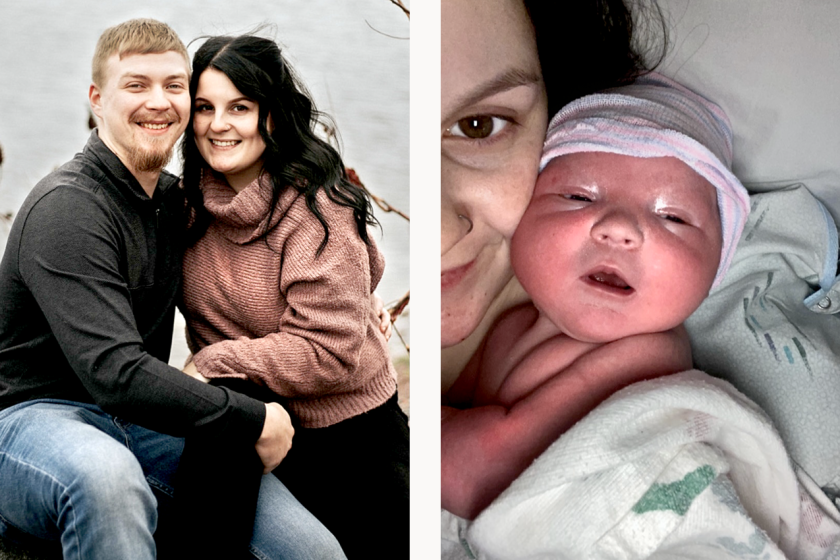 Ben and Jennifer Jerulle were on their walk in early March when they got a call from their daughter.
It was three weeks before her due date, but Alexa Jerulle of Superior had back contractions and spotting. Hours later, her water broke, and she was at St. Luke's, ready to deliver.
Around 7 a.m., the Jerulles had a Facetime call with their daughter and new grandbaby.
"Braxtyn was on her chest. … You could tell that life was different at that point in time; she was a mom," Ben said. "She was extremely excited and happy at that moment. And that was the last time we were able to talk to her."
After experiencing bleeding issues for which she underwent surgery, her parents said, Alexa died on March 7, hours after delivering her son.
"Everything's been a blur from that point on," Ben said.
About 700 women die in the U.S. each year as a result of pregnancy or delivery complications, according to the Centers for Disease Control and Prevention.
The day after her passing, longtime friends of the Jerulles connected to launch a GoFundMe fundraiser for Braxtyn and Alexa's fiance, Brock Flamang of Superior.
"We just felt helpless," said Kristy Moyer, one of the organizers.
TO DONATE: If you'd like to contribute to the GoFundMe, visit https://bit.ly/3m0OS5L .
OBITUARY: Alexa Jurelle
They set the goal at $10,000 and were surprised to see donations quickly exceed that amount.
As of Monday, the fundraiser had more than 612 donors, more than 5,000 shares and had raised more than $62,000.
Along with donations, messages of support streamed in, offering everything from condolences to breast milk donations for Braxtyn.
Many donors are strangers to the family, said Moyer, who reported watching it obsessively in the early days. It was a good distraction, she said.
As for the Jerulles, they were reluctant to agree to their friends launching a GoFundMe.
"It would've broken my heart had we not reached the goal," Ben said, adding that it took a while for them to look at it.
"Everybody wanted to do something. It was a way for people to feel like they were helping," Jen said.
Now, they're floored by the support. It has been "incredible" to see people from the Iron Range and across the state reach out through GoFundMe, texts, cards or calls, the couple said.
The money will go to Brock and Braxtyn's short-term and long-term needs, and there are plans to set something up for Braxtyn's future.
Father and baby are living with the Jerulles in St. Michael, Minnesota, and they will relocate from Superior to set up a home near Alexa's family.
The Jerulles have Twin Ports roots. They bought their first home in Duluth and lived there from 1995-2002. Alexa was born at St. Luke's 25 years and one week before she gave birth to her son at the same hospital.
The Jerulles eventually moved to St. Michael when Alexa was in kindergarten.
"Most everyone grew up and was raised in this house," said Ben, referring to their three daughters, Alexa, Amelia and Lainey.
Alexa was "fun-loving, really family oriented, loved and adored her younger sisters," her father said.
Ben and Jennifer shared their gratitude for having spent a weekend in late February with her, to celebrate her baby shower and an early birthday.
"Everyone got along," Ben said with a laugh. "We have three daughters, Italian family, everyone gets loud."
They were all in good spirits, excited for the addition to the family.
Today, Baby Braxtyn is "perfect and healthy," Jennifer said. "And he was 7 pounds, 13 ounces, exactly what Alexa weighed."
Asked how the family is doing as a whole, she said they stay busy with the baby, which helps.
Ben said it seems like all have a hard time in the evening when they're idle.
"It's hit and miss, disbelief. Sometimes, I can't wrap my head around that she'll never walk through that door again."
"No way to describe it," Jennifer added.
"There's a hole and an emptiness that will never be the same again," Ben said.