Former Duluth city attorney to run third Iditarod in memory of people who have died by suicide
Gunnar Johnson will carry the names of suicide victims as he mushes a team of dogs across Alaska.
Traveling across the Alaskan wilderness mile-after-mile behind a team of dogs can be a daunting and lonely experience, but former Duluth city attorney Gunnar Johnson won't be alone as he embarks this winter on his third Iditarod. He will be carrying what's apt to be a lengthy list of loved ones who died by suicide.
Unfortunately, Johnson's own family has known the grief of suicide all too intimately. His cousin, Benjamin Stassen, killed himself on the banks of the Mississippi River at age 21.
Helen Stassen, the young man's mother, recalls how as parents, she and her husband, Jay Stassen, often felt pressured not to talk about the death of their son in 2010, as though suicide was an event that should be remembered privately and then only with large doses of shame and guilt.
But the Stassens were determined to break that silence.
"Silence equals violence. If you don't acknowledge this and talk about this, it eats you up," Helen said. "It's such a difficult topic to talk about. People don't really want to want to hear about it. So, awareness is important. That's why Jay and I are willing to say, 'Yes. It happened to us.'"
Iditarod Hope
Johnson has launched an initiative he calls Iditarod Hope. He's not raising funds, but is instead collecting the names of suicide victims from the friends and family members they left behind.
He plans to carry that list 975 miles from Anchorage to Nome, where the names will be read at the annual Musher's Mass. Afterward, the list will be burned and the ashes will be scattered across the ice of the Bering Sea, where they will melt into the water come spring.
Johnson said the project is intended "to support those who are left behind by suicide."
He also voiced hopes the endeavor "can help promote some healing for those who are left behind by suicide."
"The other thing we're trying to do is to remember those who have died by suicide," he said.
Jay Stassen said he would like to see Iditarod Hope help survivors.
"One hope that I have is that a project like Iditarod Hope can be a first step that survivors would take to acknowledge that they continue to be saddened by the loss of their family member or close friend and that they do want to honor them and remember the good things about that person and their life," he said. "This is one way that they can begin that journey."
Johnson also stressed the need to heighten public awareness about the problem of suicide and he importance of getting people any support possible to prevent self-harm.
He noted that many people are unaware of the scale of the problem.
There were 48,344 documented suicides in the U.S. in 2018, and there were an estimated 1.4 million suicide attempts, according to the Centers for Disease Control and Prevention's National Center of Health Statistics.
Unexpected turn
Johnson's path to a third Iditarod run has been an unexpected one.
After nearly 12 years on the job as Duluth city attorney, Gunnar Johnson was placed on administrative leave in February. He later resigned from the post amid criticisms of his management and treatment of staff.
"That was a tough situation, and I left feeling, I guess 'betrayed' would be the word I would use at that time," he said.
Johnson recalled the ensuing COVID-19 outbreak and the social isolation it necessitated only added to what was an emotionally difficult time.
But the down time also gave Johnson an opportunity to reflect.
"It really brought me a point of thinking about kind of resetting my life and my priorities," he said.
Johnson decided to reach out to his old friend and mushing mentor, Jim Lanier. At age 80, Lanier's days of running the Iditarod are over, but he still trains a team of 24 dogs and has agreed to allow Johnson to run in his place, as he did once before in 2017 following a knee injury.
As a family friend, Lanier played an instrumental role in bringing Johnson into the sport and helping him get set up to run his first Iditarod in 1991.
Now, 30 years later, at age 53, Johnson is looking forward to a third, and probably final, return to the race.
Johnson has acquired a Ford F-150, a topper to haul dogs and a Black River dogsled. Last week, he embarked on what will be a 3,300-mile drive to Chugiak, Alaska.
Johnson met one of his biggest hurdles at the Canadian border, where he had to make the case to a customs officer who had never heard of the Iditarod that his trip to Alaska was "essential." Johnson was up to the task, but had to agree to take a direct route and avoid contact with others, stopping only to fuel up at pay-at-the-pump stations and to rest alone in his vehicle if he got sleepy.
Six months of preparations lie ahead.
Upon his arrival in Alaska, Johnson plans to begin dryland training Lanier's dogs behind a four-wheeler and then switch to a sled when there is sufficient snow. As the team grows stronger and more cohesive, Johnson said they'll make longer runs, including overnight camping trips into the wilderness.
He hopes to enter the 300-mile Copper Basin Race in January as a warm-up for the Iditarod, which begins March 6. Johnson anticipates he will complete the Iditarod in about 10 days.
But Johnson acknowledged there are no guarantees. More than 40% of mushers who started last year's Iditarod scratched before reaching the finish line.
How to get involved

If you have lost a close friend or loved one to suicide, you can add that person's name to the list Gunnar Johnson will carry by dogsled from Anchorage to Nome as part of a project called Iditarod Hope. No donations are being sought, and the names on list will not be publicized.
Visit gunnariditarodhope.com or send the name to: Iditarod Hope, P.O. Box 152, Prescott, WI 24021.
To get help
National Suicide Prevention Lifeline: 800-273-8255

Crisis Text Line: Text MN to 741741

South St. Louis, Lake, Cook and Carlton counties/Fond du Lac Band: 218-623-1800 or 844-772-4742

North St. Louis County/Bois Forte Band: 218-288-2100

Itasca County: 218-326-8565 or 211*

Koochiching County: 800-442-8565 or 211*
*St. Louis County 211 services are not crisis-related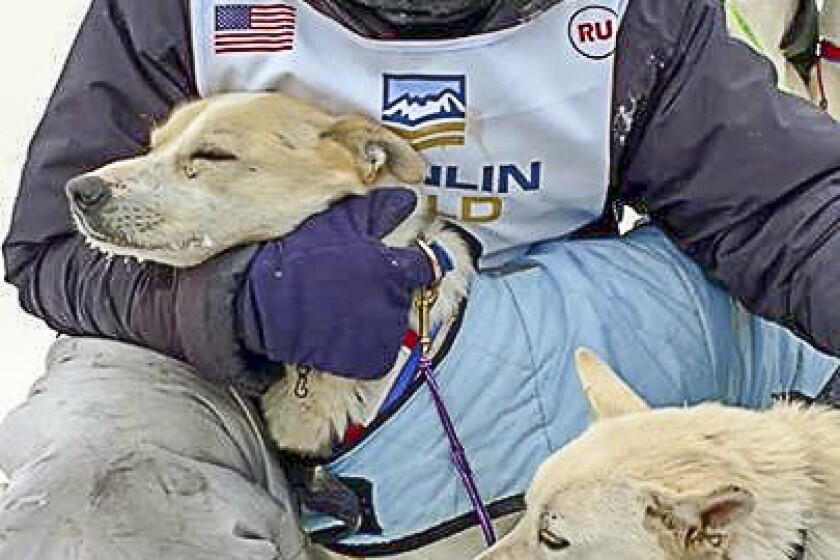 1
/
5:
Iditarod musher and former City of Duluth attorney Gunnar Johnson at the finish line of the 2017 Iditarod in Nome, Alaska. (Gunnar Johnson photo) free
2
/
5:
Iditarod musher and former City of Duluth attorney Gunnar Johnson at the finish line of the 2017 Iditarod in Nome, Alaska. (Gunnar Johnson photo)
3
/
5:
Iditarod musher and former City of Duluth attorney Gunnar Johnson at the start of the 2017 Iditarod. (Gunnar Johnson photo) free
4
/
5:
Iditarod musher and former City of Duluth attorney Gunnar Johnson on the race course of the 2017 Iditarod in Alaska. (Gunnar Johnson photo) free
5
/
5:
Former city attorney Gunnar Johnson is planning to run the Iditarod for the third time this year. He's running the sled dog race in memory of his cousin, who died by suicide, and to encourage suicide prevention efforts. (Clint Austin/caustin@duluthnews.com)