ElderCircle to host blood drives on Iron Range
Volunteer and donation opportunities.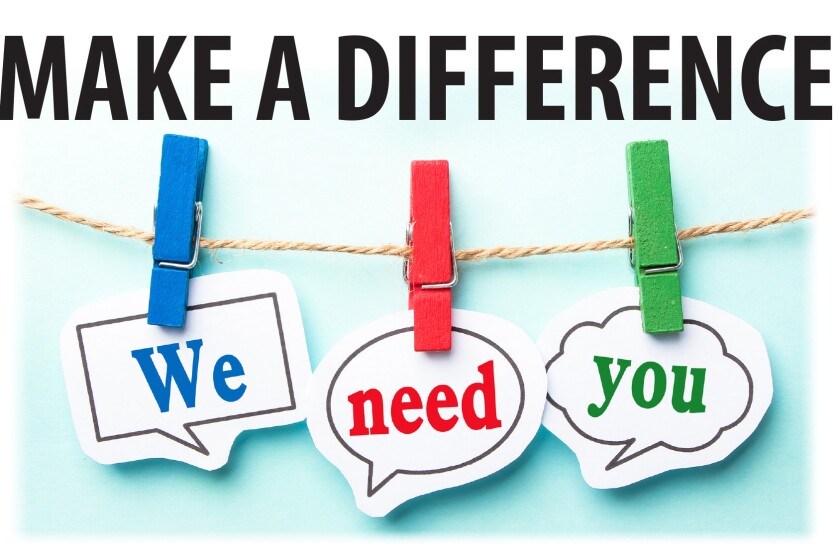 ElderCircle upcoming blood drives:

9 a.m.-5 p.m. March 29, Itasca Family YMCA, 400 River Road, Grand Rapids. Call 218-999-9233, ext. 279, email audrah@eldercircle.org or go to mbcherohub.club/donor/schedules/drive_schedule/69285.
8:30 a.m.-12:30 p.m. March 31, Nashwauk-Keewatin High School, 400 Second St., Nashwauk. Call 218-885-1280, ext. 51103, email Ltucci@isd319.org or go to mbcherohub.club/donor/schedules/drive_schedule/69289.
9:30 a.m.-4 p.m. March 31, Nelson Wood Shims, 500 N.W. Third St., Cohasset. Call 218-328-6203, ext. 124, email michelle.jensen@shims.com or go to mbcherohub.club/donor/schedules/drive_schedule/69685.
Memorial Blood Centers is calling all eligible blood and platelet donors to step up and help save lives. They are also partnering with Second Harvest Heartland and Northern Lakes Food Bank for the "Save 1, Feed 1" campaign. During March, MBC will be donating funds to Second Harvest Heartland and Northern Lakes Food Bank on behalf of every presenting blood donor. Go to mbc.org or call 888-GIVE-BLD (888-448-3253) to make an appointment.
The American Red Cross blood supply is at historically low levels and it continues to decline. If more donors don't come out to give, hospitals may be forced to delay care to patients relying on blood transfusion. To make an appointment or for more information, download the Red Cross blood donor app, visit redcrossblood.org , call 800-733-2767 or enable the Blood Donor Skill on any Alexa Echo device.
March is Minnesota FoodShare Month. Any money or food given to Second Harvest Northern Lakes Food Bank or the Duluth Salvation Army's food shelf through April 10 will be proportionally matched thanks to Minnesota Foodshare's March Campaign. In 2021, The Duluth Salvation Army food shelf and hot lunch programs provided 50,203 nutritious meals to those in need. Beyond its regular food shelf, the Duluth Salvation Army is the only location in the state to have a medical food shelf that provides clients with foods needed for special medical diets such as gluten-free or sugar-free items, nutritional shakes, etc. Donations can be made by mail or in person at 215 S. 27th Ave. W. To make a credit card donation, call 218-722-7934 or go to DuluthSA.org or northernlakesfoodbank.org.
CHUM in Duluth seeks volunteers and donations:

Folks to offer hospitality and assistance at the Warming Center in the Lincoln Park neighborhood. Sign up at bit.ly/3uKi3QO.
Landscapers and gardeners to plant and maintain raised beds and CHUM outdoor spaces. Email Pat at pbenson@chumduluth.org .
Groups and individuals to help pack food boxes at the downtown food shelf. Mondays, Tuesdays and Thursdays, 10 a.m.-noon. Email Scott at svandaele@chumduluth.org .
The CHUM Outreach Program needs gift cards for gas or propane in $20 increments. (Examples: Holiday, Kwik Trip, Menards)
Houseplants for indoor spaces at St. Francis Apartments and transplants (vegetables and flowers) in the spring for landscaping and garden beds.
Email chum@chumduluth.org or call 218-720-6521.
Seeking exchange student host families for 2022-23 school year. Exchange students come from more than 60 countries, are fully insured, bring their own spending money, and are proficient in English. A professionally trained community representative from Ayusa works with the host family, student and school for the entire program, supporting student and family needs. This a great experience to learn another culture while sharing your American cultures and experiences and making a new friend for life. Email Dan at dmiesle@ayusa.org or go to ayusa.org for details.
If the Dress Fits in Carlton invites high school students to their annual prom dress giveaway. Personalized prom dress appointments available during the day Saturday and Sunday and Monday evenings through mid-April. Each appointment is 45 minutes and can be booked with up to three teens. There is a $10 fee per teen to offset heating and electrical expenses. There are over 400 dresses available, many brand-new; sizes range from 0-24. If the Dress Fits is a Northland-based nonprofit organization that provides free prom dresses to teens who are in financial need. (Proof of need is not required). Go to ifthedressfits.org.
ElderCircle is seeking volunteer drivers to provide transportation for adults age 60 and over to and from medical appointments anywhere in Minnesota.
• Mileage reimbursement at 58.5 cents per mile to and from the volunteer's home. ElderCircle volunteers age 55 and older can be exempt from mileage reimbursement considered as income.
• Volunteers may accept appointments that best suit their schedule and distance preferences.
• Scheduling uses an online system.
• Appointments are day trips only — no overnight trips.
• COVID-19 protocols are in place to ensure a safe and healthy ride.
ElderCircle also need volunteer drivers to deliver grocery orders to homebound clients in Itasca County. ElderCircle's grocery shopping and delivery provides in-home, door-to-door service that homebound clients can rely on.
• Grocery deliveries are done Wednesdays, approximately 9-11 a.m.
• Volunteers may schedule one Wednesday a month or more.
• Mileage reimbursement is 58.5 cents per mile to and from the grocery store to the client's home. Mileage to and from the volunteer's home can be reimbursed at 40 cents per mile.
• Volunteers age 55 and older can be exempt from mileage reimbursement considered as income.
• COVID protocols are in place to ensure safe and healthy volunteering.
Contact Audrah Huntley, 218-999-9233, ext. 279 or email audrah@eldercircle.org.
Warm Fuzzies Animal Rescue Inc., a nonprofit, 501(c)3, is looking for volunteers for events and foster homes. It also needs cat food and cat litter supplies. Contact warmfuzzies2020@gmail.com , 218-576-8534 or 218-940-6958 to help.
Head of the Lakes United Way's 100-Day Experience Auction, through May 11. A daily experience/item with be released for bid from 6 a.m.-11 p.m. daily. For more information, visit
Volunteer with Courage Kenny Northland Adaptive Sports & Recreation. Each year, over 400 Northland volunteers make it possible for hundreds of youth and adults with disabilities to participate in Courage Kenny adaptive sports and recreation programs that promote an active lifestyle, overall health and independence. Without volunteers, adaptive recreation programs would not be possible. Email elizabeth.albrecht2@allina.com if interested. For more information, visit account.allinahealth.org/events/53545.
Community Action Duluth's free tax site is open and offers virtual and in-person options. Volunteers are IRS-certified. Because of generous support from IRS VITA, the Minnesota Department of Revenue, Northland Foundation, Lloyd K. Johnson Foundation and other supporters, this program is completely free to individuals and families with annual income of up to $58,000. In-person clinics are currently planned for 4:30-6 p.m. Tuesdays and Thursdays and 9-11 a.m. Saturdays. Go to communityactionduluth.org/free-tax-site , email tax@communityactionduluth.org or call 218-726-1665.
AARP Foundation Tax Aide offers free tax preparation for families and individuals of all ages and backgrounds in Itasca County through April 15. By appointment only. Call 218-245-9202.
AEOA's Meals on Wheels program is in need of volunteer drivers. Call Kirsten at 218-409-5991.
The United Way is looking for volunteers for its Red Cross blood drive volunteers and Mentor North volunteers. Go to volunteerduluth.galaxydigital.com for details.

Make-A-Wish Minnesota is seeking volunteers in Carlton County to help grant life-changing wishes for local children battling critical illnesses. To learn more, go to mn.wish.org/volunteer .
Second Harvest Northern Lakes Food Bank is seeking volunteers to help in the food shelf. Shifts are 8-11 a.m. or 10:45 a.m.-3:30 p.m. Mondays through Thursdays. A firm commitment to the chosen shift is very important. Email Sandy at sandy@secondharvestncfb.com . They also need 10-12 volunteers who can pick up food from local convenience stores, retailers, restaurants/caterers and deliver it to local food shelves, on-site meal programs or their food bank. Call Andrew Haukebo at 218-336-2303.
AEOA's Central Kitchen in Duluth needs volunteers to help in the kitchen, 11 a.m.-1 p.m. Monday-Friday. Call Kirsten at 218-409-5991 if interested.
Duluth Art Institute seeks docent volunteers for the weekends. Docents supervise the galleries to ensure visitors and the artwork are safe. Call Liz at 218-723-1310 or email engagement@duluthartinstitute.org .
Ecumen Lakeshore, 4002 London Road, Duluth, is seeking drivers for its home-delivered meals program. Call Jana at 218-625-7822 or email janawarner@ecumen.org .
The Lighthouse Center for Vital Living needs volunteers who will read the newspaper once a month. Reading takes place at the Lighthouse in a recording booth that is COVID-19 safe. To learn more, email Michelle at michjunt@gmail.com .
Essentia Health St. Mary's Hospice is seeking caring and compassionate people who have a listening heart and may have talents, skills, hobbies or interests to share. Essentia Health Duluth Hospice serves people at Solvay Hospice House, and within a 75-mile radius area including the communities of Silver Bay, Superior, Solon Springs, Sandstone and Saginaw. To volunteer, call Katie Neff Dawson 218-786-4020 or email hospiceduluthvs@essentiahealth.org . To volunteer in the Grand Rapids area, call Robbie Radaich at 218-327-8780. In the Virginia area, call Katie Bird at 218-749-7976.