Cloquet man turns old tech into a new biz
"There's a lot of nostalgia about that media," said Brad Owens of repairing old cassette and CD players.
We are part of The Trust Project.
Brad Owens is making new business out of old technology.
The Cloquet man launched Vintage Alpine Repair, where he specializes in fixing old cassette and CD players out of his Cloquet home — and business is good.
"There's a lot of nostalgia about that media. … I'm still that person that has 1,000 CDs," he said.
About six years ago, Owens was poking through the service center at his full-time job when he found an early '90s Alpine head unit that wasn't working.
In his quest to repair it, he jumped onto Facebook groups for Alpine collectors and fans. He soon started buying non-functioning units from Canada, England, Spain — mostly Japan — repairing and reselling them.
Eventually, people started reaching out with requests.
Owens put the brakes on his hobby for nine months during the pandemic to focus on changes at his job. When he got back to it, he said, "I had gotten so many messages, over 100 people. I was, like, 'I've gotta do something with this.'"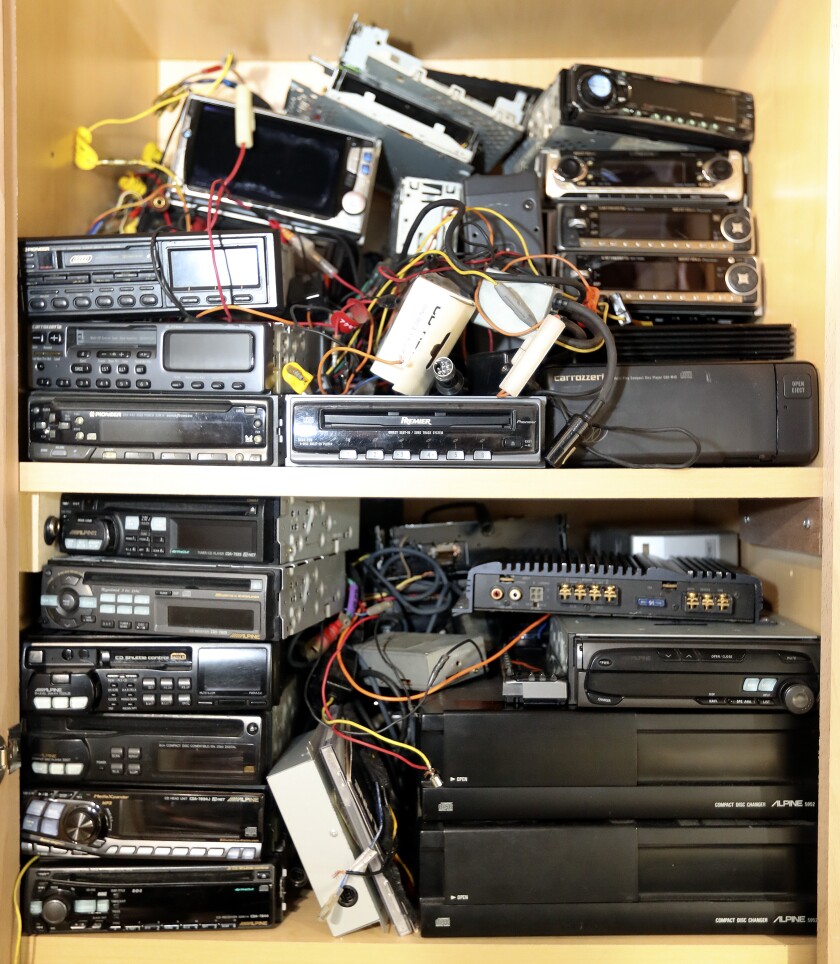 READ MORE ABOUT OFFBEAT HOBBIES IN THE NORTHLAND:
About three months ago, Owens registered Vintage Alpine Repair.
"My backlog is about four weeks out right now. It's something I could do full time if I wasn't already doing another job I like doing," he said.
His work space is one he built himself, set with cabinets and shelving, a workbench, different test equipment, bins with commonly used capacitors. It's in a partially finished basement.
Asked if he has recovered CDs in his work, Owens referred to his stack.
"The soundtrack from the movie 'Friday'; a burned CD that says 'John Legend'; Nellyville; The Miseducation of Lauryn Hill, Jackson Taylor. Oh, that one's one of mine."
Owens said his work includes a lot of nostalgia — and reflections on tech developments.
"When you put a cassette on, there's something about being locked in. You're listening to it. It's not like today, when you can pick and choose whatever song you want."
Owens took time to answer more questions from the News Tribune about his hobby.
Q: Name your earliest memory with an Alpine radio.
A: Back when I started at DADS Electronics, there was one of the first MP3 compatible CD players, CDA-7894. Back then, MP3 was just starting to get big, and with this radio, you could burn a bunch of MP3s to a CD as files, then play them back on that radio.
I had it for a few weeks, but then stock fell low at work, ended up selling it to a customer. Always wanted another, but it took me till about three years ago to actually get one. Probably was around 2001-02.
Although my passion for vintage radios came later, when I found an Alpine 7801 hiding in one of our junk piles (what we called "the graveyard"), I took it apart, cleaned everything up, learned a lot about bad capacitors, then got it working.
Q: What was your first cassette? Your first CD?
A: First cassette? Billy Joel — "Storm Front." As a 7-year-old, the song "We Didn't Start the Fire" was the coolest thing I'd ever heard. Even though I didn't keep it and have not listened to that album since way back then, it was the spark for me that led to a lifelong pursuit for new music and sharing that passion.
First CD? Not really sure, may have been Nirvana "Unplugged" or Offspring "Smash."
Q: What's your ideal music-listening setup today?
A: Depends on the situation. I usually have a coveted system, and I compare everything to that. Right now, it's my two-channel home stereo, all vintage.
Onkyo A10 receiver

Onkyo TA-630D cassette deck

Pioneer CT-F950 cassette deck

Sony NS3100ES DVD player, I use for CDs

Pioneer PL-15 record player

A/D/S L520 speakers

A/D/S L10 speakers
Q: What are common stories or memories you hear from clients?
A: Common stories are about the memories they had during the car audio boom of the late '80s to the early 2000s. A lot of guys talk about being in the military and finding radios in Japan or in Europe and bringing them home, or how they used to compete in audio competitions like IASCA , which still is going strong today.
Some are building that car they had when they were a teen, or this specific unit was one they always wanted, but couldn't afford. (Kind of my story as well!)
Q: What does working so often with old devices say about how items are made then and now?
A: Older items were definitely built to be the best, whereas today, things are made to be thrown away. Today, companies look at profit margins, and repeat business is part of that. Back then, they looked at quality before profit margins, with the same business model following that.
Q: You work with the other people's beloved vintage items. What are some treasured articles of yours?
A: See the listed system above!
I have a bunch of vintage or old school speaker sets, and some new. I also have a small collection of vintage IBM ThinkPads. I honestly don't know why; I like them.
Q: You can dine with three people, alive or dead (and COVID-19 safely), who are they and why?
A: Honestly, I'm a little weird in this sense. Pop culture or popular people, I have little interest in. But I do have some friends online who I've never met in person, all amazing in their right. Probably my friend Jeff, Pete and my friend from Spain, Diego. Three of the most different and genuine people I know!
facebook.com/VARoldschool/ or contact vintagealpinerepair@gmail.com.