College football: Bulldogs weather the weather while developing quarterback play
UMD coach Curt Wiese looking forward to evaluating his team in Friday's annual spring game.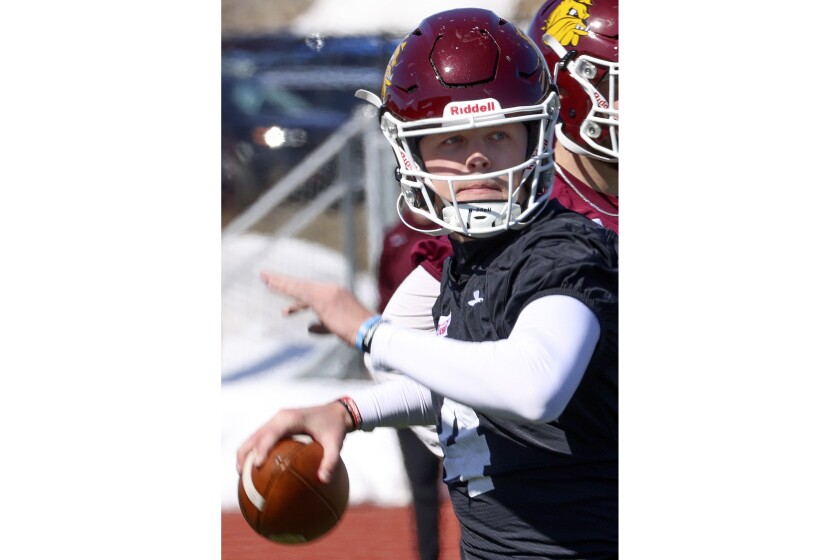 We are part of The Trust Project.
DULUTH — The Minnesota Duluth football team held its final practice of the spring season Thursday, and for once, it actually felt more like spring than winter, with sunny skies and a high temperature near 50 degrees.
What a concept.
Unfortunately, the forecast for UMD's annual Maroon-White Spring Game at 5:30 p.m. Friday at Malosky Stadium appears much more dicey, with a high of 37, 19-mph wind and 50% chance of rain.
But by now, the Bulldogs are used to it.
"It's been a tough spring to get into a rhythm with practice and meetings and lifting, just because our schedule has adjusted so much because of the weather," UMD coach Curt Wiese said. "But overall we've come out of spring with a lot of younger players getting an opportunity to develop. We feel pretty good heading into the fall that we got some good depth out of spring practice."
One spot where the depth is good is at quarterback.
The Bulldogs graduated a four-year starter in John Larson, who last fall became the fifth quarterback in program history to reach 5,000 career passing yards. However, Larson dealt with injuries throughout his career and that was no different last fall.
So while Larson was hobbled, that allowed the likes of Logan Graetz and Garrett Olson to see plenty of action, part of a revolving door under center as the UMD quarterback room has resembled a MASH unit in recent years.
Graetz, a transfer from North Dakota State, completed 62 of 104 passes for 813 yards, with nine touchdowns to just one interception, while Olson was 47-of-81 for 698 yards, with eight touchdowns to four interceptions.
"Logan is a talent," Wiese said. "He's a talented player with a big arm. He's 6-foot-4, and he's pretty athletic for a 6-4 guy. He definitely has the ability and has got better and better here in spring ball, and it's been really good for him.
"Garrett has been as good of a team guy as I think we've had. He has sat behind John Larson, but he always answered the bell when called upon. He's always prepared and hasn't ever complained or questioned playing time. He's been a true team guy."
Unfortunately, UMD hasn't had Olson in practice this spring as he is out of semesters, so he had to unenroll only to enroll back in for fall semester. He hasn't been alone, as superstar receiver Armani Carmickle, standout lineman Brent Laing and tight end Kurtis Weigand are in the same situation.
"You can only be in school 10 fulltime semesters, so Garrett is sitting out in order to have a chance to come back next fall and play his last year," Wiese said. "Garrett has been working out, he can't be with our team, he can't be in meetings, but he'll be prepared. As soon as we get into summer, he'll join back with the team and start summer workouts."
With Olson out, that has allowed the UMD coaching staff to evaluate Kyle Walljasper (Fond du Lac, Wis.) and Nate Elmes (Robbinsdale, Minn.), both of whom redshirted last fall. While incoming freshman Jacob Eggert of Mankato (Minn.) East is expected to redshirt this fall, Wiese called it an open competition among the other four for the Bulldogs' starting quarterback position.
"Kyle was a Wisconsin state high school player of the year on offense coming in and has shown a lot of signs of developing as a passer here this spring," Wiese said. "He's a really good runner, strong and athletic."
"Nate Elmes has a very good arm, is developing in our offense as a runner and along with those other guys they've only gotten better mentally here this spring."
Whoever gets the starting nod certainly won't be inheriting the keys to a Pinto. Despite the quarterback carousel under center, UMD averaged 32.6 points per game last fall while qualifying for the NCAA Division II playoffs.
"Definitely out of this spring game, I want to see these guys lead," Wiese said. "I want to see them be able to adjust at the line of scrimmage and take what's in front of them to move the ball effectively. When you have talent like Wade Sullivan and Armani Carmickle and Byron Bynum and Zach Ojile and Sam Pitz to get the football to, these guys need to be able to manage our offense, and that's what we've been working on all spring.
"We rely on those guys a lot. Being heady and a good decision maker and making adjustments on the field is a big part of our offense, and we attempt to recruit to that."
Bulldogs release schedule
UMD released its 2022 schedule earlier this week.
The Bulldogs open at home at 6 p.m. Thursday, Sept. 1, against Southwest Minnesota State before a showdown at Minnesota State-Mankato the following week (Saturday, Sept. 10).
UMD plays five home games and six road games this year culminating with the season finale against Northern State Nov. 12 at Aberdeen, South Dakota.
"I think all four of these guys have an opportunity to play quarterback for us and take snaps next fall. We'll see where the cards fall here as we head into Southwest Minnesota State," said Wiese, who leaves Sunday for a recruiting trip to Las Vegas.